EDITOR'S NOTE:Our resident web diva, Katie Lewis, got the opportunity to see her uncle, Bill Lewis, coach this weekend when the Dolphins visited the Texans.
**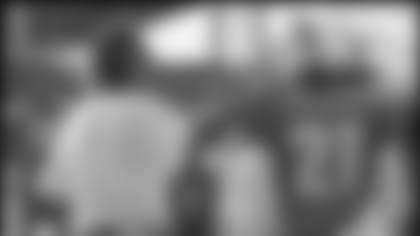 It's hard to believe that after 27 years this is actually the first time I've seen my uncle, Bill Lewis, on the practice field, coaching what has been a very successful secondary unit in Miami. Since his first gig in 1963 as the quarterbacks, receivers and secondary coach at his alma mater, East Stroudsburg St., my family has been following his prolific coaching career. His rise through the ranks of collegiate and professional ball have taken us up and down the East Coast, where annual trips to his games meant good football and good family reunions.

It's amazing how sports, in this case football, can bring friends and families together. In just a two-day combined Texans-Dolphins practice, Steve McKinney and brother Seth, center for the Dolphins, along with Texans Associate Director of Pro Scouting Bobby Grier and son, Chris, a Dolphins scout, were able to reunite.

We were blessed to have not only a highly gifted coach in our clan, but someone whose livelihood and passion for his career initiated family bonding time.

Now, as the two of us stood on opposite sidelines, I could only smile while watching him elegantly tutor upcoming talents like Will Poole and call out Cover Two defensive instructions to veterans like safety Sammy Knight. Over the years, I always saw Bill's finished product, but never had the opportunity to watch him help develop the teams that our family cheered on during game days.
While Bill's football journey has given our family a common link, it has also produced players and coaches in his sons (one who coached Dunta Robinson in high school) and, in my case, it catapulted an interest and present career in the NFL. When Bill first joined the Dolphins in 1996 as the team's defensive nickel package coach, I immediately became a Miami fan. That was the drill. Whatever team he led, we embraced.
He had made the jump from the college ranks and joined old-time coaching partner Jimmy Johnson to enter into the intense world of professional coaching. Gone were the days of recruiting and scheduling practices around player study halls. In were long hours of training camp, a fiercely competitive 16-game schedule and the even greater weight of knowing that both players and coaches alike were fighting for their jobs with every victory.
I attended my first professional game while going to see him coach the Dolphins in their 1999 season opener. It was a completely different world than what I was used to seeing him in. The flash and allure of the professional game were like night and day from Bill's Georgia, East Carolina and Georgia Tech coaching stops just years before. I wondered how such a controlled, knowledgeable coach like Bill figured in to the equation.
As that game progressed, I watched him through binoculars and with headset in tow; Bill paced the sidelines, intensely engrossed in his player's execution on defense. He hadn't skipped a beat in the transition. I quickly learned that while participants of the professional game could provide some entertaining sound bites on ESPN, their top priority of perfecting the game of football still remained the same. Bill was right at home.
Soon after, I decided to pursue a career with media relations in professional football. Spending time with the Detroit Lions, and now Houston, has given me a deeper appreciation of what my uncle accomplishes and sacrifices on a daily basis and what his family has experienced with him along the way.
His life and that of every NFL coach is spent living, eating, breathing and sleeping the game of football. Like many of his counterparts, Bill rises before the sun and starts the day off with a habitual morning jog to clear his mind for the long day ahead. Soon after, it's off to the training facility where a few cups of coffee later, you can find him submersed in staff meetings, team meetings, individual time in his office for film study and scripting and then it's out to the practice field. After a quick dinner, it's back to staff game planning until the time that most people are in bed and fast asleep.
Uncle Bill doesn't cut any corners, doesn't leave a stone unturned and truly loves every minute of his job. You can see it in his eyes when he talks about the game and it's glaringly evident in the pride he shows when one of his players makes a thrilling play on the field.
During his collegiate span, the hours spent away from home while feverishly working in the meeting room and on the practice field helped him produce a national champion as defensive coordinator at Georgia along with nine straight bowl appearances and three SEC Conference titles. As a head coach, Bill moved on to East Carolina, where over three years, he helped put the Pirates onto the national map with an 11-1 record in 1991 as the squad ended the campaign with a victory over N.C. State in the Peach Bowl, still the most unbelievable game I've ever been a part of. For achieving such a "Cinderella Season," his peers recognized his leadership and pioneering across the country as he received National Coach of the Year honors.
After 32 years of collegiate coaching where he spit out 32 All-SEC honorees and seven All-Americans, he moved on to spread his love of the game in the NFL.
Over the past year, Uncle Bill's coaching career yet again brought the family together. Yes, I think our family silently cheers for both the Texans and Dolphins on fall Sundays and when the Dolphins aren't our opponent, I too, keep my fingers crossed for a 'Fins win.
But when our playing paths crossed for the first time in the Texans' 2003opening game at Pro Player Stadium, the friendly competition brought on a set of mixed emotions for me. At the end of the day, the Texans pulled a stunning 21-20 upset and while I was so proud of our players and coaches, I couldn't help but feel a twinge of sadness that the highly anticipated season we'd all been waiting for him to enjoy had now gotten off to a hampered start.
More important than the win or loss was the time that I was able to spend with my family who had traveled from miles away to see him coach.
Having him here over the past few days for training camp has been incredibly meaningful to me. Though our busy schedules didn't permit too much "visiting" time, I was able to observe Uncle Bill in his beloved environment, on the gridiron.
His demeanor and air with his men was just as I had expected it to be.
One of Bill's players, four-time Pro Bowl cornerback Sam Madison said it pretty well, "He comes out there and stretches with us every day. When one of his guys makes a good play, he gets fired up for them and when they need coaching, he pulls them asides and teaches them. He's a very technical coach and an inspirational leader."
After seeing him for so long as Uncle Bill, the coach, I was finally able to see him as a teacher and aficionado of the game. I felt truly gratified that football and Bill were part of my life.