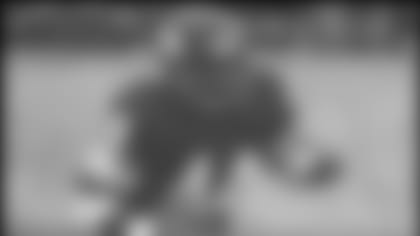 Chuck Foreman captured two NFL Player of the Year awards and went to five straight Pro Bowls (1973-77).
The Minnesota Vikings are without two of their top running backs heading into Sunday's contest. And while most of Eden Prairie, Minn. would love to suit up one of their all-time greats, Chuck Foreman, the legendary running back is too preoccupied with Minnesota's opponent – mainly his son, Jay.
On a typical fall Sunday, Chuck rises early and is out the door of his Eden Prairie home to do the Vikings pre-game radio show. If his busy game day schedule in Minnesota permits, his dashes back home, flips on the satellite television and tunes in to watch his son, Texans linebacker Jay Foreman, when he lines up as Houston's starting middle defender.
And if Chuck happens to be late for the start, there's always videotape, which isn't such a bad option.
"He doesn't like going to the games because he says he can't concentrate with all of the noise," Jay smiled when talking about his father's football watch. "He likes to be right in front of the TV so he can rewind and critique it."
This week, that scenario will change. Chuck is heading down to Houston to watch his son in the flesh as Jay takes on a team that has been a big part of the Foreman family's lives since the early 1970's.
Chuck and Jay Foreman are one of only 131 documented sets of fathers and sons who have both played Pro Football, including the AAFC, AFL and NFL. So it seems in the Foremans' case at least, that the 'Apple doesn't fall very far from the tree' theory has been proved true.
Jay was passed some pretty impressive genes. Chuck was one of the Vikings and NFL's most dominant offensive players. It was Chuck's multi-faceted talents that changed the face of NFL running backs. Not only did he excel in cutting and maneuvering in the ground game, but the older Foreman was also one of quarterback Fran Tarkenton's favorite targets.
During his seven seasons in Minnesota (1973-79), Chuck finished second on the Vikings' all-time rushing list with 5,879 yards. He held the coveted top spot for over 20 years until Robert Smith surpassed the total in 2000.
Even more impressive were the 3,057 yards he caught as a receiver, placing him second behind wide receiver Cris Carter for the most combined rushing and receiving yards in Minnesota annals.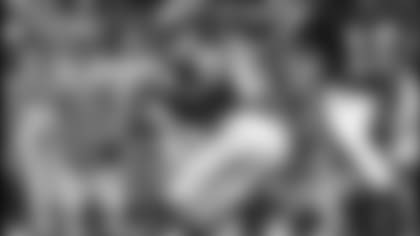 Chuck and WR Ahmad Rashad were Fran Tarkenton's favorite targets.
As a young child, Jay didn't quite comprehend his father's star power. He was only just a toddler when he father played in Minnesota; so much of his memory has since been refreshed by conversation and old film footage. Sure, Chuck was a celebrity in Jay's eyes, but more so as a father.
"I just always looked at him as my dad, but to everyone else, he was a superstar so it took a while getting used to it," Jay remembered.
In Minnesota, there were only a minute number of people who didn't know Chuck Foreman. The fiery running back made a statement from the very beginning, when he was named the NFL Rookie of the Year in 1973 after he rushed for 801 yards and added another 362 receiving.
Foreman had just come off of a dazzling career at the University of Miami, where he was a defensive back, running back and wide receiver. For his unique versatility and obvious gift, the Vikings chose him with their first overall selection in the '73 NFL Draft.
"I was one of the last two-way players," Foreman said about lining up on both offense and defense in college.
On the field, Foreman had helped his team to three Super Bowls – Super Bowl VIII against Miami (1974), Super Bowl IX against Pittsburgh (1975) and Super Bowl 1977 (against Oakland).
Though the Vikings weren't able to acquire a ring out of the three games, just making it to each appearance was quite an accomplishment in itself.
"It's a very tough place to get to," Chuck said. "If everybody could get to the Super Bowl, that would be great, but everybody can't and we got to three when I played."
Now his son will have the opportunity to achieve that aspiration. Jay hasn't played in the big show yet, but it's only his fifth year in the NFL and the young Foreman has got plenty of potential to share.
Jay has maintained a hefty stream of tackles in Houston with 193 in 2002 and 180 in 2003.
Jay has been one of the Texans' most steady players, finishing as a top tackler in each of his two seasons in Houston. He serves as the Texans main signal caller on defense and Jay is an easy spot on the field; just look for the ball.
So far in 2004, Jay is second on the team with 38 stops and a fumble recovery. The Texans knew his services were valuable, that's why the franchise traded for him in April of 2002, prior to the inaugural season. He had spent three years on Buffalo's defense and Capers and his staff knew that if their projected 3-4 stingy defense were to work, they'd need players like Jay in the mix.
Chuck now proudly admires his son's accomplishments and professional career even though it wasn't a path that he deliberately tried to pave for Jay. In fact, Chuck was very hesitant when his son came to him and confided that he too, had a love for the game.
"He didn't want me to play football," Jay explained. "He didn't want me to have to deal with the pressure and politics. But I liked football so much so once he realized how much I liked it, he let me start playing."
When he knew that his son was ready to handle all of the variables that meshed with becoming a player, Chuck gave his blessing. But there were a few stipulations.
"I can remember it like it was yesterday, when he was a little guy, I think in the third or fourth grade and he came and asked me, 'Dad, can I play football?' And I said 'Yep, under one condition; you have to play 100 percent every play that you're on the field. I don't ever want to see you walking around. I don't ever want to see you loafing. I want to see you right at the ball all of the time.'"
Jay listened intently and has since taken those words to heart, never steering away from his father's wish list.
"That's what he's done," Chuck said. "He's been a very savvy, smart player and he separates himself from a lot of people because he puts a lot of work in the film room and at his house. He's always prepared and that's what separates him from most guys."
Both father and son have close ties to the Eden Prairie community and remain strongly intertwined with the Vikings organization. While Chuck spent almost a decade playing for some of the Vikings' most potent squads, Jay also spent time on Minneapolis turf.
He served as a water boy in the ninth grade for the Vikings, and even though he wasn't suited up, his father's work ethic translated into every task he was asked to perform.
"It was a lot of work but it was fun," Jay said. "All the players were nice. We made $300 for the whole month but that was like a million bucks.
"That was when I really started to get into football. I watched a little bit of practice, but they kept us busy so I really didn't have much time."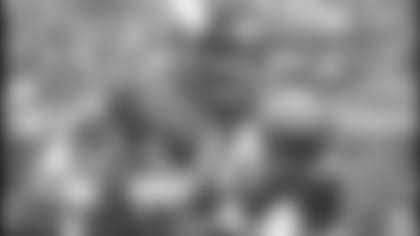 During his time in Minnesota, Chuck played outdoors in Metropolitan Stadium.
Cris Carter, John Randall and the gang were good mentors to observe. Jay absorbed everything that he saw and experienced around the Vikings organization and was soon off to a career of his own in the football world.
Following in his father's footsteps, he became an All-American at Eden Prairie High School, playing running back and defensive back. His father's talents at running back were contagious as Jay set a school record with 17 touchdowns as a senior.
But when he moved on to play in the collegiate ranks, Foreman began to plot his own course and he ended up excelling with flying colors.
"When he was being recruited, especially by Nebraska, Coach (Tom) Osborne came to the house and asked him, 'We think you're a great running back but man, we really think you could play some good defense,' and Jay wasn't opposed to that."
Prior to his junior season at Nebraska, Jay changed his number from 56 to his father's famous 44. That season, he really began to bud as a defensive tackling machine and also helped his team win a share of the national championship.
He may've inherited his father's gift, but Jay was making a name for himself on his own terms, in his own way.
"I compare him, they used to say, to a quiet assassin," Chuck described his son's playing demeanor. "You know he's out there and you know his job's been done, but he's not flamboyant. He comes and does his job and goes home. He's not going to be one of those guys who talks about it and jumps up to dance and all of that. He's a blue-collar worker."
Chuck admits that he was "a little more flamboyant because of his running style" when on the field compared to his son. But no matter whether or not Jay played on the opposite side of the ball as his father, or, if he went about his business a little more quietly, he was a huge success in Chuck's eyes.
"I'm very proud of Jay not only for his accomplishments as far as football goes, but all the other things in his life," Chuck boasted. "He's a good man, a good husband. He's done everything I've ever asked to do and more. I don't think there could ever be a father more proud. Football's a part of it but I'm most proud of the man that he is."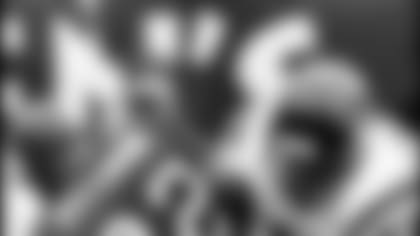 Jay popped the daylights out of Bucs RB Michael Pittman in one of his signature hits.
This Sunday at least, the two men's football ties will bring them together in a reunion of sorts, with ghosts from the past. Foreman spent some memorable time in Houston, including his trip to Rice Stadium to play Miami in the 1973 ('74) Super Bowl.
And he's been back a few times since to watch Jay play since his start with the Texans. But this trip is a little different.
In fact, Chuck has already been catching heat from his friends who serve on the Vikings' coaching staff and others who he keeps in close contact with inside the Minnesota organization.
"Jay's younger brother, Anthony, plays football with one of the coaches for the Vikings' sons, they're teammates," Chuck said. "Last night even we were at Anthony's game and I was talking to the coaches about it."
The meeting will be a special one. The Vikings and Eden Prairie area have been a special place for the Foreman family; so much so, that Chuck kept his clan settled there even after he spent his final NFL season moved to New England in 1980.
Business will continue as usual for Jay. Winning is always top priority, but he's also looking forward to the nostalgic feeling that only playing a team who sprung his family's passion for football can resurface .
"It's going to be different because I know a lot of people in the organization and played with a couple of guys on the team," Foreman said. "But it's going to be fun."