INDIANAPOLIS – Indiana is known for basketball – a game played indoors characterized by high scoring and high excitement.

This season however the state seems to have a football team similar to the sport that made it famous. The Colts play in a dome and have the second-best offense in professional football.
One of the Houston Texans goals Sunday was to keep the Colts from putting up basketball-like numbers.

As the time ticked away it became more apparent that goal would not be reached.

Indianapolis defeated Houston 49-14, in front of 56,511 at the RCA Dome and for a second week in a row the Texans flew home with more questions than answers.
"Good football teams make you look bad if you don't execute at their level," Texans head coach Dom Capers said. "We did not execute today at the Colts level."
The Texans managed five first downs and 64 yards of offense in the first half. That and some ill-timed big plays helped the Colts take a 21-0 lead at halftime.
Houston came back from a similar deficit against Minnesota earlier in the season to force overtime. But Colts quarterback Peyton Manning slammed down on the accelerator to open the third quarter, hitting Brandon Stokley for a 69-yard touchdown.
The Texans took the ball back but fell into a 35-0 whole with less than two minutes gone in the second half when Colts defensive back Bob Sanders recovered a David Carr fumble and raced 37-yards into the end zone.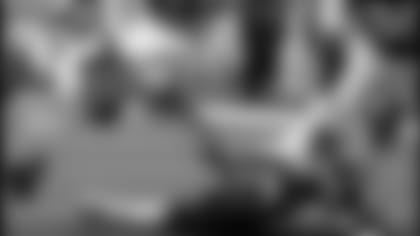 "We just never matched the level they came out with," running back Domanick Davis said. "We never matched it. You can't fall behind like that and expect to come back and win. You have to make things happen from the jump."
Carr, who was sacked five times, said the game was one of the more embarrassing he had ever played in.
"I know we're as talented as talented as that team," he said. "I know we can play with that team. I know we can beat that team. It's unfortunate for the guys in the locker room that we didn't go out and do it because we have the talent."
The Texans defense held the Colts to three-and-out on its second possession after giving up a touchdown on the game's second drive. Overall the unit did OK considering Manning and the offense's tendency to throw up points.

The Colts finished with 398 yards of offense.

Manning threw for five touchdowns – two to Stokley and tight end Dallas Clark and one to wide receiver Reggie Wayne.
Seven more of Indianapolis points came off a Von Hutchins interception return in the fourth quarter – Carr's third interception of the day.
But it wasn't the ideal day for the entire Texans team. Unity and group responsibility were common themes in the locker room.
"We didn't play our football today," Texans linebacker Jamie Sharper said. "We didn't play Texans football. We didn't play good football at all. The last two weeks we've gotten away from what we did the last three weeks on defense and offense. What that is I'm not sure. But you can tell that from the score and how we played."
The team had a similar outing Nov. 7 at Denver, falling behind early in the second half and not recovering. That one was chalked up as "one of those days."
Center Steve McKinney said every team is entitled to one hiccup like the Denver game, not two.
"It's not like we're not trying or we're not playing hard," McKinney said. "We've got to execute better. Execution was not what it needed to be today ... The Colts had a great day and we had our worst day. That's how you get a score like that."

Davis had another solid outing, rushing for 98 yards and catching seven passes for 54 yards. He had two 1-yard touchdown runs. But the Colts defense, which moved up to 31 st in the league last week, was surprisingly stout against the run.

Offensive coordinator Chris Palmer said he expected to be able to run the ball better Sunday but at the same time expected some big defensive plays against the run because of the aggressive play on the defensive line.
He didn't expect to fall behind and have defensive ends rush the quarterback with no need to worry about the running back.
He said the Texans suffered from a one dimensional attack.
"I would say the whole offense had a bad day," Palmer said. "It's easy to put the blame with one group or one person but this is still a team game and we have to play as a team and we didn't execute well enough as a group."
The Texans host Green Bay on national television next week. Preparation begins now.
"There are a lot of things we have to correct," cornerback Dunta Robinson said. "We have to have a lot better week of practice. Like I said, I thought we had a good week but obviously we have to have a better week.
"We've been down this tunnel before. We started 0-2 and we fought back to climb out of that hole. We're going to continue to do that. We know we're a team that can win games. We're just going to go out week in and week out and keep battling and keep trying to win."