For most players jumping from the college ranks to the NFL, there is an adjustment period of a few games or even a season before they reach their comfort level. Even so, there are some positions, such as wide receiver and quarterback, where it takes the average rookie even longer to become accustomed to the pro game.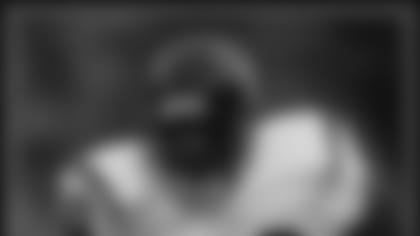 Johnson was at his best against Buffalo on Sunday.
Needless to say, Texans rookie WR Andre Johnson is not an average first-year player. Despite leaving college after his junior season and playing one of the most mentally challenging and physically demanding positions in the NFL, Johnson has started every game of the season and leads the Texans in almost every receiving category.
In just over half a season, the 6-2, 221-pound former track star from the University of Miami has earned one NFL Rookie of the Week award and has made a team-leading 46 receptions for 711 yards along with three touchdown catches.
The normal trials and tribulations that most rookies suffer through have not applied to Johnson, who immediately fit in well with the Texans with his modest demeanor and relentless work ethic.
While Johnson's talent comes as no surprise, what has been impressive is how comfortable he has seemed in the Texans' offense and how quickly he has acclimated to the pro game.
"I think as a guy becomes more confident, more comfortable and adjusts to the game in this league, that you start to see the talent surface," Texans Head Coach Dom Capers said. "You've heard a lot of people say that receivers don't come in and make an immediate impact. A lot of that is because they have the talent, but it takes everything working together where that talent can take over."
In Sunday's road win against the Buffalo Bills, Johnson almost single-handedly won the game for the Texans with a mixture of break-away speed, strength and poise under pressure. After starting QB David Carr left the game early with an injury, Johnson took it upon himself to provide a spark and put the Texans' offense on his back.
Facing arguably the NFL's best secondary in cornerbacks Antoine Winfield and Nate Clements, as well as strong safety Lawyer Milloy, Johnson had a game-high 122 receiving yards on four receptions. He added the game's only touchdown when he broke through three defenders on a 46-yard scamper to give the Texans a 6-5 lead in the second quarter.
"He had three guys in perfect position to tackle him and he comes out and scores a touchdown," Capers said. "If we don't have that play in the game, then we probably don't win the game. Those are things that are very significant."
Johnson wasn't done, yet. In the third quarter, QB Tony Banks found him open on a 27-yard route, which eventually led to a 41-yard field goal by K Kris Brown.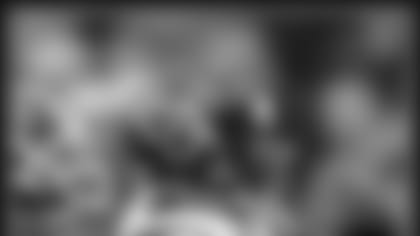 The highly-rated Bills' secondary couldn't slow Johnson down in Buffalo.
In the fourth quarter, Johnson showed off his quickness and agility by breaking off a 42-yard run on a wide receiver screen. Although the Texans couldn't finish off the drive with a touchdown, Brown managed to increase the Texans' lead to four points with his second field goal of the game from 34 yards.
While the Bills' defense played well throughout the game, the Texans' big-play ability was the difference maker.
Compared to last year on offense, the Texans are now a threat to score from anywhere on the field from multiple positions. Through all of last season, the Texans had 25 big plays. After 10 games this season, they've already surpassed that total with 34 big plays.
"We've made tremendous progress (on big plays) and a lot of it comes down to if you've got big-play players that can make those," Capers said. "Andre is certainly one of those (players) and we saw that yesterday when we threw the ball up the field to him. We threw it underneath and he broke tackles and he is hard to get on the ground."
Facing the defensive-minded New England Patriots this Sunday, the Texans' offense will have to be at it's best. Unlike last year, though, the Texans will have the use of Johnson, who despite his inexperience has shown that he can be counted on to produce in the clutch.