Last Sunday against the Jets, Houston's offense practically waltzed down the field in the first quarter.
Quarterback David Carr connected on 5 of 6 passes. Running back Domanick Davis had 69 yards from scrimmage and was averaging 4.6 yards per carry. Wide receiver Andre Johnson caught a 37-yard pass to set up a touchdown.
One play into the second quarter, the Texans jumped out to a 14-0 lead and looked well on their way to evening their record at 3-3. But the game is 60 minutes long. And by the end of the fourth quarter, after a pass from Carr to Johnson fell incomplete inside the Jets 10, the Texans were left scratching their heads, wondering how a 14-point lead had snowballed into a 19-14 defeat.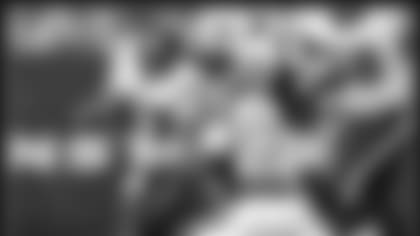 Davis' first-down touches will be key again at Indianapolis.
"We got off to an excellent start," head coach Dom Capers. "Unfortunately, we weren't able to sustain it after that."
A favorite cliché in the sports world is that games aren't played on paper. A quick glance at last Sunday's stat sheet would support that. The Texans outgained the Jets 325 to 296 yards, held the ball for 8 1/2 minutes more than New York and didn't commit a turnover. But the offense kept bogging down in critical situations.
"We had four false starts and a holding penalty," Capers said. "They came at inopportune times, which set us back. One time we were down in field goal range. We had a false start and we gained it back. Then we got a sack and it knocked us out of field-goal range and it would have been really big at that point in time."
The Texans also converted just 3 of 12 on third down.
"Our third down is an area that we have to improve in," Capers said. "That's what enables you to stay on the field and maintain drives. So we have to get better in that area.
"They made their plays. We had our opportunities, and we didn't get ours made. That's the way these games go."
The Texans will have to make those plays if they want to upset Indianapolis inside RCA Dome Sunday. Houston's defense will have enough trouble trying to contain the Colts' offensive trio of quarterback Peyton Manning, wide receiver Marvin Harrison and running back Edgerrin James, who is returning from a back injury. Indianapolis is averaging 29.6 points per game.
So Houston's offense will need to keep the ball and, more importantly, make its drives count on the scoreboard. The Texans rank 11th in the NFL in total offense but just 26th in points per game.
"We're putting up yardage but we have to work on putting up points," tight end Billy Miller said Wednesday. "You can always say penalties, but at the same time it's just execution. When we get down there, I don't know if we're pressing but we definitely have to find out what it is this week because it's a problem."
Head coach Tony Dungy was hired in large part to improve the Colts' defense and he's well on his way to doing just that. Dungy doesn't have the horses he did in Tampa just yet, but the Colts are starting to flourish in the Cover 2.
"Since Dungy's been there, they've gotten better and better," Miller said. "You would like to say that our defense is going to stop their offense. I'm planning for that to happen but not too many teams have done that. We're going to have to score one more point than they score."
Linebacker David Thornton has stepped up in the absence of departed linebacker Mike Peterson to lead the team in tackles with 68. And rookie strong safety Mike Doss appears to be a steal as a second-round pick.
"They're just getting more comfortable in their scheme," Carr said. "Their guys are flying around, they know where to go. Mike Doss is playing pretty well. He's an aggressive guy, he'll come down and help in run support. That acquisition alone has helped their defense."
But Dungy will be the first to admit his defense is nowhere near the consistent level he expects. Indianapolis still ranks just 18th in the NFL in total defense. And the key to putting the Colts on their heels appears to be success on first down. Indianapolis is yielding more than four yards on first down a league-high 52.4 percent of the time.
The Texans, meanwhile, are gaining four or more yards on 50 percent of their first downs. That number has increased the past couple of weeks as Davis' role in the offense has expanded, both running and catching the ball.
"I think David has a little confidence in me," Davis said. "If he was to dump it down to me, I'll make something happen and try to get the first (down)."
Davis not only set a club record with 129 rushing yards against the Jets, but also led the team with nine receptions for 70 yards. The more effective Davis can be on first down, the more Houston can sustain drives and keep Manning and company on the sideline. Indianapolis forces a three-and-out just 14.9 percent of the time.
Plus, the more quality touches Davis gets in the backfield, the more likely the Colts' secondary will be susceptible to the play fake. That could open up more space for Johnson and fellow wide receiver Corey Bradford. Carr completed just five passes to his receivers against the Jets.
Rest assured, the Texans learned their lesson last Sunday. You have to keep your foot on the accelerator.
"You can't let teams sit around for three quarters," Carr said. "We basically our 14 points in the first quarter and we let the Jets hang around and they beat us.
         "But
         we just have to keep our confidence. We know we can do it."