Editorial note: First and Ten with Antwan Peek first appeared in the 9/24 edition of Houston Texans Gameday Magazine.
Antwan Peek is now in his fourth season with the Houston Texans. Previously a linebacker in
. Offering a combination of speed and quickness, Peek should harass quarterbacks all season long.
*1)What was your favorite college moment?
. They were ranked No. 5 with Ron Dayne. Seeing the fans come down and tear down the goal posts, that was the first big game that I had ever won in my college career."
*2) What's your favorite NFL moment?
during my second year. The coaches put me in and I think on the second or third play I got a sack. I was so excited. I might have thrown my arms up like 20 times and I was just tired after that and the coach had to take me out. But that was my most favorite moment."
*3) What's your favorite movie?
*4) What's your favorite food?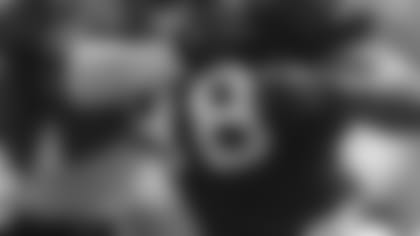 *5) What's your favorite vacation spot?
*6) Who was your favorite athlete growing up?
*7) Who's the person you admire most and why?
*"I would have to say my dad. Growing up, it was tough. My dad had his problems. He was in a penitentiary. Once he got out of the penitentiary, he did everything he could to take care of his family. He raised me after I got to high school and he did the best that he could. We didn't have all the things that we wanted, but he did what he could to make sure we got some of the little things."
*"Quiet…which is opposite of how I've gotten now."
*9) If you could change positions, what position would you play?
*"Quarterback. I was actually a quarterback in high school at one point and I hated it because I was always the guy that wanted to score the touchdown. I didn't want to have to throw it to anyone else. At quarterback, you are the man, you are in control of everything. I like that pressure. I like the pressure to be on me. That's when I'm at my best."
*10) Any advice for kids that play football now?
*"Work hard every day. This is a job. This is the way I make a living. The way I look at is if you're going to do it, play hard."