 *[Click here for the video version
](http://play.rbn.com/?url=nfl/nfl/open/2003/texans/demand/ryansfirstandten.rm&proto=rtsp)*Editors note: This feature first appeared in the 9/10 edition of Houston Texans Gameday Magazine.
*DeMeco Ryans made his NFL debut Sunday against the Eagles recording a game-high 13 tackles. After a strong preseason, Ryans earned the honor of starting at middle linebacker as the Texans begin their fifth season. If the past few weeks are any indication, Ryans will hold his first-string position for quite some time.
*1) What's your favorite college moment?
*"That's tough. I'm not sure. I guess my senior season. Just going from a 4-9 team to a 10-2 team and getting to the Cotton Bowl, that was my favorite moment. I guess getting to a bowl game in general."
*2) Who's the person you most admired growing up?
*"That's my mom. She would always be working two or three jobs when I was growing up, so I always admired her for her strength and her ability to raise a family as a single mother."
*3) What's your favorite movie?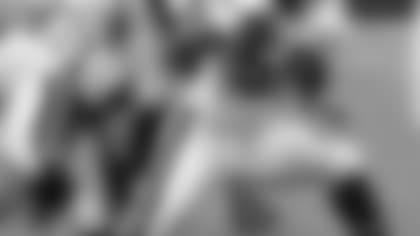 ." It's a funny movie, Eddie Murphy, Arsenio Hall. It's hilarious."
*4) What's your favorite food?
*Fried pork chops with a little hot sauce.
*5 )What's your favorite vacation spot?
*"I haven't been on too many vacations. When we went on vacation, it was always somewhere in
. So I'll say one of those.
*"Like to hang out with my best friends at home in
whenever I get the chance. Just hang out, sit around, do whatever. That's fun for me."
*7) If I wasn't a football player…
*"I'd be playing baseball. I feel like I had a shot to make something out of baseball, but I just kind of switched it over and just went with football.
offered me a scholarship in football, so that's the direction I chose."
*8) Who's the best player you've ever played against?
*"Probably Ronnie Brown while he was at
. That's the best player I've played against."
*9) What player did you look up to growing up?
*"I didn't have one really. I never really watched football growing up, so I didn't have any player to look up to. Once I started playing, I started to watch guys that played my position like Ray Lewis or Dick Butkus or other old-school guys."
*10) Any advice for kids?
*"Go out and have fun. Don't take the game too seriously. Just go out, have fun and enjoy it."