Editor's note: First and Ten with Kris Brown first appeared in the 10/1 edition of Houston Texans Gameday Magazine.
Kris Brown is the only player to kick a field goal for the Texans since beginning play in 2002. Brown has connected on five game-winning field goals with the team, and has made 73 of 90 attempts under 50 yards during his four-year stay in
*1) What was your favorite college moment?
*"Without a doubt, winning two national championships (at
*2) What's your favorite NFL moment?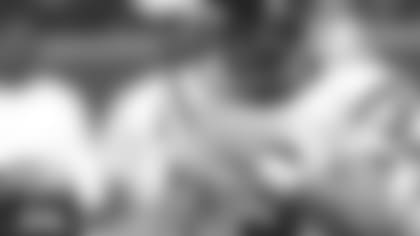 * "The game with the Dallas Cowboys, the first game for this franchise."
*3) What's your favorite movie?
*4) What's your favorite vacation spot?
*"Anywhere on the golf course."
*5) Who was your favorite athlete growing up?
*6) Who is the person you most admire and why?
*"Probably my wife just because she's at home taking care of the kids and she has to put up with me, which is a tough task."
*7) What do you like to do in your free time?
*"Spend time with my family, my wife and my kids. Obviously, I don't have a lot of free time. I have some extended family here in
, so I spend some time with them or golf and read."
*8) Who's the best player you have ever seen?
*"Ironically, it was a teammate of mine, Lawrence Phillips. As far as a professional, that's a tough one to answer. There are so many great players in this league. I really haven't been mesmerized by many players, but one was Brett Favre."
*9) What's one thing you would change about the NFL?
*"Probably letting people dance in the end zone. I like to see the end zone dances. That's pretty cool. It adds a little flavor to the game, so I'd like to see them let some of the guys get a little creative."
*10) If you could play another position, what would it be?
*"I don't know that I would want to change positions. I think I have the best one on the field, especially during two-a-days."