 Editorial Note: First and Ten with Mike Flanagan first appeared in the 11/19 edition of Houston Texans Gameday Magazine.
1) What's your favorite college moment?
*"My favorite and worst was the Rose Bowl when I was at UCLA. We were walking out so jacked up to play against
2) What's your favorite NFL moment?
*"Winning the Super Bowl in 1996."
3) What's your favorite sports moment overall?
*"Probably the same thing (wining the Super Bowl). Being in
seeing all the confetti coming down. Seeing all the guys running around, it was just the culmination of a year of hard work. The ups and downs, it was the pinnacle of everything you work for as an athlete. It doesn't get much better then that."
4) Who's the person you admire most?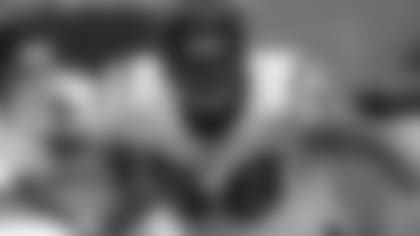 *"My mom. She's been the rock in my life for a long time and she's battled through some tough times and she's always been a positive influence in my life."
5) What's your favorite food?
7) If you were not a football player, what would you be?
*"I would probably be a lawyer. I hate to admit it, but everyone I grew up with seems to be in law school or owns a firm or something, it's just where I came from. I never thought this football thing would be around. I always thought I would be going to school until probably now."
8) Who's the best player you've ever played against?
*"There's so many. Probably (
) Sapp in his hey day when he didn't have a belly and look like Santa Claus."
9) What athlete did you idolize growing up?
*"Patrick Ewing. I wasn't a football fan. I grew up near D.C. and he was at
. I had posters of him hanging up on my wall. I wanted to be a basketball player. I also wanted to be seven feet tall, but that never happened."
*"Just work hard. The rewards you get in the end makes everything worth while. If you keep doing the best you can at everything you do, it will all work out in the end."