Head coaches aren't paid to make easy decisions.

Dom Capers knows it comes with the territory. But that doesn't mean he was any less uncomfortable Monday after practice when he had to tell 16 players the Texans were releasing them.
"It's the most difficult part of this job for me," Capers said. "You have to call a guy in, look him in the eye and tell him you're going to release him."
For some coaches, that might seem like lip service. After all, if somebody isn't going to help you win, what's the point in keeping him around? But Capers truly means what he said. Nobody in the NFL appreciates or applauds hard effort more than Houston's head coach. And for a majority of these players, it wasn't their effort that was in question. It was just the cold, hard numbers game of professional football.
"This is a tough time for the players," Capers said. "They all know we have numbers we have to get to. Guys come out here and work hard and do everything you ask them to do. Then all of a sudden it comes to an end and that's never easy for anybody."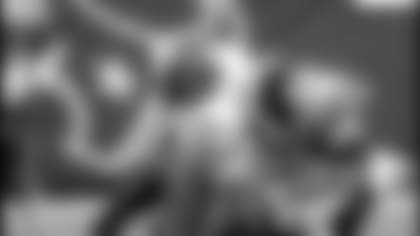 Duff was a sixth-round draft pick out of Notre Dame.
The Texans released strong safety Curry Burns, running back KaRon Coleman, guard Curry Dawson, cornerback Vontez Duff, guard Brandon Evans, cornerback Rober' Freeman, tight end John Frieser, wide receiver Albert Johnson, tackle Brad Lekkerkerker, wide receiver Jermaine Lewis, center Andrew Martin, linebacker Raheem Orr, defensive end D.J. Renteria, kicker Todd Sievers, wide receiver Andrae Thurman and defensive end Bryce Wyatt.
Of those players, only Burns has seen action in a regular season game for the Texans and that was last year's season finale against Indianapolis. Coleman and Johnson have played for other teams.
Some of the players released today will have more shots to make other rosters, whether it's because of youth, position or another player's injury. Capers made that clear to each of them.
"I've seen guys get released and go get a second or third shot and make it," he said. "I've seen guys get released and go make the Pro Bowl. It's a game of opportunity.
"I've seen certain teams claim a large numbers of guys off the wire already. When teams do that, they're obviously searching. Certainly a number of these guys that get released will have other opportunities."
But for some players, tonight will involve some serious career soul searching. If it's your second or third time getting released, how many more chances do you give yourself? That's a tough question to ponder.
"These guys, it's all of their dreams to play in the NFL," Capers said. "And when it doesn't work out, it's disappointing."
The Texans now have 70 players on their roster, including seven roster exemptions. Five of those are NFL Europe exemptions and three are PUP exemptions. That means 17 more players will have to be released by Sunday to get to the 53-man roster limit.