There's a proverb that has made the rounds over the past few years as professional sports salaries have skyrocketed: If he says it's not about the money...it is about the money.

Jason Babin will the first to admit that his bank account worries him a lot less after four years on a college budget. Signing for first-round NFL money will do that for a 24-year-old.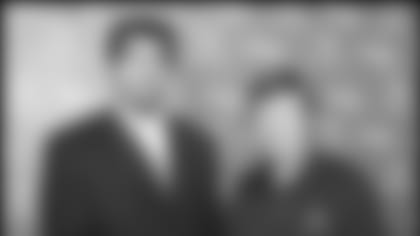 But Babin also proved Saturday that, while the money's nice, his true focus is on football. The Texans' second first-round selection became the first first-round selection in the league to sign in 2004.  


"It's a good feeling to know I've got a little something in the piggy bank," Babin said. "But I'm glad I'm here and I'm glad I got all this wrapped up. Now I can focus on football."

Babin signed a six-year contract, reducing to five years, at a press conference at Reliant Stadium. If he can get to opposing quarterbacks as quickly as he got to his contract, things are looking up for Houston's pass rush.


"It's a contract we feel is equitable for both sides and we're excited about it," general manager Charley Casserly said. "I want to congratulate Jason and also his agent, Tony Agnon. Both sides worked hard to get it done and both sides should be congratulated for getting it done."


For the second time in their three years of existence, the Texans are the first NFL team to sign a first-round pick. Quarterback David Carr signed on draft day in 2002. It's a trend worth noting and one a distinction the Texans are happy to claim.



"If people think you're going to be treated fairly and honestly throughout the process, you're able to get deals done," Casserly said. "We're trying to establish a reputation in the league as being that kind of club and I think we're doing that."


The Texans traded up with Tennessee to snag Babin with the 27th pick and the former Western Michigan standout has been starting at left outside linebacker throughout Houston's off-season program. Babin played defensive end in college, collecting 30 sacks over his last two seasons. The transition to a 3-4 linebacker is never easy, let alone for a rookie who's expected to contribuet immediately. But Babin isn't fazed.

"I really don't feel any pressure because I believe I'm capable of doing what they expect of me," Babin said. "I'm showing up every day and working hard."

The Texans report for camp July 30 and have five more draft picks to sign, including their other first-round pick, cornerback Dunta Robinson. But it's a feather in the club's cap to have at least one of its first-rounders in the fold before the close of June. 

"Jason has one thing now to focus on and that's getting ready for camp," Casserly said.