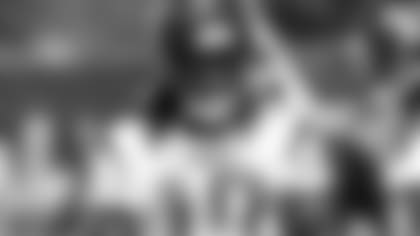 ]( "DeAndre Hopkins")

Here are five things to watch in Texans OTAs (organized team activities), which begin on Monday at the Methodist Training Center.
The Texans will have 10 practices in OTAs (May 20-21, 23 and 28-30 and June 3-6), followed by a mandatory mini-camp from June 11-13.
1. Hopkins: Rookie wide receiver DeAndre Hopkins made a strong first impression in rookie mini-camp last weekend, but that was against other rookies, many who were with the Texans on a tryout basis.
Now, the first-round draft pick from Clemson will be practicing with Andre Johnson, catching passes from quarterback Matt Schaub and going against cornerbacks such as Pro Bowler Johnathan Joseph and Kareem Jackson.
The Texans expect Hopkins to make a significant contribution from the get-go as a rookie. He showed "extremely special" ball skills in the rookie mini-camp. The Texans would certainly like to see more of the same as Hopkins practices with his veteran teammates.
2. Safety spot: Free safety Ed Reed will not participate in OTAs because of minor hip surgery in late April. Rookie D.J. Swearinger, a second-round pick from South Carolina, should have a chance for a lot of reps in his absence.
Reed, a nine-time Pro Bowler with the Baltimore Ravens, signed as a free agent in March. The Texans hope the 34-year-old safety will be ready for the beginning or middle of training camp in late July.
Swearinger was drafted to be the Texans' third safety as a rookie. He might get a lot of starters' reps next to strong safety Danieal Manning in OTAs as he competes with veterans Shiloh Keo and Eddie Pleasant. Like Hopkins, Swearinger looked the part of a high draft pick in rookie mini-camp. The competition goes up a few notches on Monday.
3. Linebackers: The Texans' linebacker corps is rife with questions as OTAs begin. The only spring certainty in the starting lineup is that outside linebacker Whitney Mercilus will start on the weakside after coming off the bench for much of his rookie season in 2012.
Defensive captain Brian Cushing is still recovering from a torn ACL. The Pro Bowl inside linebacker should be ready for the season but will be out at least until training camp. Brooks Reed could move inside after starting on the outside for the last two seasons, but that likely depends on how rookies Sam Montgomery and Trevardo Williams perform at outside linebacker. Inside linebackers Darryl Sharpton and Tim Dobbins are both coming off season-ending injuries.
Texans coach Gary Kubiak said after rookie mini-camp that Williams, a fourth-round pick from Connecticut, was "a little ahead" of Montgomery, a third-round pick from LSU. OTAs will be big for the two rookies as they transition from defensive end on the college level.
4. Right guard, right tackle: The Texans have a Pro Bowl left tackle, left guard and center, but the right side of the offensive line remains unsettled.
Ben Jones started at right guard as a rookie last season after being drafted as a center in the fourth round out of Georgia. Brandon Brooks, a 2012 third-round pick from Miami (Ohio), should compete with Jones for a starting job after working his way into a rotation with him by the end of the season and slimming down this offseason.
Third-round pick Brennan Williams, who tweaked his knee in rookie mini-camp, will compete for the Texans' starting right tackle job as a rookie. Derek Newton, the Texans' starting right tackle in 2012, is out until training camp after having offseason knee surgery. Veteran Ryan Harris could be in the mix after rotating with Newton last season, and keep an eye on sixth-round pick David Quessenberry, a potential sleeper from the Texans' draft class.
5. Quarterbacks: This time last year, Schaub was on the sidelines as he rehabbed from a Lisfranc injury in his foot. Having him on the field for OTAs in 2013 will be big for the Texans and for Schaub, whose performance has come under heavy fire since the end of last season.
Schaub is entering his seventh season in Houston. His familiarity with the offense gives Kubiak and offensive coordinator Rick Dennison that much less to worry about when he's on the field. Schaub will have 10 practices to establish familiarity with young receivers such as Hopkins, Keshawn Martin, Lestar Jean and Alan Bonner. He'll also get to maintain his rhythm with Johnson, tight end Owen Daniels and the rest of the offense and keep things moving crisply and efficiently throughout each practice.
Behind Schaub, it sounds like a competition is brewing between T.J. Yates and Case Keenum. Yates started seven games as a rookie in 2011 and backed up Schaub in 2012. But Keenum has made major strides since signing with the Texans last year as an undrafted free agent from the University of Houston. The Texans also signed Stephen McGee, a 2009 fourth-round pick of the Dallas Cowboys out of Texas A&M.
Twitter.com/NickScurfield