Christmas lights no longer illuminate the streets of
as they did a few weeks ago, meaning the holidays finally have come to an end. But with the end of each holiday season, there comes the birth of a new year and all its potential.
For the Texans, the end of 2006 also signifies the conclusion of their season. This time, however, the team ended the season in a way it hadn't before – with a 'W' at the bottom of their schedule. Back-to-back victories to finish the year definitely set the tone for 2007, according to Steve McKinney.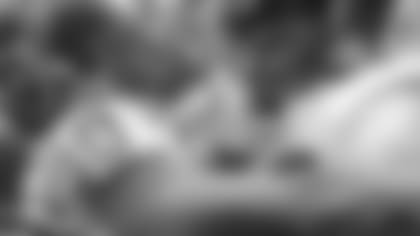 When asked about his New Year's resolutions,
"To win more football games," he said.
That's one resolution the entire team agrees on.
Safety Jason Simmons, a ten-year NFL veteran, took a more religious approach to his one resolution.
"Read the Bible more," he said.
Others, like quarterback David Carr and guard Chester Pitts, had some fun answering questions about their respective goals for the upcoming 12 months. Pitts had a long list of things to do in 2007.
"I'm not real big on New Year's resolutions," Pitts joked. "I try to live each day right…I'm kidding. There are a lot of things I can do better. Be a better dad. Be a better player. Lose 10 pounds. Pick one. I've got a lot of them."
"I'm thinking of playing linebacker next year," a straight-faced Carr said. "I'm going to gain a couple of pounds, maybe 40 to 50 pounds to see if I can play a little defensive end. It'll be interesting to see how I come back."
Perhaps rookies DeMeco Ryans and Mario Williams will have some competition on the defensive side of the ball with Carr in the mix?
Williams' resolution was much simpler.
"Rest. It really is because I haven't rested yet," Williams said. "I've been going ever since getting done with college and then getting ready for the draft, so I'm going to try to get some rest. That what I'm going to try to do so I can be back energized next year."
With their names broadcast all over the television and written in the newspaper, players often are put on a pedestal, when, in fact, they live fairly normal lives off the gridiron. For example, N.D. Kalu has a resolution that many Americans have in common.
"Lose some weight, that's all," said the 265-pound Kalu.
A player that might have trouble focusing on his resolutions because of his busy schedule is Pro Bowl wide receiver Andre Johnson. Johnson will join other NFL players in
next month for a week's worth of fun and competition. He still has a little football left to play this season, but for now, he'll focus on being more outgoing.
"My resolutions are just to become a better person and a better football player," Johnson said. "I'm always criticized that I'm not a very sociable person, so I guess I'll work on that a little bit."
Johnson will have plenty of opportunities in