On Sept. 8, with the entire football nation tuned in, they will be adversaries.
But before then, the Texans and Cowboys will get together in a cozier environment, with less at stake on the field but plenty at stake off it.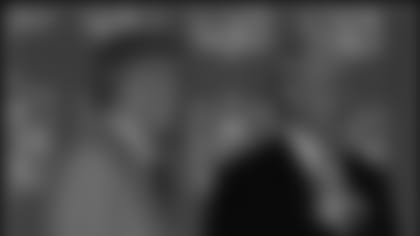 Jerry Jones and Bob McNair
Texans founder Bob McNair and Cowboys president and general manager Jerry Jones jointly announced their team's scrimmage Tuesday at the Houston Inter-Continental Hotel. Both owners were attending the second day of the league's spring meetings in Houston.
The Texans and Cowboys will square off at the University of Houston's Robertson Stadium at 7 p.m. on Aug. 2. The scrimmage will benefit Juvenile Diabetes, the Salvation Army Boys and Girls Clubs and the Houston Texans Foundation.
"This is a wonderful opportunity for us to introduce the NFL back to Houston," McNair said. "And we're delighted that the Cowboys are going to be there."
The scrimmage should also serve as the springboard to a relationship between two Texas teams that will ultimately benefit both franchises.
"The Texans have brought commitment, will, focus and enthusiasm to the NFL," Jones said. "This is formidable competition for us, both on and off the field, which is great because it will make us both better.
"We've all now come to appreciate not having an NFL team in Houston, Texas. And now we can all celebrate having the Houston Texans."
Tickets for the scrimmage will be available for $10, $15 and $20, with the overwhelming majority of seats available to the general public at $10. Texans season ticket holders will be sent a letter containing information on pre-ordering a limited quantity of tickets.
The University of Houston will also receive a small allotment of tickets for season ticket holders, alumni, faculty, staff and other constituents. Tickets will go on sale to the general public on June 8 at noon through Ticketmaster (phone 713-629-3700 or www.ticketmaster.com).
       </td>
     </tr>
   </tbody></table>

Jones has even hinted to the league that he would like to see the Cowboys and Texans play an American Bowl preseason game in Mexico City. In 1994, the Cowboys and Oilers played at Aztec Stadium before a crowd of 112,376 -- the largest to ever witness a professional football game.
"Part of the purpose of the American Bowl games is to promote American football to other countries," Jones said. "The two teams that are most interesting to the people of Mexico have the best chance to promote our sport.
"So it's no accident that we approached the Texans."
McNair has been busy readying his franchise for its inaugural season. But he sees the future benefit of playing a game in Mexico City.
"We're very supportive of that idea," McNair said. "We would be anxious to do it if it was practical. We think it would be great for the Texans and great for our Hispanic fans."
Houston and Dallas are in different conferences, so the two clubs will play each other just once every four years under the NFL's new scheduling rotation. But events such as the upcoming scrimmage and possible preseason dates can only enhance the regional rivalry.
"I think it's just a natural rivalry," McNair said. "We're the only two cities in Texas that have NFL teams. We're two large metropolitan areas. We have a lot of business relationships back and forth between Houston and Dallas.
"We know that we're starting out as the underdog. But we're going to work hard at it and the way we're going to do it is to put a good team on the field and try to be competitive."
And that first test for the Texans will come against their neighbors to the north.
"We're thrilled to have Bob McNair and the Houston Texans in the National Football League," Jones said, smiling. "That's what you say, and that's the way you say it, before you hit the football field."