The six degrees of separation theory is becoming quite a popular trend among the transient players and coaches of the NFL and the Texans are no exception.
The expansion franchise may be young, but the staff and squad have certainly been around the block, playing and coaching with multiple combinations of personnel now sporadically sprinkled around the league's 32 teams.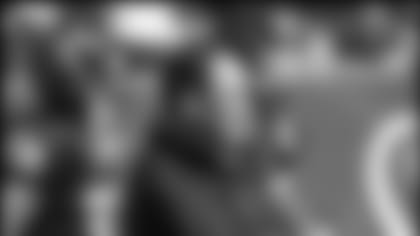 Fangio was Del Rio's linebacker coach in 1986 while Texans head coach Dom Capers led the defensive backs and special teams coordinator Joe Marciano was in charge of tight ends and special teams for the Saints.
"If you hang around here long enough, somebody knows somebody," Texans defensive coordinator
Vic Fangio
said. There's always a connection some way, some how."
This week, Fangio and linebacker Jamie Sharper, will get reacquainted with Jaguars head coach Jack Del Rio. The three men's progression through the NFL ranks has come full circle to make Sunday's match up not only a crucial divisional clash, but a reunion between teachers and pupils.
Fangio spent the 1986-94 seasons as the New Orleans Saints linebackers coach. A young Del Rio had just been picked in the third round of the 1985 draft by the Saints and during his second season, Fangio took over as his position coach.
Del Rio had just picked up the team's Rookie of the Year award. Heading into year two, he would only spend that lone season under Fangio's instruction before moving on to Kansas City. But over those 16 games, Fangio got a quick peek into just what kind of player the young NFL defensive disrupter could be.
"Jack was a very smart player," Fangio said. "He was the one guy on our team when we were there that was capable of playing mentally and physically all four linebacker positions."
Del Rio had the talent, but was playing alongside linebackers like Sam Mills, Vaughan Johnson, Pat Swilling and Rickey Jackson, who possessed a great deal of athletic endowment of their own.
So Del Rio went to Kansas City shortly after, where he could flourish and see ample playing time at the position. Still over that one season, Fangio saw the makings of a player who was going to stick around in the NFL for a long time.
"He was a confident player so I think you can see that reflected in his willingness to maybe gamble a little bit more than some other coaches may in certain situations," Fangio said about Del Rio's playing demeanor translating into his coaching style. "It doesn't surprise me the way he's coaching the team. It fits him. He's a confident guy."
This season, Del Rio and his Jacksonville team have reflected that poise in their play, taking all five of their wins down to the final seconds of game, including four fourth-quarter come-from-behind victories.
In just his second season at the head of the Jaguars coaching staff, Del Rio is already making huge strides with the teams' on-field performance. And some of his former players, including the Texans leading defensive tackler, Sharper, contribute his success to a number of factors.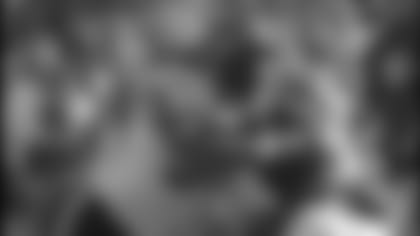 Under Del Rio, Sharper and the Ravens defense set the NFL 16-game record by allowing only 165 points with four shutouts.
Sharper was part of a linebacker unit for the Baltimore Ravens that has gone down in history as one of the stingiest of all-times, and the group was coached by Del Rio. Sharper joined Peter Boulware and Ray Lewis as Del Rio's students of the game for three years, including the 2000 Super Bowl championship season.
The trio and their position leader proved to mesh together to form one solid combination.
"The chemistry was great because when you have a former player that really only played maybe seven years before you did, he knows what your body feels like; he knows what your mind is like; he's been through a lot more than a coach who hasn't played high school or college ball in over 30 years," Sharper explained.
Shaper was educated on many of the philosophies that Del Rio developed and adopted during his 11-year playing career. That mentality includes in-your-face play and an understanding of anticipating offenses.
"In Baltimore, I think he tried to make us more aggressive and made us be able to read faster," Sharper said. "His style of defense is mainly to let his front four guys make plays against the pass rush and then let him linebacker and defensive backs read where the ball is going and break on it."
Sharper has taken many techniques and skills from the "Del Rio School of Linebackers" and applied them to his new role, as a veteran anchor on the Texans developing defense.
"The main thing he taught me was reading how the offense is trying to attack your defense," Sharper said. "Whether it be the running back and how he runs, the quarterback and whether he looks over half the field or the whole field, he taught us how to read the offense and how it affects your defense."
When Sharper lines up against his former position coach's offensive unit on Sunday, he faces a versatile runner in Fred Taylor, who has already coughed up 501 yards on the ground and 224 yards receiving. Sharper will also use Del Rio's quarterback mind-reading tactics with Jaguars passer Byron Leftwich, who has averaged 318 yards passing in the last four weeks of play. Already, Leftwich has been able to find 15 different receivers over seven games, giving Sharper and the gang plenty of diversions not only on the ground, but in the air.
Sharper is prepared for Del Rio's entire squad to come prepared and fired up to take a lead in the AFC South. Sharper and his Texans defensive teammates plan to mirror that blueprint.
"I think a team coached by Jack Del Rio is going to give you great effort because they're going to be well-rested and they're also going to have guys that are comfortable in what they do in their job," Sharper said. "You won't see guys out there confused, you'll see guys out there making plays and we need to definitely be the same way."
Del Rio too, knows his opponent's tendencies. And while he'll be happy to reunite with old tutors from his playing days and new mentors since becoming a coach, he also, like Sharper, is prepared for the tempo of Sunday's showdown.
"Vic and Dom were both coaches there in New Orleans when I was a player so I have a history," Del Rio said about his familiarity with the Texans coaches. "They're both excellent coaches and have been successful everywhere they've been and we know they will have their units prepared this week."
And from the sideline, Del Rio will also have a chance to observe how a former product of his system has now evolved into one of the most solid linebackers in the game.
"That brings back great memories because we were part of something very special there in Baltimore," Del Rio said about his relationship with Sharper. "Jamie was an integral part of that. He was a good player. He was good to work with then and I think he's blossomed into a real fine linebacker."