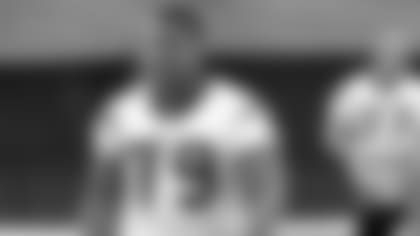 ]( "G Brandon Brooks is down to 325 pounds after reporting to the Texans at 355 as a rookie last April.")

Texans guard Brandon Brooks is a little lighter on his feet these days.
With an offseason of working out and healthy eating, Brooks has slimmed down to 325 pounds. The 6-5 lineman was 355 pounds – the heaviest player in Texans history – when he was drafted in the third round out of Miami (Ohio) last April. He was 335 in January at the end of his rookie season.
"I feel a lot better," Brooks said Saturday at the 2013 Texans Cheerleader Tryouts. "The reason why I got down so low, I want to be able to move in our system, want to be comfortable. Also, with it being so hot outside, being 355 just wasn't healthy for me. I think 325 is the best weight for me. I feel like I'm just as strong but I'm a lot quicker."
Brooks has been working out four days a week since mid-February. Living in Chicago this offseason, he went to a local gym most days at 8 or 9 a.m. He used a workout plan from his college strength coach that emphasized dumbbell weights and squats, cleans and bench presses.
"The biggest thing was just eating right consistently – going to Whole Foods or not eating fast food, or if I have a cheat day, it'll just be one day; it'll just be Saturday," Brooks said. "So I just eat healthy consistently and (have been) working out four days a week – Monday Tuesday, Thursday, Friday."
After getting called out publicly about his weight by Gary Kubiak in mini-camp last May, Brooks was inactive for the first 10 games of his rookie season. He got a few reps at right guard behind fellow rookie Ben Jones in Week 12. He played about 50 percent of the right guard snaps in the playoffs.
Brooks – who ran a 4.98 40-yard dash and did 36 reps of 225 pounds in the bench press at his college pro day – is looking forward to competing with Jones, one of his closest friends, for a starting job.
"Once I got my feet wet and really understood what it was to play this game and being blessed to play this game (last season), my confidence started to build and I started to gain some momentum, and I just want to keep it going," Brooks said. "I feel like I've got a lot to prove, so definitely can't wait to get started."
Twitter.com/NickScurfield