As similar as they play on the field, Texans rookie WR [Andre
             Johnson]() and Bengals third-year WR Chad Johnson couldn't be
             more opposite away from the gridiron.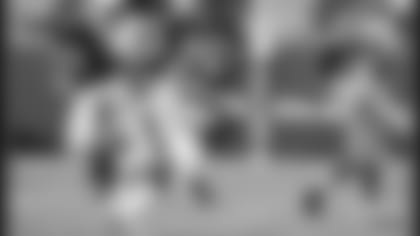 Andre prefers to let his game do the talking and will be ready for this Sunday's challenge in Cincinnati.
While Andre is soft-spoken, laid-back and reserved off the field, Chad enjoys attention and doesn't shy away from making bold predictions and adding hype to upcoming matchups.
For example, before the Bengals played the Texans last season, Chad did what few rookie wide receivers on winless teams had ever done before--he guaranteed that the Bengals would beat the Texans at Reliant Stadium. As foolish as the statement seemed at the time, Chad ended up producing with three catches for 41 yards and a score in the Bengals' 38-3 win.
This week, Chad hasn't had any off-the-wall predictions about the game, but he also hasn't downplayed his potential matchup with Texans CB Aaron Glenn, who he indirectly challenged to cover him one-on-one this Sunday.
"It's a good challenge for me," Chad said. "I've been studying film on (Glenn) the past two days. He looks really good. I just hope that I get a chance to go out there and it's just me and him alone, no double team."
Andre, on the other hand, isn't one to predict wins and it's unlikely that he'll ever call out an opponent before a game. He prefers to let his game do all the talking.
Andre has definitely made his 6-2, 221-pound presence felt on Sundays. Through his short eight-game career, he has started each contest and has already made a team-leading 39 receptions for 559 yards (14.3 avg.) and two touchdowns on an array of deep routes, crossing patterns and bruising runs after the catch.
"I think he is playing like a guy that's played before. Nothing awes him," Texans wide receivers coach Kippy Brown said. "He is still learning different coverages, different techniques and different looks that he gets and he gets fooled now and then. He has got the physical capabilities of going out and winning on every single play."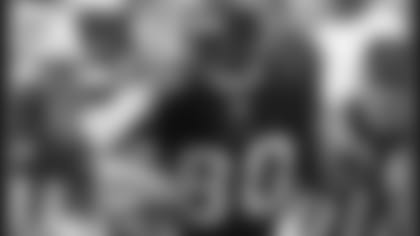 With bragging rights at stake, Andre will surely be extra focused this Sunday.
Similar to Andre, Chad is 6-2, but weighs in at a svelte 192 pounds. Chad backs up his talk with his big-play ability and breakaway speed. Currently, he ranks fourth in the NFL with 718 receiving yards on 39 receptions (18.4 avg.) and five touchdowns.
"Chad Johnson is a big guy that can go up the field," Texans head coach Dom Capers said. "He gives (the Bengals) a vertical threat, a speed receiver."
In an odd twist of fate, both Andre and Chad grew up in Miami, but had never met each other until a couple years ago. After leaving Miami Beach High School, Chad attended Oregon State with a couple pit stops along the way, while Andre had a successful career at the University of Miami after attending Miami Senior High School.
Recently, Andre and Chad have become acquainted through mutual friend Santana Moss, who is a wide receiver on the New York Jets and also attended the University of Miami. Both Johnsons respect each other's games and Andre looks forward to the challenge this Sunday.
"Chad is a great player. He comes to play every Sunday," Andre said. "Before I came to training camp, I had a chance to see him and he was like, 'I'll see you in Cincinnati. We've got a squad there.' I'm definitely looking forward to it. We can just see who is going to be the best Johnson on Sunday."
While Andre goes short of challenging Chad, there is no doubt that both will want to produce this Sunday and come home to Miami this summer with bragging rights.