Texans running back Ron Dayne is a man of few words. And fewer moves.
The big veteran's running style is about as subtle as a wrecking ball. Just ask offensive tackle Ephraim Salaam.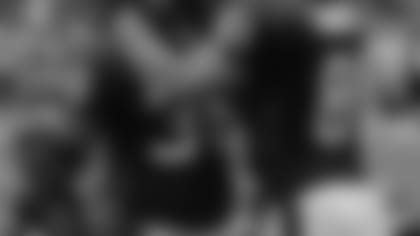 "I was trying to block for him once and he ran into me," Salaam joked. "And my whole left side went numb."
Dayne's conversational style is even less subtle. The low-key former Heisman Trophy winner from Wisconsin believes in conserving his words. And as he has done throughout his career, Dayne has been doing his talking with his play for the Texans lately.
He has given the team a punishing running game the last two weeks, leading Houston in rushing with 95 yards on 18 carries against Oakland and 87 yards and two touchdowns in 21 carries against Tennessee.
As pro football players will do, though, his teammates are ready and willing to chide him about his reluctance to talk much.
"Some people realize they're only allowed a certain amount of words in their lifetime and he tries to limit them," quarterback David Carr said. "He wants to live for a while."
Salaam thinks Dayne's reticence has more to do with conservation.
"He really doesn't talk much," Salaam said. "He's a big guy and he runs out of gas. He doesn't come out of the game. Talking only uses his oxygen. So he manages his oxygen well by not speaking.
"He just doesn't like to speak. He just likes to store all that up."
What he has meant to the Texans' offense lately is no laughing matter.
"I've been telling Ron Dayne that I've been waiting for him to show up since earlier in the season," Salaam said. "He's healthy and he's feeling good and he definitely adds a bit of attitude to our running game.
"He's definitely an improvement and a much-needed boost in the running game. When you've got a guy who can't get tackled by just one guy, offensive linemen love that.
"We can't block everybody. Somebody's going to be unblocked. If you can run that guy over or gain some yards with that guy on your back, it's a credit to him and takes the pressure off the offensive linemen."
Until the last two weeks, Dayne has been running over few people. He spent five games on the inactive list, including the last three before the Oakland game. And even the last two games, he has been the backup, alternating with starter Wali Lundy.
Dayne says he's content in that role.
"It doesn't bother me," Dayne said. "Just being able to get a chance to play is all right with me.
"I know we've got a good team. I know (coach Gary) Kubiak has got the right system in, and I just want to support him and I want the guys to know we just need to keep fighting and we've got a chance."
Dayne started three games early in the season with little success, rushing for a total of 130 yards in 46 carries – a 2.8 yards per carry average – against Washington, Miami and Dallas.
Dayne is in his sixth NFL season, playing the first four with the New York Giants and last season with the Denver Broncos. He had started only 14 games before this season and his best year was rushing for 770 yards as a Giants rookie in 2000.
Kubiak thinks different factors have affected Dayne's career.
"Probably a little bit physical (problems) and I think he's battled his weight a little bit in his career," Kubiak said. "I know he did in Denver and we got (his weight) down. And he has had some physical things that have held him back.
"He gets hit hard when he runs because he's just a big, lumbering, downhill player. So being able to withstand that punishment is probably a big key."
Kubiak is non-committal on who will start this week at running back. But he says Dayne will definitely play a lot and admits the 5-10, 245-pounder is not your ordinary NFL running back.
"I think he's totally different from what you would see around the league," Kubiak said. "I think everybody looks for somebody who can make a big play and someone you can get off the field fast. That's not Ronnie's deal. Ronnie's a banger. He's hard to tackle when a defense gets tired. So he has his role.
"Could he be an every down back? Yes, he definitely can, you know, but having the big speed or the big play, that's not really his deal."
And Kubiak isn't certain Dayne is at his peak condition-wise now.

"He got a little worn out the other day in the game when we rode him those two quarters, especially after that third quarter drive," Kubiak said. "I think he has the ability to (play full-time). I think he has to have a full season under his belt to be getting through everything physically to be able to do that. I'm not sure he can do that right now."
Still, Kubiak thinks that might be in the future.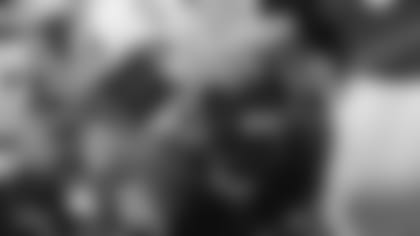 "When he's healthy and his weight is right and he has all that under control, I think he's a solid NFL back," Kubiak said. "He needs to go through a great offseason, a training camp where he goes through all of that, and I think he can be a very effective football player.
"He was behind the eight ball when that happened this year, so he was behind. But he's done a good job for us, and I look forward to him in the future."
Dayne says he'll do whatever the coaches want.
"I love to win, so no matter what it takes to win, I'll do it," he said. "I'm not a big run-you-over and carry-you-around  type of guy, but if that's what it takes to get the ball downfield, that's what I'll do.
"I'm going to keep running and do what I've got to do. The line is getting excited when I get out there to run the ball and I'm going to keep giving it to them."
And he'll do it speaking softly. Dayne knows he'll never be talkative.
"I can't be," Dayne said. "I ain't flashy."
*EDITOR'S NOTE:Jim Carley is a veteran Houston sportswriter who has covered the NFL for more than 25 years. He has worked for such newspapers as the Fort Worth Star-Telegram, The Houston Post, the Los Angeles Herald-Examiner and the National Sports Daily covering such teams as the Dallas Cowboys, the Houston Oilers, the Los Angeles Rams and the Oakland Raiders.