If there is one axiom that backup players live by in the NFL it's that injuries offer opportunities. While no one in the Texans organization, including Eric Winston, is happy Charles Spencer was lost for the season Sunday in Indy, everyone knows that's the price of doing business in professional sports.
So when the Texans realized that their promising rookie left tackle would spend the rest of the season on IR, there wasn't a party, but there probably weren't any tears shed either. Wednesday, the team returned to the practice field in preparation for their game with the Washington Redskins Sunday at Reliant Stadium. With Spencer gone, Ephraim Salaam takes over protecting David Carr's blindside, but that leaves an opportunity for the aforementioned Winston, another promising rookie tackle. Winston will fill Salaam's shoes as the swing tackle on game days, a player that can be inserted at either right or left tackle.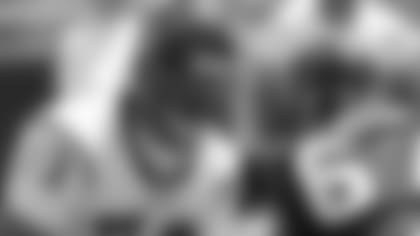 "That's what it's all about as a football player," Winston said of his opportunity. "You come into the league and all you really want is a chance and at the end of the day if you get a chance, it might happen for you, but if it doesn't then you know you at least left everything out there. This is definitely a time for me to step up and help this team out and that's what I'm going to do."
Winston spent most of the preseason at right tackle, a switch from college where he played left. At the
, Winston began his collegiate career as a tight end, but was moved to left tackle as a sophomore and started three straight seasons for the Hurricanes.
Although Winston had never played right tackle before stepping foot in
, he feels comfortable on the right side now.
"You play three years at a certain side and you get use to it," Winston said. "Moving over, by now, I feel a lot more comfortable. It's also a good spot for me."
Now Winston will be asked to play both right and left tackle, but since he's so familiar with the left side, he's not expecting any problems.
"Left tackle has been what I played ever since I moved to the interior line," Winston said. "Being the swing guy, it's probably going to be a lot more fun. I don't think going back and forth is going to be too difficult for me."
Texans assistant head coach/offense Mike Sherman helped mold Spencer into a starting left tackle in the NFL and he's been getting Winston ready in the shadows. With injury, Winston's opportunity is now and
believes Winston can handle the swing"role.
"He's been practicing on both sides previous to this week,"
said. "In the last three weeks he's been working at the left side and he's played there previously in college. It shouldn't be that challenging, it's a position that he's had some familiarity with, but it is still challenging."
Sitting in his locker prior to practice Wednesday, Winston looked every bit the part of a player ready to perform on Sunday. Calmly fielding questions from the assembled masses, he put his opportunity to play in clear terms.
"It's definitely there and I'm excited about it," Winston said. "You just don't come here to sit around. That's never been my nature and I'm exciting about the possibility of that happening, getting out there and maybe get the chance to play some. I'm looking forward to it and I'm just going to prepare like heck for it." ](http://store.houstontexans.com/family/index.jsp?categoryId=2237490&clickid=mainnavgeartxt)Preparation will be the key if Winston is to see the field. While he feels he can play both sides of the offensive line, he acknowledges that there are different nuances to the right and left tackle spot.
"Run blocking there isn't too much difference," Winston said. "You just get off the ball and get after it and use your technique. But pass blocking, it's using completely the other side of your body. On the right side instead your pushing with your left and posting with your right and throwing your right hand out there, on the left side now your posting with your left so you have to be good with both and hopefully be a little ambidextrous."
His coach agreed and went a step further.
said of whether run or pass blocking is different on either side. "It's different technique, different footwork, different stance when you're playing right side or left side so I think it affects your pass set and how you open your hips and same thing in the run game with what hand you're using. Your footwork definitely changes."
It's just another role for Winston to grab hold of. After all, before being drafted by the Texans in the third round in April (66 th overall), Winston had never come off the bench as an offensive tackle. It didn't take long for him to adapt.
"When you know you are going to be the first one out there, it's definitely different," Winston said. "But I think the key for me and the key for any backup really is trying to emulate that and really try and have the same feel and just put that same kind of preparation and that same kind of enthusiasm into it as you can. Even though you might only be out there for a series or two, you never know how hard they're looking at that series and then two series might turn into four series. I'm just hoping that one play, 10 plays, whatever it is, I'm just going to get after it."