Gary Walker's first season as a Texans couldn't have gone any better. His second season? It couldn't have gone any worse.

Walker went from a Pro Bowl season at defensive end in 2002 to an injury-plagued campaign that covered just four games in 2003. Walker injured his shoulder in Houston's second preseason game at Dallas, causing him to miss the first two regular season games. He returned for four games but a nagging toe injury finally landed him on injured reserve.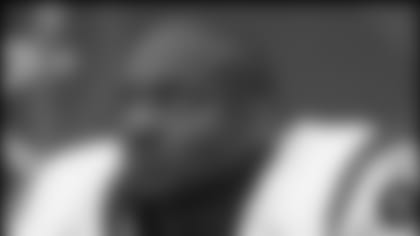 But after re-signing with the Texans in March, Walker appears to be back in the proverbial saddle again. He's looked fit and feisty during this week's coaching sessions as he tries to reclaim his position as one of the league's best defensive linemen.


"It's been a long time since I did football drills so I'm trying to get my body back in football shape," Walker said. "I want to pick up where I left off last year and try to catch up to some of the stuff I didn't catch last year.


"The main thing is when I wake up in the morning there's not a lot of soreness there. If we can just keep going in the direction we're going, I'm looking forward to having a great year this year."

The defensive line certainly has a different look since Walker was last in the lineup. The Texans signed Robaire Smith as an unrestricted free agent. Seth Payne is on track to return at nose tackle. Plus, Corey Sears, Jerry Deloach and Junior Ioane have improved loads since Walker's departure.

"We've got a lot of guys out here that can help us," Walker said. "Robaire's looking good on the defensive line and Sears and Jerry have a lot more experience. We've got some young guys that hopefully can help us. It's very positive out here."

That's good news for the Texans, who plummeted to 31st in rushing defense last season due in large part to the absence of Walker and Payne. Houston also managed just 19 sacks and gave opposing quarterbacks too much time to pick apart the defense.

Walker's return should instantly improve those numbers. But he needs time to work his way back into form, as well as time to adapt to his fellow linemates.

"Whether you play 16 games or the playoffs or whatever, you still have time to get your legs back up under you," Walker said. "The stuff we're doing now is a lot more teaching than actual physical stuff. We're getting a lot out of this. The young guys can learn now and when they come to training camp they'll be so far ahead. Everything we can get done here is a plus."

And staying healthy would be a plus.


"We can say if we had this last year, or that last year, it would have gone a certain way," Walker said. "But the only way you'll ever know that is if people stay healthy. They're doing a good job of taking care of us. If we can just keep everybody healthy and everybody on the field, we'll be fine."

And as for "G-Funk"?


"I'm fine," he said. "I'm just working every day. I'll be ready."