The heat from the spotlight on Texans No. 1 draft pick Mario Williams got a little more intense this week. And head coach Gary Kubiak was the one who turned it up.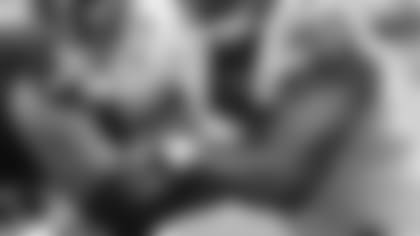 But the affable Williams just smiled, looked deep into the light and didn't bat an eye.
If nothing else, the 6-7, 295-pound rookie from North Carolina State is proving he can stand the pressure. Williams seemed forthright and matter of fact as he withstood a barrage of media questions before Wednesday's practice about his lack of performance.
Most everyone agrees the big defensive end has had quite an inauspicious start, managing a meager total of eight tackles – and no sacks – his first three games. On a floundering defense that is putting almost no pressure on opposing quarterbacks (three sacks total as a team), the struggles of the draft's overall top pick are even more glaring.
That's why Kubiak held back nothing when he was asked about Williams in his Monday press conference.
"I was disappointed in his play," Kubiak said flatly. "There were some communication issues that we have to get corrected with him and what we're expecting him to do in some certain situations. And we'll get those corrected.
"He's done some things and progressed, but he did not do that this week. And I'm expecting him to bounce back this coming week and become the type of player we want him to become.
"I don't want to pin that all on him. I don't want you all to take it that way, but he knows I was disappointed in his play. And he has to play better."
It was a surprisingly candid assessment of a young player, but Williams didn't flinch. Even Williams is disappointed with Williams.
"I feel like it was well-deserved," Williams said of Kubiak's criticism of him. "Obviously, the production has not been where everybody anticipated, not just you guys, but myself.
"Out of everybody that has been saying things, I'm the No. 1 guy who hits himself the hardest with it. Us having only three sacks in the first three games, I have to step up to the plate and be the leader on the field. I realize that and I just have to go out and get better every day and help the team out."
It was a startling admission, but one about which Williams was no doubt sincere. He held back nothing in his analysis of himself or Kubiak's need to point it out.
"I know I deserve it," Williams said. "I deserve to be called out. Like I said, the production on the whole unit hasn't been where it needs to be. For me to be the No. 1 pick and have the role and responsibility put on me like it is, I feel like I have to set the standards and be the leader on the field and keep everybody going and pumped up."
And Williams knows he hasn't lived up to that heavy role.
"No. Obviously, it is one thing to be the No. 1 pick," Williams said. "And everybody makes it seem like it's easy to get a sack these days. But at the same time, for our unit's production, I have to be held accountable for it, because I have to go out there and be the general."
Williams knows he isn't playing with the reckless abandon he was noted for in college.
"I don't know what it was, but I was very hesitant," Williams said. "What you have seen hasn't been me. It has been my fault and I have to take responsibility for that. And I plan on turning it loose and letting it go now."
And what did Kubiak mean about a lack of communication?
"Basically this past week with them flip-flopping and everything like that, we had a lot of different checks and communication was a big key," Williams said. "And some things were said that were misinterpreted and I just have to be better off with that."
Learning new schemes and two different positions on the line also has affected his aggressiveness, Williams thinks.
"That was what it was," Williams said. "They have simplified the scheme, but it's still like I'm coming off and I'm reading too much. I think it's harder than what it really is. I need to just realize to go and just cut it loose and everything will be simple."
Then he believes everyone will see the real Williams, the guy who deserved to be a No. 1 pick.
"I feel like I'm 295 pounds, so I have to be more violent," he said. "That is the No. 1 thing my coaches tell me about … I have to be more violent and not really patty-cake with anybody. Just go hit them in the mouth and make a move after that."
Kubiak likes the way Williams has responded to being called out.
"That's the kind of kid he is," Kubiak said. "I've told you all that all along. He's a very responsible kid. That's why he's going to be a great player in this league. He's a real deal as a person and he's got the athletic ability, too.
"It's not going to be easy. He's finding that out as we go and that's what should make him better in the long haul. Show me a great player and I'll show you a guy who is accountable for his job and what he does.
"You don't just walk off the streets and do that or walk out of college and do that. You've got to acquire that taste. He's been pushed in a very quick direction to where he has to acquire that type of mentality."
That push has left Williams perhaps a little more humble. The NFL can do that to a guy.
"Oh yeah, most definitely, especially being in my position," Williams said. "I have been humbled since the beginning. But I have really realized what's going on now and I have to turn it loose and stop thinking that it's harder than it really is."[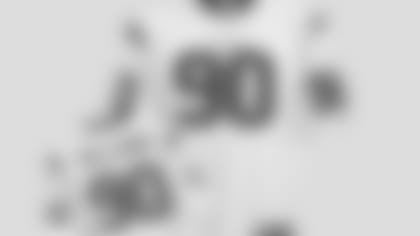 ](http://store.houstontexans.com/product/index.jsp?productId=2273849&cp=2237490&page=2&doVSearch=no&clickid=mainnavgeartxt&pageBucket=0&parentPage=family)
Defensive tackle Travis Johnson, the Texans' top pick a year earlier, understands what Williams is going through. He knows what it's like trying to live up to great expectations.
"Everyone has to understand Mario's a rookie, three games into it," Johnson said. "I can understand with him being a No. 1 pick people have big anticipations of him doing these big Super Mario things.
"But he's a rookie. The bottom line is this is not what it was in college. And eventually when he starts making big plays and being Super Mario, you all will be talking about different things. You all will be jumping on the bandwagon because I have full confidence Mario is going to be able to do everything people have expected him to do."
And everything Williams expects himself to do as well.
EDITOR'S NOTE:Jim Carley is a veteran Houston sportswriter who has covered the NFL for more than 25 years. He has worked for such newspapers as the Fort Worth Star-Telegram, The Houston Post, the Los Angeles Herald-Examiner and the National Sports Daily covering such teams as the Dallas Cowboys, the Houston Oilers, the Los Angeles Rams and the Oakland Raiders.