Motivation sums up a lot, particularly when it comes to Texans center Luke Butkus. He has dealt with and battled in the shadow of a standout, one who set the bar in many aspects of the game.

Yes, that Butkus. Luke is the nephew of Hall of Fame linebacker and resident Bears legend Dick Butkus. On top of building his own reputation, he is faced with keeping his head up while shifting teams and jumping from the cities they are in. So the younger Butkus has learned what it means to work hard, to be dedicated, and to always be an ever-evolving player.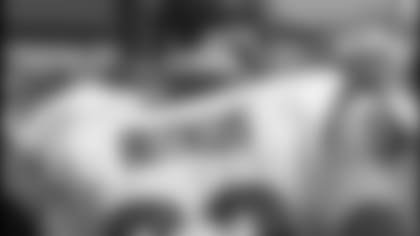 Being in the shadow of a slew of successful players only motivates Butkus to keep working hard and improving his game. Growing up the youngest of eight, in the long run, has given Butkus a vast amount of avenues to learn and build from. He has always had the support of those that surround him.

"I want to make them proud of me, like I'm proud of them," Butkus said. "That's what kind of keeps my drive going and makes me want to be a better player."

Without even realizing it Butkus was picking up on the family tradition at a young age in Steger, Ill.
"We're a football family," he said. "Everyone has played, and we've been around the game forever. It's what I've always done, what I've always been around, what I've always grown up to be. At family parties there's always a pick-up football game going on so I just always grew up around it."
Therin lies the core of Butkus' motivation. He is going on his third attempt in trying to make an NFL roster. His background has taught him to take each hand dealt to him with stride. This stint with the Texans is just another opportunity to build his reputation in others' crucial eyes.

Butkus played at Illinois, where his uncle was a two-time All-America selection and led the Fighting Illini to a Big Ten title. Butkus didn't get the individual fanfare, but did help his team win a Big Ten championship as a senior.

Straight out of Illinois he signed with the Bears as an undrafted rookie in 2002. He was cut but then moved on in 2003 to join the Chargers, only to be released again. Butkus plans on using those two training camp experiences to his benefit in Houston. He knows the temptation to try and figure where he might fall on the depth chart. Butkus is just going to go out and play.
"I might have fallen into the trap the first two years but this year I'm just going to go out there and play," Butkus said. "I'm going in with different expectations going into this [training camp]. I'm just going to go out there and play hard and not worry about counting numbers."
In past training camps his anxiousness and nerves have just gotten in the way. This time around Butkus is working a different angle and his attitude seems to be a key ingredient to success.
"It's not a laid back attitude, just an attitude like, 'Don't be so tense and tight,'" Butkus said. "When you're nervous and tense you tighten up and you're thinking too much, making mistakes."
Butkus has faced the changes within the league with great attitude and perseverance. The ultimate test is putting every bit of motivation and drive towards the task at hand.

Tomorrow the Hall of Fame will induct four more men to join Dick Butkus in Canton. Meanwhile, Luke Butkus will just be focusing on how he did against the Dolphins today and how he can get better. That's enough to make his family proud.