Over the past month, the World Cup vaulted soccer and perhaps more importantly, European fans into the forefront of the sports world. Every four years many are shocked by the passion that European fans display as their countries battle for the world's most sought after trophy. Texans tight end Aaron Halterman knows all too well how passionate Europeans can be about their sports. He saw it first hand as a member of the Rhein Fire of NFL Europe.
"The fans are crazy," Halterman said. "I've never seen anything like it. Obviously, soccer is their number one sport over there, but they've really taken to football. They're on their feet the whole game with whistles. I've never seen a game when people were allowed to have whistles in the stands. So every game they're blowing the whistle and you're thinking the play is over but no, it's not, you just keep going."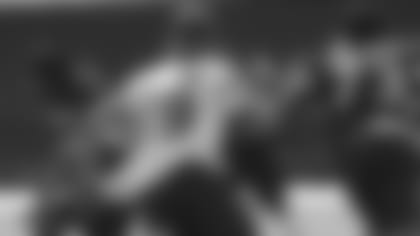 While soccer is king outside of the United States, American football isn't exactly struggling for an audience. Once seen as a grand experiment, NFL Europe is now well into a second decade of playing America's favorite sport oversees during the NFL offseason. Part of the reason is the league's emphasis on connecting with a new fan base.
"After every game they tell you, win or lose, to go shake the fans hands and that's important to keep the fan support," Halterman said. "They're trying to build that up over there, but it's great. Every road game we had about 2,000 fans there, which is a lot when you're drawing 25,000 (fans) to home games so they were great."
Some NFL teams have had thoughts of having their training camps in Europe though the expense as well as the physical strain of the travel has kept those thoughts from fruition. If a team does make it over to Europe for a month, it may not be that different from Halterman's NFL Europe experience.
"I'll tell you what, they kept us pretty sequestered. It was kind of like training camp. It was some full days, it was kind of like two-a-days every day, but it was a great experience."
But don't feel too bad for the Texans' second year receiver out of Indiana, he did get to see some of Europe this past spring.
"We were out away from the city, but we still got to see some of it," Halterman said. "We were out, got to travel a little. I saw some of the surrounding cities. Getting to see Amsterdam, Colon, Berlin was really neat, a lot of history."
More than anything else, however, Halterman was in Europe to refine his play on the field. After signing as a non-drafted free agent prior to last season, Halterman spent the year on the Texans' practice squad. That, of course, means no game action, a stark contrast to a collegiate career with the Hoosiers that saw him start 33 of 44 games played.
After being allocated to the Rhein Fire in January, Halterman knew at least one thing, he would finally get to play football-and play he did.
Halterman hauled in 26 receptions for the Rhein Fire, ranking eighth in the league. While he played all over the field offensively, he was ultimately rewarded with first team all-NFL Europe honors for his play at tight end. Overall, it was all Halterman could have hoped for when he found out he would be hopping across the Atlantic Ocean to continue his football career.
"The experience was good," he said. "It was a lot of football there, jam-packed into four months, but it was good to be back on the field playing a ten-game season. We were disappointed we didn't win the World Bowl, but I felt like I had a good season. I got some things done that I wanted to get done. I got some much-needed game experience at the next level. In college, I missed some time at the end of my career and last season I didn't play at all, a couple of preseason snaps here and there. The biggest thing was to get some film and some game experience. I had a great time. It's an awesome place."
With a new coaching staff, Halterman might have a lot to prove when training camp begins at the end of July. The tight end position is suddenly a crowded place with many talented pass catchers. Luckily for Halterman, he spent plenty of time at positions other than tight end for the Rhein Fire this spring.
"I played fullback, tight end, receiver, a little bit of everything so I had to know what all those positions were doing."
That versatility could earn him a roster spot by the beginning of the 2006 season. If it does it will only be because of Halterman's work ethic while in Europe which improved his game in all areas.
"I think (I improved) my whole game. For the most part I wanted to sure up my blocking. Being on a practice squad and having to do some things and with losing some weight after college, I really wanted to work on my blocking. The biggest thing, though, was the mental part of it. I learned a lot conceptually, more offense, defense, what the whole field is doing. I had a great coach, Steve Logan, he was my offensive coordinator and he also coached tight ends, He really broke it down for me in a way you could understand. Mentally, I came away with a better understanding of the game."
If Halterman's NFL Europe game translates to its' parent league, Halterman could be shaking hands with Texans fans for years to come.