In the past three seasons, the Texans' receiving options have consisted mainly of Andre Johnson. While other players have filled roles, such as Jabar Gaffney in the slot and Corey Bradford on deep routes, there hasn't been the steady second option that every offense needs.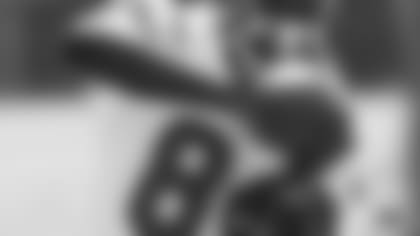 Rest assured that won't be the case this coming season. Anyone that has witnessed the Texans' first two workouts during OTAs can attest to that. Lining up opposite Johnson, or even next to him depending on the formation, is three-time Pro Bowler Eric Moulds (6-2, 210) perhaps the team's second-most highly anticipated acquisition this off-season.
The Texans sent a fifth-round pick to the Buffalo Bills in early April for Moulds. The 10-year veteran had many suitors, but the possibility of teaming with Johnson to jump-start one of the NFL's worst passing attacks was a challenge he didn't want to pass up.
"I get an opportunity to play with a receiver that's going to demand a lot of respect," Moulds said. "That's going to take a lot of pressure off of me, and I am going to do the same for him. We're going to even the playing field, so to speak. So I think it's going to be a plus for the Texans."
The flexibility of head coach Gary Kubiak's offense also was appealing to Moulds. While running backs have taken center stage in Denver over the past decade, the Broncos' offense has featured its share of steady playmakers, such as Rod Smith and Ed McCaffrey, at the receiver positions.
Moulds looks forward to filling a similar role in Houston, and already has showed that he can be counted on for a fair share of game-changing plays. On Wednesday, he soared high above cornerback Demarcus Faggins in the end zone to snag a lob pass. It's that type of acrobatics that the Texans' passing attack has lacked.
"He's someone I wish we could have had for the last couple years," quarterback David Carr said of Moulds. "How he goes out and competes with those guys makes the wide receivers better. They've all stepped their games up just having him out here on the field."
Indeed, Moulds' influence can be seen not only in the plays he's making, but in the performance of the other wide receivers. He hasn't been with the team long, but Moulds isn't shy about sharing advice and giving his teammates some helpful pointers.
"I relish that opportunity to come to a new city and a new team and have the guys believe in me and look up to me," Moulds said. "(My message is) you have to bring it every day. If you want to play a long time in this league and you want to have success, you have to bring it every day. You can't take days off."
As far as his chemistry with Johnson, Moulds is pleased with how receptive the Texans' top offensive threat is to him.
"I think that I can show him some things that have been successful for me and helped me over my long career," Moulds said. "I think that he's willing to learn those things and study and get better. He's a quiet guy, but at the same time he works hard…For me, it's easy to go up to him and say, 'Hey Dre, try it this way or try it that way. See if this works for you.' And he respects that."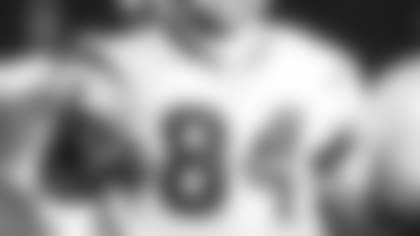 The best gauge of how the Texans' new duo is coming along is how the team's defenders are faring against the oversized targets. Cornerback Dunta Robinson said it's been quite the task to match up with them.
"Receivers don't get any bigger than that," Robinson said, glancing over at Moulds and Johnson (6-3, 219). "You can't take one play off. You have one beast after another one coming at you every play, so it's a lot of fun. Then you have Kevin Walter, and he's not a small dude, either. It's tough, but it gives you a realistic look. These are the kinds of looks we'll face on Sunday, so it's good to be around these people."