Samkon Gado arrived in the Texans locker room Thursday around noon, and was instantly surrounded by a throng of media. Though
, for Gado it must have felt like a continent. Waking up Wednesday expecting to go to practice as a member of the Packers, he had no idea what would take place over the next 24 hours.
"I woke up yesterday thinking that I was a Packer for at least this season and then before the end of the day I'm in
," Gado said. "It happened so fast, the turnaround was incredible, but the adjustment needs to be just as fast."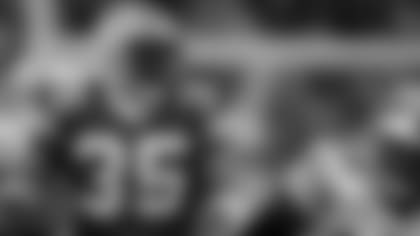 The Texans are hoping Gado can add some steam to a rushing attack that managed just 70 yards in Week 1 against the Eagles. Unknown to many in
Originally signed by the Kansas City Chiefs as a non-drafted free agent in 2005, Gado spent five months in K.C. before being shown the door and subsequently, out of the NFL.
"After I was cut by them (the Chiefs), I didn't have any preseason film so I thought my chances of making it in the NFL were pretty much gone," Gado said. "I was just preparing to do other things."
One of those things was go to medical school. It's been a life-long ambition, but a costly one, which is one reason why Gado is pursuing a career in football.
"Somewhere down the road," Gado said of going to medical school. "That's the plan, that's been a desire of mine for a very long time. My job is football and I want to do that as long as I can, but I'm not going to be able to do that forever and that's where medical school comes in."
Gado's medical school plans have been put on hold, at least for now. Two weeks after the Chiefs let him go, the Packers came calling and asked him to head to
for a workout. He signed with the Packers soon after, an afterthought for a practice squad that needed a running back.
After all, Gado didn't exactly slip through the cracks at the NFL combine. He never attended. In fact, it was hard for him to find the field at Division 1-AA
, Gado earned just two starts. That's what makes his story so intriguing.
Buried on the depth chart at
behind Pro Bowl running back Ahman Green as well as Najeh Davenport, Gado went about his work content in saving money for medical school. It wasn't as if he wasn't use to it. At Liberty , Gado saw the field sporadically, but for good reason, at least in his mind.
"We had two very good running backs and the four years that I was there, we were top-25 in rushing so they were getting the job done," Gado said. "The fact that I was third on the depth chart was not on the coaches' ability to coach. We had two guys who were great for
. They're not playing football now, but it doesn't take away from the fact that they were extraordinary in college."
At the start it seemed to be the same situation in
changed all that by Week 8. Faced with few other options and after an impressive practice from Gado, then Packers head coach Mike Sherman elevated Gado to the active roster was soon the featured back.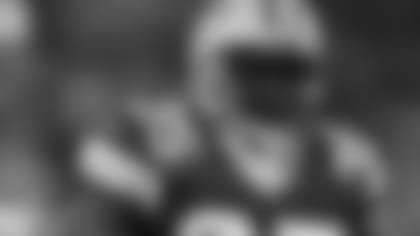 The rest, as they say, is history. Gado went on to play in eight games last season with five starts, three more than he had in four years at Liberty . Before missing the final two games with a strained MCL, Gado became the first Packer to lead
in rushing since 1986, racking up 582 yards to go along with six touchdowns, a Packers rookie running back record.
Things seemed to be in place for a more stable 2006, but with Green apparently fully recovered from his season-ending quadriceps injury and Davenport back in action after sustaining a broken ankle a season ago, Gado found himself where's always been, at the bottom of a crowded depth chart.
"Obviously, they had an established running back in Green Bay in Ahman Green, a great running back, great friend, four-time Pro-Bowler I think, that speaks for itself," Gado said. "So he wasn't going anywhere, but hopefully I have the desire to be a starting running back in this league and right now the Houston Texans are hurting at running back. Domanick Davis is out on IR, but hopefully I think I get that chance. I think that's what we're all fighting for."
Today Gado finds himself in a backfield that can be described as anything but defined. He will be given the chance to play immediately at first splitting time with Wali Lundy and Ron Dayne, but starting, that's still a possibility in Houston where it wasn't in
. What does Gado bring out of the backfield? He thinks a little of everything.
"I think I can be a running back that can pick up a system who's got some good speed and some size and hopefully can contribute however the coaches want me to," Gado said. "I'm fighting for the starting job, of course, and we'll just go from there."
Born and raised in Nigeria , Gado's arrival in
could not have been predicted. Taught the game by a missionary family in Nigeria , Gado moved to South Carolina at the age of nine where his father went to study at South Carolina Bible College . His upbringing is probably one factor in how Gado explains his surprising NFL success.
"That's a good question and the only answer that I can give most people won't understand," Gado said. "That is that the hand of God was with me. I don't think I was put in a situation that was conducive for success, but it happened so I credit that to my relationship with God, which is first and foremost."
If you happen to doubt Gado's faith, look no further then a white bracelet he was seen wearing in the locker room Thursday. On the bracelet an inscription, "1 Timothy 4:12", a Bible verse that reads "Let no man despise your youth; but be an example to those who believe, in word, in your way of life, in love, in spirit, in faith, and in purity."
The Texans believe in Gado and their hoping their faith will be rewarded starting this week in