When you've started since day one of your first training camp, it can seem as if you've been around forever.
But David Carr is entering just the third season of his quarterback career. He will turn (gasp!) 25 years old a week before the Texans report for training camp. It's not like the gridiron Grim Reaper is hovering around him in the locker room.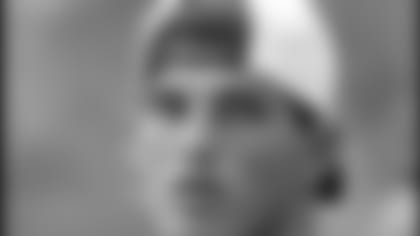 Yes, the last two years have been long and arduous for the first draft pick in team history. But they've also been beneficial. And the truth is, Carr hasn't even begun to scratch the surface of his NFL career.
"The encouraging thing for us at quarterback is that David is now going into his third year as a starter," head coach Dom Capers said. "We expect him to be the best that he's been this season. I don't think there's any doubt heading into the third year that he's going to be a more confident player."
You can see it in practice. Carr has a firmer grip on the offense and more command in the huddle. And it's not by accident. Capers knew he was taking a gamble by putting Carr under center right away, with four other rookies in the starting lineup, no less. But he also knew it would eventually pay off.
"That wasn't easy to do but we felt the best thing as a first-year team was to let David grow with us," Capers said. "To play that position, it takes time. You have to be on the field and you have to experience it so you have something to draw from."
Carr now has plenty to draw from. From getting sacked 76 times as a rookie to battling ankle and shoulder injuries last season, it's certainly been a grind. But he acknowledges it was well worth the effort.
"You can only learn so much sitting on the sidelines and watching another guy do it," he said.
And now Carr is starting to see the proverbial light at the end of the tunnel – an offense that is gelling and can put some serious points on the board.
"There was a lot going on that first year," Carr said. "I wouldn't want to go through that again. It was cool, it was a neat experience and everything was a first for me and the rest of the team. But I'm glad those days are behind us.
"I feel comfortable with where we're at right now and I feel comfortable as a quarterback. I think the guys around me feel comfortable with me in there. Most of us in the huddle right now have played together and the guys I haven't played with yet have played a lot longer than me. It's a good feeling."
The Texans started five rookies on offense in 2002 and added rookie running back Domanick Davis and Andre Johnson to the mix last year. This will be the first season Houston won't start a rookie on offense so these off-season coaching sessions have been that much more effective. The Texans also improved their offensive line, adding Todd Wade at right tackle and signing Mark Bruener, one of the best blocking tight ends in the business.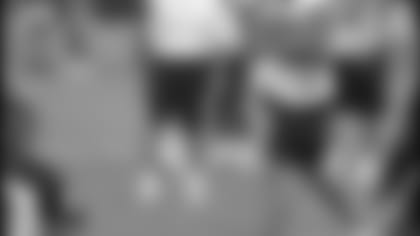 There's no question the Texans have more offensive talent. Now the goal is to make it pay off in the fall. Carr is charged with that task and it's evident his teammates think he can lead them down the proper path.
"The thing I'm most impressed with is his demeanor, his attitude and the way he leads this ball club," Bruener said. "I'm sensing some great things and I really think that David is going to be one of the premier quarterbacks."
Carr certainly has some support. Davis is a 1,000-yard back with great hands coming out of the backfield. Johnson is a special talent and fellow wide receiver Corey Bradford is a legitimate deep threat. Billy Miller is one of the NFL's top pass-catching tight ends and Carr has a potentially towering set of tackles protecting him in Wade and Seth Wand.
"When you only win four or five games a year, there's a lot to think about in the off-season," Carr said. "But we improved everywhere. Now we just have to improve in the win column."
How many wins? You can't answer that in June, or anytime before Sept. 12, for that matter. Carr knows that. But he also knows this is the first time the Texans have a legitimate shot to make some noise. And that excites him.
"I can't go out and say we're going to win 10, 12 games," Carr said. "But I know that we can go out and play like we're going to win those games. I can improve my completion percentage and guys can run better routes. I can say that we're going to better. If that means more wins, then that's good.
"We can win more than we've won the last couple of years combined, hopefully. The fans deserve it."