The Texans are close, very close.
Sure tackle Todd Wade was as disappointed as the rest of the team's offensive linemen after a lackluster performance at Pittsburgh Aug. 21. The team lost 38-3 and managed 54 rushing yards.
But he and others say the new zone blocking scheme is close to vastly improving the Texans running game.
"That's just because of errors from the offensive linemen, including myself," Wade said of the Steelers game. "Don't blame the scheme, it's just because we're not doing the scheme right.
"Football's more mental anyway, but especially in this. You've got to take the right steps and things like that. It's not that it's that complicated, it's just getting used to doing something totally different th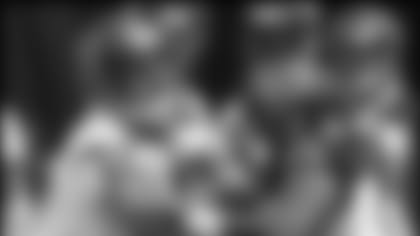 Zone blocking is designed to allow players to double-team defenders depending on their area of the field. This differs from man blocking, where players may have individual responsibilities.
Friday night's game against the Denver Broncos should help the learning curve. The Broncos were second in the league in rushing offense using a similar scheme. This preseason it has already produced 100-yard performances by two different running backs.
Starting running back Domanick Davis is also expected to see his first action of the preseason. In short, it's a good time to put all the pieces together and test the scheme against a veteran laden defense.
The starters will play most if not the entire first half against the Broncos.
"Well, we won't watch much of Denver's offense, but their defense will certainly be ready for it," starting center Steve McKinney said. "I'm sure they've seen it a lot in practice, so we'll have to be on our A-game to be able to rush against them."
Texans head coach Dom Capers said Denver has one of the better defenses around, despite their familiarity with zone blocking.
"This is a good defense," he said. "They played awfully well last week against Seattle (Aug. 21). They've got a veteran presence and they've made some additions to it."
The Broncos added defensive backs Champ Bailey and John Lynch to the secondary. Linebackers Al Wilson and first-round draft pick D.J. Williams add strength in run support. And the defensive line weathered the off-season mostly in tact, retaining starters Trevor Pryce and Luther Elliss.
Denver allowed just over 100 yards per game on the ground in 2003.
Offensively, the Texans need little proof from the Broncos that zone blocking can work.
Head coach Mike Shanahan has coached four rookie running backs to 1,000-yard season during his tenure. It already seems trading last year's starter Clinton Portis to the Washington Redskins for Bailey will have only a few negative effects.
Quentin Griffin has been listed as the starter. A second-year pro, Griffin has 145 yards in two preseason games. Mike Anderson rushed for 1,487 yards in his rookie season (2000) before switching to fullback. He has rushed for a total of 1,321 yards since.
But Anderson, the 2000 Rookie of the Year, has had a resurgence of late, rushing for 120 yards against the Seahawks.
Second-round draft Tatum Bell is expected to get his shot behind the line against the Texans. Bell missed Denver's first three preseason games with a broken finger.
"Mike Anderson obviously played well, but the offensive line gets a lot of credit along with the tight ends, running backs and wide receivers," Shannahan said. "If you run the football, you have a lot of people working together…"
The Texans hope they are close to having similar success.
"It's still just little things here and there," McKinney said. "It was just one block here and one block there. I'm not concerned about it, especially once Dominick gets back and gets healthy and we make the few adjustments that we need to make it will be rolling."