Since their first training camp, the Texans have tinkered with their outside linebackers. Injuries, position switches and free agency have put the position in constant flux.
Meanwhile, Texans fans have been able to pencil in Jay Foreman and Jamie Sharper as the inside linebackers 32 times in 32 games. In a position that essentially pays you for seeking out violent collisions, Foreman and Sharper just put on their hard hats and go about their business.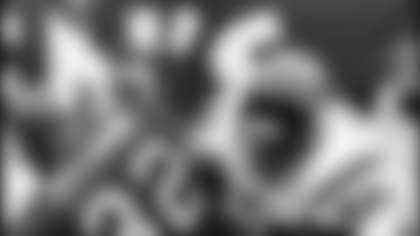 "We have two guys in the middle that can go sideline to sideline," Sharper said. "We run around and make plays."
A whole bunch of them, in fact. Sharper led the league with 195 tackles last season, while Foreman finished with 179 stops. He had 193 tackles in 2002, while Sharper posted 178 stops.
The Texans plucked Sharper in the expansion draft and traded for Foreman two months later. So both players have been able to grow and lean on each other in this defense.
"When I first got here, he had been here a couple of months before so he helped me out a lot," Foreman said. "If he sees something, he'll tell me and if I see something, I'll tell him. I think we're a good combination and we're only going to get better."
The hits have kept coming, as they should from your inside linebackers, especially in the 3-4. But the goal this year is for Foreman and Sharper is to make more impact plays.
"I hope we can distribute the tackles more around the whole defense," head coach Dom Capers said. "That position should always be your top tackling position because of the way we play. We have big, 320-pound linemen up front and those guys use up space.
"A big part of the theory is that if those guys can use up two blocks, the other team doesn't have a block for one of our linebackers. And that happens quite a bit."
The problem last year was both Foreman and Sharper found themselves reacting more than acting. Houston's defense was ravaged by injuries last season, especially along the defensive front, which put more pressure on Foreman and Sharper to cover ground. The result was a unit that ranked 31st in the NFL against both the run and the pass.
"We knew we were better than that, but the main thing is we had injuries," Sharper said. "You don't want to blame everything on that, but if you don't know if the guys in front of you are going to make plays, you're going to react slower. Our coaches are trying to get us to play faster, to go after the ball more."
The Texans signed Robaire Smith in the off-season and expect Gary Walker and Seth Payne to return up front. That trio would not only improve the defensive line's production, it will ease the burden on Foreman and Sharper, freeing them up to make more impact plays. Tackles are nice. Sacks and turnovers are terrific. That's what new inside linebackers coach Tom Olivadotti is preaching to his players. And with the likes of LaDainian Tomlinson, Priest Holmes, Ahman Green and Edgerrin James on the docket, Foreman and Sharper have their work cut out for them.
No problem. It's a challenge they relish.
"Coach Olivadotti teaches the position a little different from what we've been playing the first couple of years," Foreman said. "I think that will help us make more big plays -- more impact plays."
Sharper managed four sacks and three forced fumbles last season. In 2002, he had 5 ½ sacks, two forced fumbles and three fumble recoveries. But those numbers can increase.
"Jamie's got good size for the position, he's athletic in the box and he can move," defensive coordinator Vic Fangio said. "Overall, I don't think he has a major weakness, which is a positive. He's capable of causing even more turnovers."
Foreman has just two sacks, two fumble recoveries and two forced fumbles over his two seasons in Houston. But as the Buc, or left inside linebacker, he makes the defensive calls and takes on more blocks than Sharper. But Foreman still thinks he can cause more disruption this season.
"My position is to take on blocks so *he *makes all the tackles," Foreman said, laughing. "But you can see we're getting upfield more. I think this year, with everybody being back healthy, not only will it free us up to make plays but it will allow us to be more aggressive."
That's the key in the 3-4. It may sound simple, but the 3-4 means you have one more linebacker and one less defensive lineman. So those linebackers better be productive, from the inside out.
"We'd like all of our linebackers to be able to rush the passer, to be able to cover and tackle," Capers said. "That's why we have to have good linebackers."
And those good linebackers think the Texans' 2004 defense has a chance to revert to its stingy form, provided everybody can stay on the field
"We just want to win," Foreman said. "It's been pretty rough these first few years but I think this year can be pretty special if we stay healthy. That's the biggest key. We've got the players, we've got the coaches and we've got the want-to attitude."
All that's left is making plays.