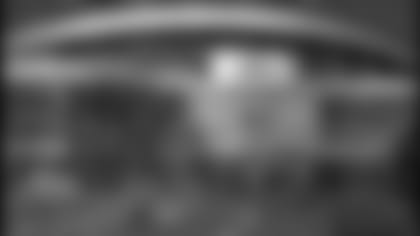 INVESCO Field at Mile High
EDITOR'S NOTE:
This story originally ran before the Texans' preseason game at Denver back in August. It has been updated to reflect Houston's return visit Sunday.
The legendary Mile High Stadium was famously known around football circles for its thunderous crowd roar, famous teams, cold, crisp, dry mountain air and of course, the altitude.
Just a stone's throw away from the celebrated Mile High Stadium, where the famed "Orange Crush" electrified Denver fans and where John Elway left his mark in NFL annals, is the newly constructed INVESCO Field at Mile High.
While the turf may not be able to narrate the story of Denver's rich football tradition, the fans, team, weather and altitude have all remained the same, giving the Denver Broncos one of the best home-field advantage stadiums in the league.
For the second time this year, the first coming in August during preseason play, the Texans will make the trek out West to the Rocky Mountains to battle the AFC West Broncos and the air up there.
Some say the altitude has no bearing on whether or not visiting teams succeed while others believe that playing football one mile above sea level takes its toll on the lungs and body.
Whether or not the altitude plays a part in visiting team's performances, the Broncos head into the 2004 regular season with a 208-116-7 all-time home record, which dates back to the 1960's.
Head Coach Dom Capers is never sure what mother nature is going to bring when his troops set foot in the new INVESCO Field at Mile High, but he does remember the old locker room. What visiting team can forget?
"As soon as you walked into that stadium, there was a sign in the locker room that said, 'Welcome to Mile High Stadium, 5,280 feet above sea level.'"
The Broncos new venue also exhibits a friendly reminder for all of their out of town guests. Every home team is looking for an advantage. Whether or not its intruders will bite is always the question.
"They want you thinking about it the whole time you're there," Capers said about playing above sea level. "All home teams are always looking for any edge they can get. But they have a good stadium and good fans.
"I don't know if it's psychological or physiological."
So what exactly is the predicament that playing one-mile above sea level can present? Many complain of headaches, nausea, weakness and even dehydration.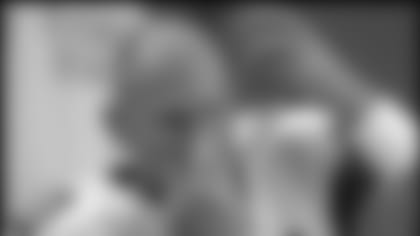 *Seattle Seahwaks punter Jeff Feagles takes a hit of oxygen in INVESCO Field at Mile High in Denver in 2002.
*

Some of the symptoms are caused by changes in oxygen levels. Basically, the concentration of oxygen at sea level and above sea level remains the same. What changes is the number of molecules per breath. As the body rises above sea level, the molecules per breath reduce, causing an increase in breathing rates.
For athletes, it could mean a greater chance of fatigue than what would normally occur in the body while exerting energy at sea level.
Most experts agree that many of these symptoms only occur at high altitude, that is, elevations higher than 8,000 feet. Since INVESCO Field falls short of the "high altitude" category, Capers' mind-over-matter query is what gives the Broncos home field its air of mystery.
Texans tight end Billy Miller was a member of the Broncos squad during the 1999 and 2000 seasons. A California native, Miller left his home state for the first time when the Broncos drafted him in the seventh round of the 1999 NFL Draft.
Miller remembers his initial adjustment to the Denver air and believes that while the altitude may not completely alter a team's performance, there are possible effects.
"I remember when I used to play out there and when I would come back in the off-season to train back in Denver, it would take me about a week to get used to the altitude again," Miller said. "I definitely think it makes a difference."
Altitude or not, Miller says that just participating in four quarters of play is enough to wear out even the most conditioned athletes.
"Once you get into a football game, you're going to be tired regardless. You just go out and play. If in the fourth quarter they start beating up on you, I guess you can blame it on that," he laughed.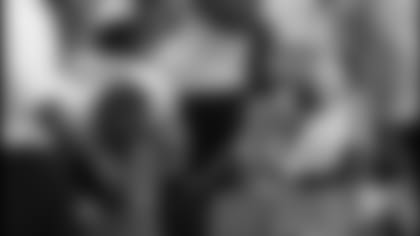 The Texans players are familiar with playing in extreme conditions.
In Houston, the Texans practice in thick humidity with temperatures soaring sometimes into the high 90's during the summer months. Most of Houston lies right at sea level, with the highest elevation rising only to about 120 feet. So while the Texans players haven't had to deal with any altitude acclimation, they have had to adjust to the extreme tropic temperatures.
Strong safety Eric Brown spent four years with the Broncos and has played in both extremely dry, cold weather and sticky humidity. Brown, like many of the other Texans, is used to adapting to variable conditions, and is really just looking foward to the trip into the mountains.
But Brown does hope that his body memory is triggered when he sets foot onto the gridiron in the sky.
"Hopefully I still have a little bit of that Colorado air in me to last," he smiled. "It can definitely be a difference-maker in a game."
Staying hydrated, eating a high-carbohydrate meal and cutting sodium intake are popular practices by athletes training and competing in high altitude climates.
Though the altitude may be in the back of their collective minds, the Texans will leave on their jet plane to the West with one goal in mind—winning. The 2:15 p.m. Mountain Time kickoff will provide a spectacular views of the Rockies for the Texans as they look to disprove the Mile High mystique.