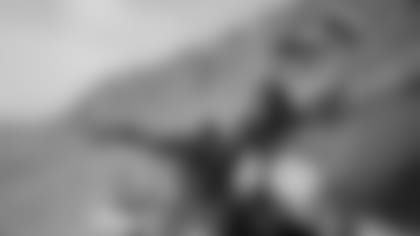 J.J. Watt salutes the military every time he sacks a quarterback. This week, he's getting a unique chance to do it in person, far away from any football fields in the United States.
Watt is currently visiting U.S. military bases in the Middle East on the NFL-USO Tour. The 2012 NFL Defensive Player of the Year is one of six players on the trip, which started earlier this week in Afghanistan.
"It means a lot to me to be a part of this tour," Watt said on the phone from the Middle East on Wednesday morning. "To be able to come over here overseas and personally look into their eyes and shake their hands and thank every man and woman out here, it means a great deal, because these are the people who are fighting for our freedom and the people who make my job possible. I play a game, and these people put their lives on the line for us. The troops have been great so far. The people have been great. It's been really neat to see everybody."
Watt is on the trip with Denver Broncos linebacker Von Miller and cornerback Champ Bailey, Carolina Panthers wide receiver Steve Smith, Cleveland Browns linebacker D'Qwell Jackson and Tampa Bay Buccaneers guard Davin Joseph. The players are traveling from base to base to meet troops, eat with them, shake hands, take pictures, sign autographs and learn what the troops do first-hand.
"The most common thing that people say to us is, 'Thank you for coming out and showing your support,'" Watt said. "To me, every single time that somebody says that, I look at them and say, 'I don't think you understand. I'm here to thank you guys. You guys are the heroes. We're coming here because we want to show our appreciation for you.'
"They're so humble and they're so dedicated to what they do, and they don't even see it as them doing something great. They just see it as they signed up to protect our country, and they're doing that. So it's nice for us to be able to show our appreciation and hear that try and speak for everybody back home and say thank you."
Watt, 23, has had a busy offseason, attending his first Pro Bowl in Honolulu and the NFL Honors ceremony in New Orleans during Super Bowl week. He also traveled to New York, Los Angeles, his home state of Wisconsin and Ireland before departing for the Middle East.
"This is definitely the thing I've most been looking forward to this whole offseason," he said. "To me, these people volunteer to do what a lot of people don't want to do. It's almost hard to comprehend. They have wives, they have husbands, they have families, kids, moms and dads back home, and they're over here putting everything they have on the line and their families are worried about them. It means a lot just to come over here, even just for seven days, to say thank you.
"It's an incredible feeling knowing that just by shaking somebody's hand, just by signing an autograph and taking a picture, you can boost their morale and you can make their day and you can help raise their spirits. These people are away from their families for 9, 10, 11 months at a time, and to hear them say how much it means to them that we just made a trip over here, it's crazy. I'm grateful for these other five guys that are with me who came. You can tell how much it means to these troops. To be able to do this, it's special, and I'm glad that we get the opportunity that the USO provides us."
Twitter.com/NickScurfield