Just two short years ago Jerry Deloach sat in his Sacramento home fixed on the television. It was April, college draft day, and as the 31 NFL teams began to pluck collegiate talents, Deloach waited, but his name was never called.
Deloach couldn't foresee what his future held. He had no idea that just 24 months later, he would go down in Texans annals as the first-ever traded player. Shortly after, a starting right defensive end for an NFL franchise.
Last February, Texans general manager Charley Casserly received the news. It had been almost two years since his arrival in Houston. After months of scouting and dissecting the league's personnel, he had the list in hand. The day of the expansion draft was quickly approaching and he was finally able to see what he had to work with. Each team submitted a list of names, exposed players that Casserly and his staff were able to make Houston Texans if they so desired. When he reached Washington's cluster, Deloach's name stood out. It was hard to find good defensive linemen, and Casserly was immediately drawn to his youth and talent.
The day arrived and Houston made their first selection from Washington, guard Matt Campbell. Casserly and his scouting staff were prepared to take Deloach soon after. But the Redskins pulled Deloach back from the list of their five available players.
Casserly was left with a few choices and in the end, the Redskins wanted quarterback Danny Wuerffel who was acquired by Houston through the expansion draft. It was Casserly's perfect opportunity to get his man. He made the first trade in Houston history and on March 4, Deloach became a Texan.
"They wanted Wuerffel," Casserly said. "It's hard to find defensive linemen and he's young. We liked him and knew he could get better with experience, so he was a guy that we wanted."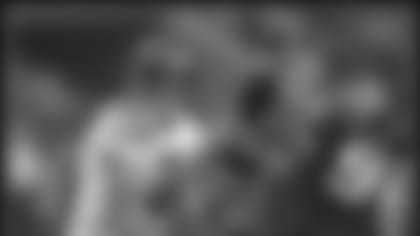 Deloach began playing football in the sixth grade and commenced his defensive tackle training at Valley High School in Sacramento, where he also spent time on offense. For college, he stayed close to home and attended California, where he was redshirted as a freshman. He went on to enjoy stellar freshman and sophomore campaigns. Going into his final season at Cal, he was ranked by The Sporting News as the nation's fifth best defensive tackle, but shoulder and neck problems kept him sidelined for much of the season, waning the interest of prospective NFL employers. Deloach had a double-degree in biology and sociology, giving him a vast opportunity in the work force, but football was where he wanted to make a living.
Though his name wasn't announced in any of the seven rounds, the Redskins signed Deloach as an undrafted free agent just a few days after the college draft in 2000.
"I was disappointed that I didn't get drafted," he said. "I felt that even though I didn't play much my senior year, I still had the skill and proved that I was capable. For some reason though, that wasn't the way my life was supposed to go. I was supposed to be a free agent and work my way up from there.
He made the practice squad, where he remained for the season, working the scout team on both offense and defense.
"I was able to see everything from both perspectives," Deloach remembered. "It was a lot of good work, watching and learning from veterans. It was a great learning experience."
His patience and persistence paid off and in 2001 he was promoted to the active roster. Deloach played in 15 games with four starts, tallying 11 tackles and a sack against Cowboys' Anthony Wright. His career in Washington was just taking off, so hearing his name on the Redskins exposed expansion list was a surprise. It was even more shocking when he received the news of his trade.
"It surprised me because I was watching the draft and then I saw my name get taken off of it," Deloach explained. "I had heard that it was Marty Schottenheimer's staff that put me on the list. So I thought maybe the new guys had decided to keep me.
"Then I found out I got traded, it was a surprise. But it's a business and one day you could be here and the next day somewhere else."
Deloach knew that veteran defensive linemen Seth Payne and Gary Walker were chosen from Jacksonville, so the status of how he would be utilized in the Texans 3-4 defense was unknown. But by the end of training camp, he was chalked in as the starter on the right side with Payne in the middle and Walker pressuring from the left.
Though his size and physical ability offers him the versatility of rotating between positions along the line, he was given the responsibility of taking on tough opponents at left tackle. Almost halfway through this season, Deloach has quadrupled his tackle numbers from last year, collecting 40 takedowns on Texans opposing offensive threats. Quietly, he is finding his niche in the NFL.
"Considering that I'm probably the youngest starter on defense, I bring some youthful energy to the team," he said. "I'm always listening, asking questions, trying to get better and help the defense be a cohesive unit. I was real quiet at first, but I'm starting to get more comfortable, more vocal here and more assertive."
         <span>Deloach's
         play on the field probably speaks louder than his words.<span> 
         </span>But his arrival in Houston and mark in Texans history speaks
         volumes about his talent and future with the league's 32

nd franchise.