Texans rookie wide receiver [Andre
             Johnson]() is not the type of person to walk with a cocky
             swagger and boast about his football skills and talent, although
             he has a lot of it. Much to head coach [Dom
             Capers']() delight, Johnson instead prefers to let his game
             speak for itself.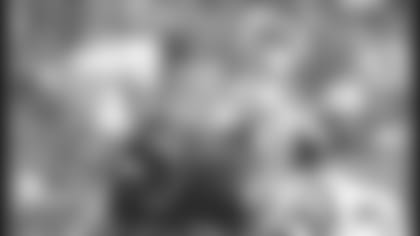 Johnson gets some yards after the catch while Chargers' cornerback Sammy Davis attempts to tackle him.
In tonight's third preseason game against the San Diego Chargers, Johnson made some serious noise. With quarterback David Carr finding him early and often, he amassed four receptions for 76 yards and a touchdown just midway through the first quarter.
Johnson caught his first pass on a short crossing route when he snuck underneath the Chargers defense and escaped a defender with his long strides to gain significant yardage.
Almost as if he were toying with the Chargers' defensive backs, Johnson ran the same route a few plays later and Carr once again delivered the ball to him as he outran the Chargers' defense with relative ease.
When the Texans marched deep into Chargers' territory for the second time, fans saw a vision of beauty that they will surely see again.
Lined up in single coverage on the left side of the field, Johnson ran a quick slant pattern. With Chargers' cornerback, and former Texas Longhorns' standout, Quentin Jammer reeling behind him trying to catch up, Johnson caught Carr's spiral in stride and eluded the Chargers' help-side safety before trotting into the end zone to put the Texans ahead 10-0.
The 24-yard grab was the second-longest reception of the game for the Texans. In all, Johnson was the game's leading receiver with five catches for 81 yards and the touchdown in four quarters of work.
Besides showing some of the promise that made the Texans choose him with the third pick in this year's NFL draft, Johnson also demonstrated the connection that he and Carr have been developing throughout training camp and the preseason.
"It's good to see Andre and David (Carr) connect," Capers said. "I think the more they work together, the more you're going to see them develop into a really good tandem."
"You can see they're starting to get a feel for each other. Andre has improved throughout training camp. I think you saw what his potential is."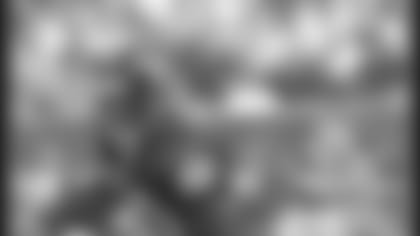 Johnson scampers toward the end zone to score the game's first touchdown.
With the most playing time he has seen so far in his young NFL career, Johnson was able to work on his timing and gain some confidence with just two weeks left until the Texans play at Miami in the first game of the regular season.
"It gets me confident to know that you can go out and just perform, but it's not something you can do just one day," Johnson said. "You have to go out and do it every day."
While Johnson may modestly dismiss his strong performance in tonight's game, there is no disputing his talent and the potential he has to open up the Texans offense this season.