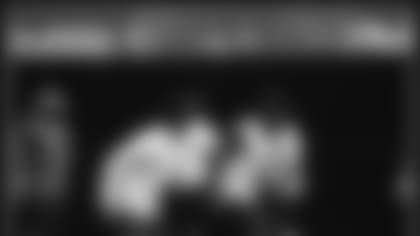 Joppru tests out his footwork in a ladder running drill on Tuesday.
It was almost a year ago when the Texans utilized their second-round pick in the 2003 NFL Draft to beef up a young offense by choosing Michigan tight end Bennie Joppru.
The Houston coaching staff was coming fresh off of a Senior Bowl encounter with the multi-talented blocker and receiver. Coaching the northern squad in Mobile, Alabama, the Texans coaches and scouts were impressed with Joppru's down-and-dirty practice methods. After his position counterpart went down with an injury, Joppru took the brunt of the week's repetitions and his future potential flashed during the all-star game at the end of the week.
Joppru was chosen to mesh with Billy Miller and Jabari Holloway in providing another dimension at the tight end position. Tipping the scale at just over 260 pounds, Joppru possessed the imposing size that would be an asset in run-blocking but also had a set of soft hands as a receiver to complement his brute ability to wrap-up defenders.
But just into summer training camp, the rookie went down with a groin injury. Joppru was forced to sit out for the majority of two-a-day training camp drills and further into the preseason before he was finally placed on the injured reserve list on August 31.
Doctors decided that he would need to undergo not just single, but double groin surgery, an injury that took both time and substantial rest in order to re-gain full health.
"The doctor said it could be anywhere from 4-6 months or 8-10 months, just depending on how the surgery set in," Joppru explained about his rehabilitation program. "Unfortunately I had both of my groins done so it was a long process."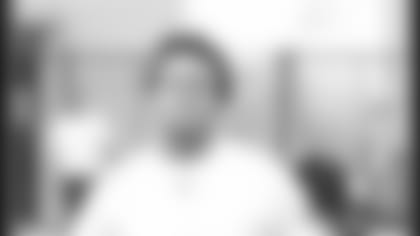 Making big strides, Joppru was able to participate in the team's sprint workout Tuesday.
Since the surgery, news on the Joppru front has been somewhat dormant. So where is the young tight end now and how does his status for the 2004 season seem to be panning out?
Joppru spent most of the season watching Texans games from his living room couch in Houston, where he has taken up residency. Though the rest was just what the doctor had ordered, not participating in game action was a foreign scenario, one he hadn't experienced in years.
"I never missed a game in my life because of injury before so I was pretty disappointed, but it was a good learning experience to say the least," Joppru said.
After playing as a standout at tight end, running back and defensive tackle at Minnetonka High School in Minnesota, Joppru continued the trend when he went on to play for the Wolverines, hauling in 73 receptions for 651 yards and eight touchdowns during his four-year stay in Ann Arbor.
The season-ending setback taught him to remain patient, increased his self-motivation and has boosted his determined to return to the field in top form.
Just before the end of the 2003 season, Joppru made a two-month trip to Newport Beach, California, where he met with a groin specialist to further intensify the healing process. The doctor, also a specialist among the circle of National Hockey League players, helped him take big strides in the long journey back to good health.
His biggest hurdle? Probably re-conditioning his body and re-training it to withstand the rigors and demands of the sport.
Participating in this week's first set of offseason conditioning drills, led by Texans strength and conditioning coach Dan Riley, is a positive sign that Joppru's talents will reappear and be evaluated once the training camp horn sounds.
The Texans made their need for solid tight ends abundantly clear after signing free agent Mark Bruener from Pittsburgh on Monday. In Houston's offensive scheme, blocking, catching and smooth route-running are major components asked from those who line up at end, and Joppru will join Bruener, Miller, Holloway, Rashod Kent and Matt Murphy as contenders who will look to make contributions. So while Joppru looks be on his "A-game" for the start of training camp, he is also preparing himself for a tough and competitive next few months.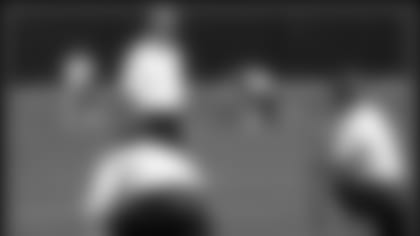 Joppru and Texans strength and conditioning coach Dan Riley will use the spring months as a springboard for a full recovery.
"I think I can add some competition," he said about contributing to the Texans offense. "With Mark Bruener here now, it's going to raise the level of competition and make everyone better and make the unit stronger."
Joppru has set up shop in Houston and will take part in different phases of the offseason conditioning and coaching sessions, depending on his progression over the next few months.
Though he's still sore and his technique may be a little rusty, Joppru views the past year as a very important notch in the professional football learning process, and his improvement and contributions will be a story to watch in the coming months that lead up to the Texans' 2004 opening game.
"It's been a good experience and hopefully I'll learn and move on and back 100 percent by training camp."