The ball was floating around in the air like a wounded duck.
It wobbled to the left and right, falling quickly to the ground with nothing in between it and a hard smack and an unpredictable bounce across the turf.
Then a savior appeared underneath, two brown eyes focused on the duck. Two arms ready to cradle it in and take it to safety in the end zone. Derick Armstrong never lost his concentration. He cut hard left and right under the ball before tucking it away for a touchdown.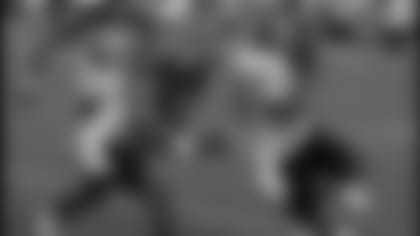 He beat first-round draft pick Dunta Robinson soundly and adjusted on the ball like he himself had done it countless times. By doing so he has worked his way into solid company, playing some on the first-team offense with wide receivers Andre Johnson, Corey Bradford and Jabar Gaffney.
But his road to Houston didn't come through the NFL draft. It came from Saskatchewan, Canada.
Armstrong played for the Roughriders of the Canadian Football League in 2002, starting 18 games. He caught 70 passes for 1,104 yards and five touchdowns. He spent 2001 on the practice squad after graduation from Division II Arkansas-Monticello.
"I wouldn't change it," Armstrong said. "I think it was more of not being ready, more of me bettering myself and being better at what I do. I wouldn't trade Canada for anything. It was a blessing for me to go there and it was a blessing for me to be here. I just want to be here and take advantage of it."
Armstrong played in eight games for the Texans in 2003, taking his first catch for a touchdown against the Tennessee Titans. He turned heads then and has a little more expected of him during this training camp.
He has made several highlight reel-type catches so far this season.
"As far as catching balls when they're contested, when there are people close to him, he does as good a job as anybody on our team," Texans head coach Dom Capers said. "He can lay his body out and make the tough catches. We've seen him do it repeatedly.
"Last year during the season when he ran a lot of the scout team for us the guy would make outstanding catches. Most of the time when he had people around him he had really good eye hand coordination … those are the kind of things he can do. I think he's making good progress. He'll be interesting to follow."
If his past is any indication the Jasper native should be on track for a big year in 2004. He followed up his year on the Roughriders practice squad with a selection to the CFL Western Division All-Star team.
"Canada's a little easier," Armstrong said. "You don't have to read too many defenses. Here you have to read everything and be on it because if you're not on the same page down here, one person can mess the whole play up."
At 6-foot-1, 206 pounds he is another big target for quarterback David Carr in a very eager offense. He finished 2003 with seven catches for 75 yards.
Armstrong's work ethic and modest beginnings seem to be working to his advantage.
"I just know I need to keep on coming out and improving," he said. "Until then, I'm just waiting to see what's going to happen.
"The main thing is coming from that kind of background I stayed humbled and focused and kept working hard. As long as you keep working hard and you keep showing improvement people are going to see it and they're going to give you a chance."