Kippy Brown was in the thick of General Motors training school when he got the call.
"Pick me up at the Memphis airport," the voice on the other end of the phone told Brown.
It was Richard Williamson, Brown's head coach from Memphis State, the place where he had just wrapped up a collegiate career as the Tigers' star quarterback.
Since his graduation, Brown had been selling cars at an Oldsmobile dealership, had just bought a home and was raising a child with his wife, Deon. Now he was prepping himself for a life of entrepreneurship. Brown had a dealership of his own in the works, "Kippy Brown Pontiac," right there in Memphis. All he needed to do was complete his GM training courses and the business would be off the ground and running.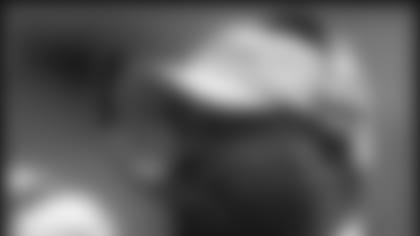 "We've got a good staff of people here, we have a lot of fun together and we're all headed in the right direction," Brown said about the Texans coaching staff.
Williamson's call changed all of that. He wanted Brown to come aboard the Memphis State coaching staff and tutor the squad's running backs.
Just like that, Brown cruised out of the car world and into what would become a twenty-five year (and still counting) coaching career.
"I took about a $10,000 pay cut," Brown remembered. "I was doing pretty well, but I wanted to get back into athletics. I didn't want to play anymore, but I wanted to coach."
It was the perfect situation for the Memphis native. Brown was well-known in the area after leading the Sweetwater High School football squad to consecutive state titles in 1972-73 before moving on to Memphis State, where he never spent a losing season.
His three-year coaching stint at Memphis State, where he worked with both the running backs and wide receivers, was the start of an 11-year collegiate coaching run that included time spent at both Louisville and Tennessee. And Williamson, who opened up Brown's coaching door, well, he's now the wide receivers coach for the Carolina Panthers.
In Tennessee, Brown struck up a friendship with Bruce Coslet, who made frequent visits to the school to scout players. At the time, Coslet was the offensive coordinator for Cincinnati and had one of Brown's former receivers under his wing, Tim McGee. When Coslet took over the head coaching reigns for the New York Jets in 1990, he asked Brown to oversee the team's running backs unit.
It was Brown's first taste of life in the professional football world. He entered the league at a time when free agency and salary cap were not part of every day vocabulary and coaches had a crew of personnel with staying power.
"When I was in New York before the salary cap, we had four backs who made over or right at a million dollars," Brown said. "That doesn't happen anymore. You lose players because of it."
After three seasons, Brown departed from the Jets and primary running back Blair Thomas and returned back to Tennessee, where he joined new head coach Phillip Fulmer as the Volunteers assistant head coach. During his two seasons back in Knoxville (1993-94), Brown's offense outscored their opponents 847-383 en route to a 18-6 mark and he was also able to play a role in tutoring quarterback Peyton Manning during his freshman campaign.
After two seasons, Brown decided to re-visit the NFL and signed on as part of Tampa Bay's coaching gang. Is your head spinning yet? At that point in time, Brown was only about half-way through his American coaching tour circuit. The family has moved a total of 14 times, with homes in many of the same cities.
Relocating goes along with the territory. Whether a hiring, firing or promotion causes the transfer, the coaching lifestyle is not one for the faint of heart or for the recluse. Brown and his family have enjoyed each stop along the way, and take nothing but the positive from seeing so many parts of the country.
"My daughter went to three different high schools and has more friends now than she would've had if she'd just gone to one high school," he smiled. "We tried to look at it as a positive. They (his two children) were getting a lot of exposure and it always worked out well."
After Tampa Bay, the Brown's conquered Miami, Green Bay, Memphis again and now, Houston. He saw over the success of Dan Marino, Karim Abdul-Jabbar, Ahman Green and crossed over into the crazy world of the one-year-in-existence, XFL.
In 2001, Brown saw a head coaching opportunity he couldn't pass up. Reuniting with old friends and family roots in Memphis, he embarked upon the adventure of leading the XFL's Memphis Maniax in their first and only season. It was a sure change of pace from living and coaching in his former post at Green Bay, but Brown was notching a head coaching position on his resume.
He was given a $300,000 budget to hire a coaching staff to serve the length of a ten-game schedule with one month of training camp. While many viewed the XFL players as entertainers and not athletes, Brown's squad was comprised of present Pittsburgh quarterback Tommy Maddox, former Heisman Trophy winner Rashaan Salaam, and San Francisco's 1997 first round pick Jim Druckenmiller.
"The XFL tried to attach a lot of bells and whistles to these guys for publicity but there were really two types of guys that played in the XFL; young guys who didn't get a chance in the NFL and former NFL players, that for whatever reason, weren't in the league anymore," Brown explained.
Brown also boasted a staff of established coaches like Walt Corey, who won four Super Bowls as the Buffalo defensive coordinator and former New England wide receiver Stanley Morgan.
After one year, the XFL folded. It was just around the time that Texans head coach Dom Capers had begun his nationwide search to hire the first-ever Texans coaching staff. Brown got the wide receivers gig and the family re-planted themselves again. Brown's work began immediately. The Texans were just in the midst of building a roster and Brown had a hand in bringing in a former player of his in Green Bay, Corey Bradford. He had also acquired Florida's Jabar Gaffney in the second round of the 2002 NFL Draft and was on his way to building a platform for the Texans aerial attack.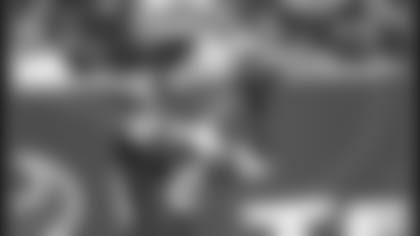 Brown can add rookie WR Andre Johnson to his bag of offensive tricks in 2003.
This season, Brown's troops have even more options with the addition of Andre Johnson. While he's coached Pro Bowlers and Heisman winners, Brown finds the most fulfillment in seeing his men grow as players, not when they gain individual accolades.
"I think the most satisfying thing is when they finally get it," Brown said. "Guys reach all different levels of success, not everyone's going to be a Pro Bowler. But when players finally get that you have to give a great effort and go above and beyond, when they finally understand what they have to do to be professionals, that's what's satisfying."
Brown holds a special place for each of the stops along his coaching journey. His enthusiasm for the sport is still as strong today as it was when he was quarterbacking Sweetwater High to championship status, and there's no where else he'd rather be. Well, maybe the golf course, but in due time.
"I've been lucky," Brown reflected about his career. "I've enjoyed every place that I've been. I look around the country and think about what else I would do. I don't know? I just put so much into it and I feel natural at it.
"I know what I'll do when I retire, I'll hit the golf course every day. But I still enjoy going out to the practice field, watching young guys develop and I just enjoy the competitiveness of it."