Texans rookie linebacker DeMeco Ryans had his sights set on playing professionally from an early age. He knew he could be an outstanding catcher.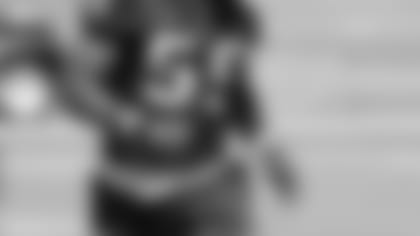 That's right. Ryans, the heralded linebacker from Alabama who already is vying for a starting position with the Texans, began his athletic career playing baseball in Bessemer, Ala.
"I played baseball since I was five," Ryans said. "It was my favorite sport and I didn't try anything else for a long time."
As a catcher, Ryans was a good hitter and loved it so much, he initially didn't follow his friends into football, the most popular sport in Alabama.
"I didn't try football until I was in the eighth grade, which is kind of late for where I come from," Ryans said. "I didn't even think about playing football until one day one of my baseball coaches asked me if I'd try it. He was also an assistant football coach in middle school.
"All my buddies in baseball were already playing football, so I decided I'd try."
Things didn't go that well at first.
"I played center and it seemed like all I did was get run over and manhandled," Ryans said with a laugh. "I said to myself, on second thought maybe this isn't for me.
"But it didn't take too long and I started hitting back."
The rest, of course, is Alabama history. At Lanier High, Ryans had 135 tackles and made the Super All-State team as a senior.
At Alabama, he was a much-played freshman, then led the team in tackles as a sophomore when he set a school single-game record with 25 tackles against Arkansas. As a senior, Ryans was a consensus All-American and Southeastern Conference Defensive Player of the Year last season.
And now he's one of the brightest rookies in Texans' training camp. While No. 1 pick Mario Williams gets most of the media attention, Ryans has quietly caught the coaches' eyes in a big way. Coach Gary Kubiak raves about his second-round pick and believes he can be one of his starting three linebackers very soon.
"He's a kid we can count on for a long time around here," Kubiak said. "He's going to give us everything he's got. He's a great kid. It's just going to be a question of where he's going to be, what spot he's going to be at.
"But I do know that he will be one of the three, I do know that."
Coaches spotted Ryans early in offseason workouts.
"He did very well then," Kubiak said. "He was a very impressive player. I sat in the back of all the meetings and I was impressed watching this kid be challenged in meetings from a special teams standpoint and from the defense, how quick he learns.
"If you could see him in a meeting room and the way he goes about his business for (special teams coordinator) Joe (Marciano) and our team. He's like a seven- or eight-year veteran already. He's a great kid, and we knew that. His character is tops, and his football is pretty good, too."
The biggest question now is where Ryans will play. He started out working at left outside linebacker and has played much of the time recently at middle linebacker, a position at which the Texans brought in veteran Pro Bowler Sam Cowart last April. Cowart was slowed in offseason workouts by a nagging ankle injury.
"The question with (Ryans) is how Sam Cowart comes back," Kubiak said. "We went out and got Sam this summer because of Kailee's (Wong) situation because we need a Mike linebacker in a 4-3. Sam has played there for many years in this league. He missed a great deal of time in the offseason.
"We think DeMeco can play inside and outside. So how far Sam comes along, and how Sam comes off of his summer of getting his ankle well, will probably have a lot to do with where DeMeco is competing to play on this football team."
Even the veteran Cowart knows Ryans is a special player.
"DeMeco's going to be good," Cowart said. "To me, you get different types of linebackers; some tall, some medium-sized, some short, some can run, some can't run and some can hit.
"When you look at film of other teams, I look at other linebackers, I look at their eyes, instinct, and do they have good footwork. (Ryans) has all three."
Not everyone in the NFL thought Ryans was a sure thing. Despite a dominating college career and a spectacular Cotton Bowl in which he was named Defensive MVP last January, he lasted until the top of the second round because some questioned if he was big enough. The prototype middle linebacker is 6-4 and 250 pounds, and some wondered if Ryans could take the beating.
"I don't know how people get it that I'm so small," he said. "I'm 6-1, 235 pounds and that's not small.
"I guess it's just their idea of the perfect linebacker. But size doesn't mean everything. Football is all about heart."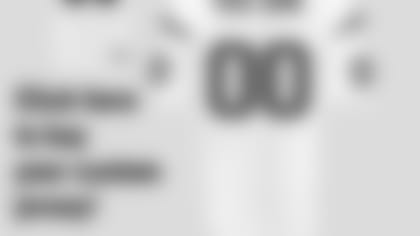 ](http://store.houstontexans.com/product/index.jsp?productId=1772606&cp=2237490&clickid=mainnavgeartxt&parentPage=family)
Linebackers coach Johnny Holland agrees. Holland was considered undersized at 6-2, 220, but played for the Green Bay Packers for seven years.
"Size doesn't matter," Holland said. "His heart is definitely big. And techniques are important as well.
"We love DeMeco. He has been everything we expected him to be. We've put a lot on his plate and he's handling everything. He has great athletic ability and he is learning better techniques all the time. With his knowledge of the game, his understanding and his great ability, he seldom makes mistakes."
EDITOR'S NOTE:Jim Carley is a veteran Houston sportswriter who has covered the NFL for more than 25 years. He has worked for such newspapers as the Fort Worth Star-Telegram, The Houston Post, the Los Angeles Herald-Examiner and the National Sports Daily covering such teams as the Dallas Cowboys, the Houston Oilers, the Los Angeles Rams and the Oakland Raiders.