For Texans fullback Vonta Leach, the question has been more of style than substance.
He has the substance. Shorts are just not his style.
The big, battering ram lead blocker for running back Ron Dayne has been drawing raves for his blocks since taking over the starting job at fullback the last two games. But coach Gary Kubiak has been a little surprised at the difference in Leach's practice play vs. game performance.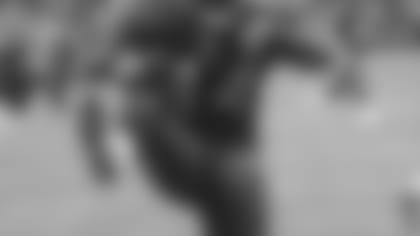 "It's an amazing story when you think about it," Kubiak said. "It was Sherm's (assistant head coach Mike Sherman) advice that we should pick (Leach) up. I told you guys in practice, he's not a guy at practice that you would watch and say 'Boy, we need him on that field as much as possible.'
"But when the lights go on, he just plays good football. He's been a physical force for us and he's made some nice catches. He made a great catch in the first quarter when David (Carr) threw that ball behind him. Some guys just do it when the lights go on. He seems to be one of those players. He's been a great surprise."
Leach just chuckles when told of his coach's statement. To Leach, it's mostly a matter of practice attire.
"I guess when you practice in shorts and stuff, that's just not my style of play," Leach said. "I'm more of a guy when you put on the pads, I like to play my game. I think I've been in pads only one or two times since I've been here and I've been trying to learn the offense, too. When you're picking up the offense, you can't go as fast, but I think everybody looks the same in shorts."
Leach is a late arrival to the Texans. He played with
and advised the Texans to pick him up, which they did Oct. 9.
Since then, it has been a quick learning experience.
"He stepped in and from the start looked like he knew what he was doing," said Dayne, who rushed for a career-high 153 yards behind Leach last week. "He's a great blocker, and it's real important to have a big, powerful guy like that as your lead blocker. He has been doing a great job. It took him about a week being here and he had it down."
Leach felt it took him a little longer to be comfortable. But having
"That helps a little bit," Leach said. "You've still got to go out there and play the game and study and stuff like that. But I know coach Sherman was one of the key factors of getting me here. He knows what I can do and I've had the opportunity to show what I can do in the games because of him.
"And I'm familiar with the offense. It's similar to the offense we had at
when coach Sherman was there except for some of the terminology. I can pick out the blocking schemes and it's a scheme I fit in.
"It's an offense where you need a power blocker who can create space. I think I fit that description pretty well."
Boy does he. Leach is a firmly packed 6-0, 250-pounder who runs low to the ground and explodes on his blocks. Dayne thinks Leach fits the bill as a blocking fullback quite nicely.
"You've kind of got to know his style and know how to play off of it," Dayne said. "You have to make your reads off his blocks so you need to know how he will make them. But he's like most good fullbacks. He's a power blocker. He's from the old school – just get the job done." ](http://store.houstontexans.com/home/index.jsp)Leach, though, doesn't think there's a real need to know what his running back's style is.
"If I do my job, no matter who's behind me, no matter what their style is, I do the same thing and we'll be successful," Leach said. "I don't know about looking at this back or that back. I just do my job. The running back's going to make the reads and do his thing."
But Leach does think there are benefits to the fact he and the 250-pound Dayne are so similar in their styles.
"It's always good to have another power running back behind you," Leach said with a grin. "We're about 500 pounds going through there and that's always good."
Fullbacks are the blue-collar workers who rarely get much notice, but that's fine with Leach.

"It comes natural to me," Leach said. "I was originally a linebacker my first two years at
, and my junior year I switched to fullback. I've been there ever since and the blocking is something I like."
Leach caught a three-yard touchdown pass from David Carr midway through the second quarter to give the Texans a 21-14 halftime lead over
last Sunday. It was his first touchdown as a pro, and he doesn't expect to score many more.
"Some people have to know their role and their job description," he said. "That's my role. That's my job description. I don't complain. I know my job.
"Fortunately, they called my number down on the goal line last week and I got my first touchdown. That was pretty exciting. Always your first one is big."
And Leach's approach won't change any time soon.
"I just work out during the season and in the offseason like anyone else," he said. "I don't do anything different than other backs. You study tape. You learn the plays. It's just that when you're in there as a power blocker, you know what your job is. You have to go in there with a mindset that you have to create space for the running back."
*EDITOR'S NOTE:Jim Carley is a veteran Houston sportswriter who has covered the NFL for more than 25 years. He has worked for such newspapers as the Fort Worth Star-Telegram, The Houston Post, the Los Angeles Herald-Examiner and the National Sports Daily covering such teams as the Dallas Cowboys, the Houston Oilers, the Los Angeles Rams and the Oakland Raiders. *