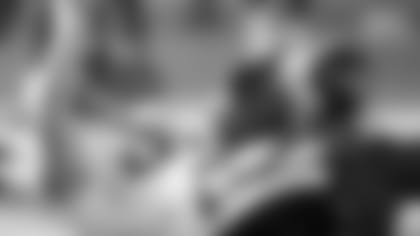 To begin with, he had never had a game like this in college. Not even close.
So when the TV cameras and microphones and reporters gathered in a crunch around his locker this week, Daniels looked at them all with boyish wonder.
This is not the attention normally afforded tight ends. This is the spotlight given wide receivers and running backs and quarterbacks.
So Daniels tried to play down his huge game against Tennessee last Sunday. But even coach Gary Kubiak admitted it was impressive.
"Well, I'm excited about it," Kubiak said. "When you look at the film today on the offensive side of the ball and you see Owen Daniels and what he did in the game. He's blocking well, too."
Daniels could hardly explain it.
"I had the opportunity to make some plays," he tried modestly to explain. "The way they were playing the coverages was leaving me open and I had to take advantage of it."
Humble and straight forward as that was, it wasn't enough for the media horde. Daniels had not only played well, he had drawn national attention with his performance. He was one of the finalists for NFL Rookie of the Week voting and interview requests were mounting.
"I don't think much about things like that," Daniels said. "I'm just trying to go out and play and try to make the most out of the opportunities I get."
When you catch nine passes for 99 yards and two touchdowns, you get treated like a wide receiver. A star wide receiver. Did he feel like a wide receiver Sunday?
"Kind of, I guess," he smiled. "I was just a guy getting chances and I tried to make the best of them.
"I was just getting lucky, getting open. It was just that the spots I was going to happened to be open. It's just something that happened. It wasn't game-planned or anything."
Even the wide receivers didn't have the day Daniels had Sunday. The NFL's leading receiver, Andre Johnson, caught nine passes that day, but for only 78 yards and one touchdown. And the Texans other veteran star receiver, Eric Moulds, had only three catches for 35 yards.
Daniels' big day, though, didn't hurt Johnson and Moulds. If anything, it helped them, and that wasn't lost on Daniels.
"I like to try to take some of the (defensive) attention away from Eric (Moulds) and Andre (Johnson) out there so they can continue to make plays," Daniels said. "Hopefully, that will help out for this week."
This week, when things will probably settle down for Daniels. But even if he doesn't have another huge game, this already has been a dream season for the fourth-round pick from Wisconsin.
Talk about uncharted territory. He has 18 catches for 183 yards and five touchdowns already for the season. His highest total for receptions at Wisconsin was 24 as a junior in 2004. And Daniels, who split time with another tight end as a senior and started only eight games in 2005, never caught more than four touchdown passes in a season with the Badgers.
And his biggest game at UW?
"I caught six passes one time," he said. "That was against Temple. They were pretty bad, too."
So no one could have expected this kind of production from the 23-year-old, who has started six of the Texans' games this season, not even Daniels.
"Honestly, I can't say that I did," Daniels said. "I was trying to make the team and then see what happened from there. I think once things went well in OTAs and (training) camp then I got the opportunity to be the starter and I'm just trying to take advantage of that right now."
What he realizes, however, is that he landed in the perfect spot at the right time for a player with his dual skills for blocking and catching the ball. Gary Kubiak's offense couldn't have been more perfect for him.
"In this offense, the tight ends have a chance to make plays," Daniels said. "I just have tried to learn as much as I can from (veterans tight ends) Mark (Bruener) and Jeb (Putzier) and take advantage of opportunities when I get them. I had a lot of opportunities last week."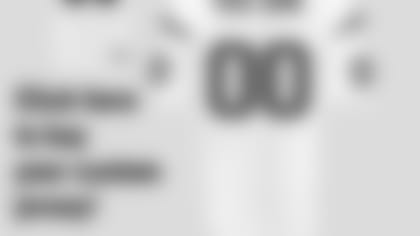 ](http://store.houstontexans.com/product/index.jsp?productId=1772608&cp=2237490&page=4&doVSearch=no&doVSearch=no&clickid=mainnavgeartxt&pageBucket=0&parentPage=family)He has had a lot of chances all season and he didn't expect that either.
"I didn't know I was going to contribute this much," he said. "I got a lot of playing time early and I made the best of it. Just being on the field a lot has helped me. I've gotten a lot of playing time and the coaches' confidence has been growing for me."
Sunday's game also was special because Daniels parents were able to drive over from his hometown of Naperville, Ill. But won't the mom and dad expect him to be an NFL superstar after what they got to see?
"I'm just glad my parents were in the stands to watch me," Daniels said. "But no, my parents are pretty realistic. They know this won't happen a lot."
EDITOR'S NOTE:Jim Carley is a veteran Houston sportswriter who has covered the NFL for more than 25 years. He has worked for such newspapers as the Fort Worth Star-Telegram, The Houston Post, the Los Angeles Herald-Examiner and the National Sports Daily covering such teams as the Dallas Cowboys, the Houston Oilers, the Los Angeles Rams and the Oakland Raiders.