For the past couple of games, the Texans' offense has been
             searching for a steady presence to gain some much-needed
             consistency. As great as it is to have a different player step
             up each game, almost every successful offense has a go-to
             performer that can be depended on to take pressure off of the
             rest of the offense.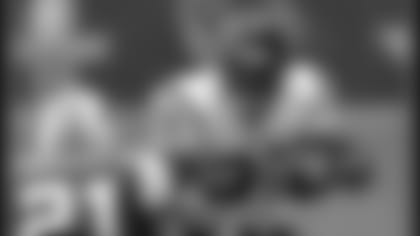 Davis takes on Jets' cornerback Aaron Beasley during Sunday's contest.

After his record-breaking performance against the Jets today, rookie running back Domanick Davis showed that he is capable of being that player. In the first start of his career, Davis rushed for a team-record 129 rushing yards on 27 carries (4.8 avg.) and caught a game-high nine receptions for 70 yards (7.8 avg.).
Davis' 27 rushing attempts tied RB Stacey Mack's team-record against the Miami Dolphins earlier this season, while his nine receptions fell one catch short of the team-record that RB James Allen established at Indianapolis last year.
"Well I think that Domanick Davis can really give us something in both the run--he did a good job running today--and as a receiver," Texans head coach Dom Capers said. "He has excellent hands. He catches the ball well. He's stronger than what most people think. He's got good vision, quickness in terms of running the ball. I think he'll continue to get better. Today was a good start for him."
From the outset of the game, Davis was the focal point of Texans' offense. On the team's first scoring drive of the game, he accounted for over 70 percent of the total yards and was involved in six of the eight plays. He averaged 5.5 yards a carry and 10.5 yards per catch on the drive.
In the Texans' final 64-yard scoring drive, Davis was involved in five of the eight plays, rushing for 25 yards. In all, he had a hand in 36 of the Texans' 61 total offensive plays (59 percent) and finished with 199 of the Texans' 325 total yards of offense (61 percent).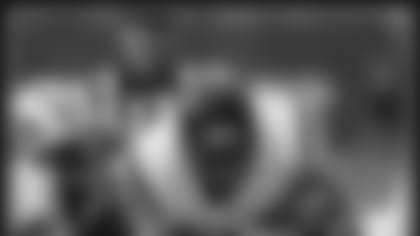 Davis breaks a tackle in one of his many bruising runs versus the Jets.

Davis did most of his damage on a variety of slicing runs off the tackles as well as numerous five to 10-yard receptions under the Jets' dropping linebackers.
"He's the type of back a lot of people would love to have on their team," Texans offensive linemen Todd Washington said. "He'll drag about two or three people, make people miss, and he runs hard. He showed it today."
While he is far from the biggest player on the field, Davis did a great job of using his 5-9 size to sneak behind taller linemen before darting through small holes in the defense. Once into the secondary, he lowered his shoulders and used a low center of gravity to muscle past defenders and break tackles with his stocky 216-pound frame. As well as he played, the modest Davis deflected all compliments away from himself.
"The offensive line did a great job," Davis said. "After watching the film on the Jets, we saw that they are an aggressive team. As far as my running today, I give credit to the offensive line because they did a great job."
Although the Texans' offense is far from where it wants to be, especially after being shut out for the last 44:56 of Sunday's game, not all is lost. Going into the contest, the offense was looking for a player to count on. Leaving the contest, they now have Davis.