Dunta Robinson has a reminder for all those expecting him to sport the deer-in-the-headlights look the first time he saw another NFL helmet staring across from him.
"When you're going up against Andre Johnson and Corey Bradford every day in practice, it doesn't get any faster than that," Robinson said.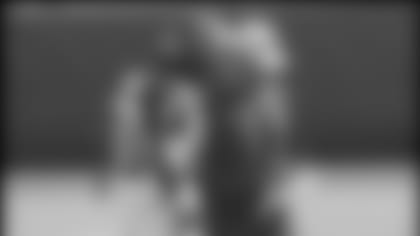 Valid point. But Robinson did concede that he was excited to practice against the Dolphins the past two days. And he also admitted it was a good learning experience.
"It's another step and it's a step in the right direction for me and also my teammates," Robinson said. "I felt pretty good out here this morning. I made a couple of mistakes, but I'll correct those with time.
"The speed didn't change much and we kept a good tempo going."
Robinson hasn't been perfect -- rookie corners never are – but you can't question his attitude and work ethic through the first week of camp.
"He's getting better every practice, you can see that," defensive backs coach Jon Hoke said. "He'll make a mistake, but he'll come back and correct it."
"He's got to get more sound on his technique and assignments. Those are the two biggest things. It's not lack of effort. He comes out and practices hard every day so that's not an issue."
It's a grind, but every now and then Robinson's talent jumps out and you realize why Houston made him a first-round pick. Saturday morning's practice was a perfect example.
"He had a big play in team work today against their first offense," Hoke said. "He had an interception that would have been a touchdown on a third-down situation. He stepped up and made a play."
The Texans' other first-round pick, outside linebacker Jason Babin, is also getting plenty of beneficial work against the Dolphins. Babin hasn't skipped a beat from lineman drills to 7-on-7 to full team sets.
"It's a test for me, personally, to see if I get my plays right and I'm in the right spot," he said.
Through all of this, head coach Dom Capers is watching carefully. He has a vested interest in both Robinson and Babin, and not just because the two are first-round picks and expected starters. Capers coached defensive backs for eight seasons in college and for his first eight professional seasons. And he mastered the 3-4 defense at Pittsburgh and Carolina, where he took edge rushers like Babin and made them outside linebackers.
"Dunta and Jason will get a lot more work than the players who have been around and played," Capers said. "The guys that we know will be very limited in their repetitions. But you have to get a good luck at these young guys.
"I want to see guys compete. I want to see the carry-over from the nine practices we've had together."
A lot of eyes will be watching Houston's first-round tandem this afternoon in the scrimmage against Miami, Capers' eyes chief amongst them. But that shouldn't faze Robinson or Babin. Confidence is part of the formula that got them this far.
"I know he's always watching me, but that doesn't affect the way I play," Babin. "I'm still going to play hard and go after the ball."