The first week of December wasn't too jolly for the Texans.
Forced to play the Jaguars without their starting quarterback or running back, the Texans hobbled through a 27-0 pounding yesterday in Jacksonville -- the first shutout loss in club history.
"When you go on the road and lose by 27 points to a division opponent, there's not a lot of positives to take away from this game," head coach Dom Capers said Monday. "These kinds of game happen. You never want them to happen, but they do.
"The key is how we respond to it."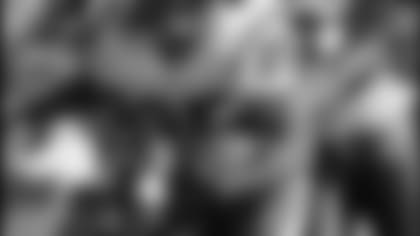 Tony Hollings and the Texans couldn't muster any offense Sunday.
And the holiday road doesn't get any easier. Up next is a trip to Tampa to face the defending Super Bowl champion Buccaneers. Houston gets to return home for its final two regular season games, but those come against the two best teams in its division (Tennessee and Indianapolis) with a combined record of 19-7.
Capers acknowledged Monday that his team is just one-quarter of the way through a difficult closing stretch, one made even tougher with the Texans' latest rash of injuries.
"Our depth is playing for us right now in a lot of places," Capers said. "The good teams in this league either stay incredibly healthy or they have very good depth."
The Texans can't lay claim to either of those categories, and the news got even worse Monday. Linebacker Charlie Clemons was placed on injured reserve with an ankle injury. Either Steve Foley or Antwan Peek will take his spot. Foley returned at Jacksonville after missing the previous two games with a shoulder injury and Peek returns to practice this week after missing the past three-plus games with a foot injury.
Capers also announced that cornerback Aaron Glenn, who has been fighting through a groin injury since late September, will miss the Bucs game.
When Capers prepares for an opponent, he likes to dissect its roster to see how the players were collected. And that just reminds him that no matter how hard the Texans fight, they can't fight they're just 29 games into their history.
New England had a similar rash of injuries earlier in the season, but the Patriots' depth was able to sustain them. Much of that has to do with New England's roster boasting 20 players 30 years and older. Jacksonville's defense had five No. 1 picks and three high No. 2 picks.
"We've only existed for two years so it'd be hard for us to have five No. 1 picks on defense," Capers said.
Dave Ragone threw for just 71 yards in his first career start at quarterback yesterday. But let's be fair: Few rookies have been thrown into such a precarious position for their debut.
"When you have a rookie quarterback making his first start, you hope to establish a running game," Capers said. "That puts the down and distance in a manageable situation. But we had an awful hard time running the football."
The Texans converted just 1 of 12 third-down situations and 10 of those situations featured a 3rd and 7 or longer.
"That's a tough situation to put a young quarterback in."
For his part, Ragone was upbeat Monday.
"I had fun out there," he said. "It's better than holding a clipboard. But it's not the storybook ending I envisioned."
Will David Carr return this week? Capers said it's too early to tell. Carr was having enough problems with a sprained right shoulder but then he got the flu over the weekend. Capers had him stay home today.
The Bucs are still breathing at 6-7, two games behind Dallas and Seattle in the NFC wild-card race. But it's obvious they need to win out to have any chance to defend their title. And that means the Texans will get Tampa Bay's best effort.
"Tampa Bay is the defending champion," Capers said. "They have a lot of players on that football that have been there and they have a lot of pride. They'll rise to the occasion and play their best when they have to."
After that, the Texans close at Reliant Stadium with the Titans and Colts, who are separated by one game at the top of the AFC South. Both teams will be fighting for playoff positioning when they come to Houston.
"We'll get their best effort," Capers said. "A year ago, we finished out with Tennessee in here and with five minutes to go in the game it was 6-3 and that was a team that was playing in the AFC Championship.
"To me, that's an added motivation. It's a challenge for our team. Those teams kind of set the bar in our division, at least they have the first two years of our existence. They're teams that we have to constantly shoot for. That's what we have to do. We have to be able to find a way to compete and win those games against those teams."
But to do that, the first step is shaking off the cobwebs from Jacksonville. That began today with film review. It will continue Wednesday in practice as the Texans eye the next phase of a brutal stretch run.
"You have to come in, take a look at it and accept responsibility for it," Capers said. "Every man has to ask himself what he has to do to make sure that doesn't happen again."