Following Sunday's breakout performance by Wali Lundy, the problem of who would be the starting running back for the Houston Texans seemed to be solved. Yet, at his weekly press conference Monday following the Texans 27-7 win over the Jaguars, Gary Kubiak wouldn't name Lundy the man.
"Well, definitely he's going to play," Kubiak said when asked if Lundy had earned the starting spot. "We're going to continue to play guys. I don't get too caught up in the starter thing. We're going to continue to play a lot of players and continue to search with this football team."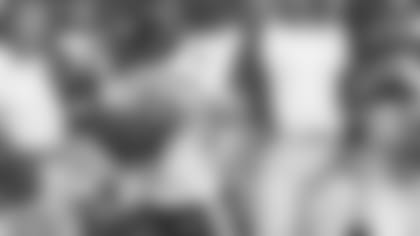 Not exactly a ringing endorsement for Lundy taking the first handoff Sunday in
"He's earned that right to play," Kubiak said. "He'll be the guy this week and hopefully for a long time to come."
And with that it's settled, at least for now, sixth-round draft pick Wali Lundy will start Sunday against the Titans as the Texans look for their first road win of the season. But it really shouldn't come as a surprise.
Though Lundy had seen limited playing time in the weeks leading up to his 93-yard rushing performance Sunday, he was the starting running back in Week 1 against the Philadelphia Eagles.
That seems like a long time ago now. Lundy managed just 32 yards on 11 carries in his NFL debut and
looked for another answer in their backfield on their way to three consecutive losses to start the season.
The Texans have now won two out of their last three games and with a much more favorable schedule ahead then the one behind, look poised to threaten the .500 in the coming weeks.
During the team's early struggles, the lack of a running game was a primary concern. Lundy said it was hard to take a step back after starting the first game, but he took what he could from it.
"I feel like I used it as a tool instead of letting it get to me," Lundy said. "I just used it as a tool to get better, fine tune my skills, and sit back and watch how different defenses play against our offense and see how all of our running backs play the game."
That's a pretty healthy attitude for a guy right out of college, but don't think it didn't bother Lundy at least a little to watch from the sidelines.
"It's frustrating as a competitor," Lundy said. "But as a person who loves the game, I'm always going to be trying to help this team win whether I'm on the field or off the field."
He finds himself back on the field now and if Sunday is any indication, that time watching on the sideline wasn't a waste and there's at least one lesson that Lundy has already learned about the NFL that has served him well.
"Everything in this league has to be done fast," Lundy said. "Your decision has to be quick. You can't think about it and do it, you just have to do it and think about what you did later. It's all on instinct that's why you have to be mentally prepared to go in the game, you're just reacting on instinct."
It might have been the lack of some of those instincts that had Lundy sidelined for a month. Blocking as a running back is a completely different animal in the NFL compared to college. Complex zone blitzes and line stunts are the norm forcing many running backs to play with their head on the swivel. It's something that Lundy may not have been ready for to start the season, but he took it in stride.
"Just coming from college to the NFL, the game is a lot more mental," Lundy said. "If the coaches thought that I wasn't ready mentally to play, then that's what they thought. I always have a lot of confidence in my game and I always think I can get a lot better. There's always criticism, but you have to take criticism as a player because it only makes you better. If you didn't have anything to get better at, why would you play the game?"
The Texans certainly can improve their running game. Though the final numbers say otherwise, Sunday's success on the ground against the Jags didn't come early or easy. Lundy offered an easy explanation of how
's running game finally got on track.
"We just kept pressing," Lundy said. "The o-line kept working hard, we kept going at it, we kept fighting. Some other weeks we did some things to hurt ourselves in the second half and this (past) week we didn't and we came up with some big plays."
But Sunday's success is now fully in the rearview mirror for Lundy and the offense. This week brings a new challenge, the Tennessee Titans on the road, but also a new hope.
's defense ranks last in the NFL against the run, allowing over 160 yards on the ground per game. It would seem that this week's matchup offers an opportunity for the Texans and Lundy to continue the momentum they got going Sunday, but Lundy's not taking anything for granted.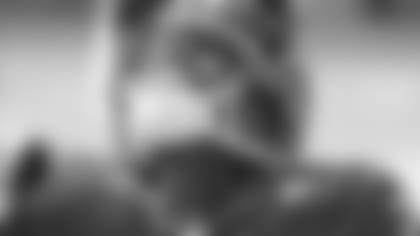 "I think we're just excited to go out there and compete against
," he said. "We know they're a great team. They're up and coming and we've seen what they've done the last couple of weeks against Indianapolis and the big win they had in Washington so we're just getting ready to play."
Though Lundy will start Sunday,
will likely continue to use more than one back. For some that might be difficult, but Lundy shared carries during much of his career at the University of Virginia so it's nothing new to him.
That said, his attitude about splitting time in the backfield is pretty indicative of Lundy's attitude in general, which is why the Texans might be starting their running back of the present and the future in Nashville on Sunday.
"It all depends on what the coaches want," Lundy said. "If they think that two backs can give us a change of pace, that's what we'll do. But if they think one back can go in there and get a rhythm and get going, then that's the way they feel. I'm just here to play the game and compete."