EDITOR'S NOTE:This article first appeared on the site on Mar. 2, 2002.
*
*INDIANAPOLIS -- At the site of three Final Fours, the NFL is conducting its own version of March Madness this season.

Players, coaches, scouts and trainers from 32 teams are scurrying around the RCA Dome as we speak. Not only are the clubs trying to evaluate more than 300 college prospects, but the free agency period launched at the exact same time. That's a lot of gridiron material to ponder.
And no team has more to digest than the Texans. Draft picks? Houston owns a whopping 14 of them. Free agency room? Only one team has more salary cap space. So the curious eyes of the NFL nation are focused squarely on the men in battle red and deep steel blue this weekend.
"I think you realize how important this combine is when you have multiple picks," Texans head coach Dom Capers said. "I understand the sense of urgency with which we're approaching it."
Capers stared intently from his perch in the northwest corner of the end zone most of the afternoon, watching offensive linemen and running backs.
"I think there's always two or three guys in each group that stand out," Capers said. "These guys are guys that will be going off the board early. Then it becomes a matter of seeing where everybody else will fall. It's especially important for us because we have all those extra picks."
A total of 333 players were invited to this combine, the most in nine years. And most of them participated fully, despite agents often urging their clients to be selective with drills. For instance, 46 out of 52 offensive linemen ran for times.
"In my mind, if the guy is a confident player, this gives him a chance to come in and show his skills compared to the other players at his position," Capers said. "It always raises a red flag in my mind if a guy doesn't compete. Normally, fast guys run fast here; guys that aren't fast don't run fast."
One player that will participate in drills tomorrow is Fresno State quarterback David Carr, who many believe is Houston's target with the top overall pick.
"We've obviously scouted Carr quite extensively so I don't know if there's anything we're going to learn tomorrow that we don't already know," Texans general manager Charley Casserly said. "We asked him to work out because we thought it was more of a statement to the players.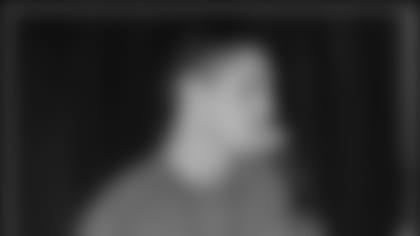 "In the 15 minutes he's going to throw, it's not going to alter our opinion one way or another but I thought it was a good statement to the rest of the players that, hey, let's just go work out. What do you have to hide? I'm proud of the fact the kid's doing it."
Casserly spent most of the afternoon in the dome as well, securing a seat at the finish line of the 40-yard dash before taking in some passing routes from the end zone. He acknowledges interest in Carr and Oregon quarterback Joey Harrington but reminded everybody that talent wasn't exclusive to the quarterback position.
"On the offensive line, you've got (Bryant) McKinnie, you've got (Mike) Williams," Casserly said. "On the defensive line, of course, (Julius) Peppers is going to be an outstanding pro. I think Roy Williams is also going to be an outstanding pro. There are a lot of good players this year.
"The one thing you have to realize is everything you hear up until now is conjecture. Clearly, the only people that have access to the draft rooms are the 32 teams. And clearly, they're not sharing everything with you. And some draft rooms are farther ahead than others. If the coach is heavily involved, the draft room is really just starting to take shape. It's all conjecture at this point in time."
Casserly is also pondering the free agent market, where there was some action Saturday. Quarterback Trent Dilfer re-signed with Seattle, yanking another experienced signal-caller off the market. Arizona re-signed tackle Anthony Clement. Expect to see additional familiar names in Houston in the coming days.
"We'll bring some players in for interviews next week," Casserly said. "We have clearly the second-most cap room in the league. We also have the fewest quality players in the league, too."
There's no question the Texans fired some serious salary shots in the expansion draft with the likes of tackle Tony Boselli, cornerback Aaron Glenn and linebacker Jamie Sharper. And this free agent market, all 451 players strong at the outset, is widely considered the weakest in the eight-year history of free agency.
But if the Texans practice a little patience, they could find some significant bargains in the coming months.
"There's certain things we would like to accomplish in free agency and we'll just take it as we go," Casserly said. "I think clearly there are more players than jobs. But you want to get the right players for you.
"I think we're going to go fairly slow and methodical, and I say that after talking to the agents. Nobody gave us a deal we wanted yesterday. But I'm not sure some of them know what to say yet because they don't have anything."
Dilfer, who won a Super Bowl ring with Baltimore before his initial season in Seattle, was seeking a long-term commitment as a starter. The Texans can't offer that if they draft a quarterback with the top pick next month.
"Right now our plan is to take a quarterback in the first round of the draft and have him be the guy we're going to develop over a period of time," Casserly said. "Anybody who comes in, we want to let them know that's the plan. Yes, they could start in the beginning of the season but they might not start the whole season."
But even if that occurs, Casserly thinks the Texans could still be an attractive option for a veteran quarterback -- although that quarterback just might not know it yet.
"There are a lot of quarterbacks that may not think of us first, but may think of us later," Casserly said. "We have the second-best job at quarterback in free agency. The best one is the one where they guarantee you'll be the starter. We have the second-best because you are going to start, you will have a chance to showcase your talent and rebound in the marketplace."
So Casserly will continue to work the phones as the rest of his staff readies for another day of workouts. The madness continues in Indianapolis. But with a clear purpose in mind.
"We'll have five picks the first day of the draft and nine picks the second day," Capers said. "Each pick is important and that's why we're here."