Steve McKinney had a coming out party of sorts last Sunday. He'd been in hiding for a couple of months.
Not by choice. The veteran offensive lineman had not started for the Texans since the fifth game of the year, though he had hung around and played in all of them.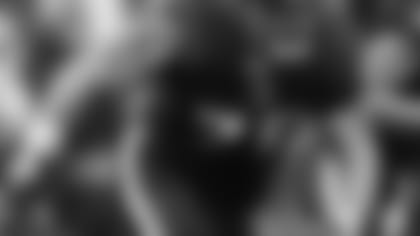 Last Sunday, he came out of hibernation and started at center for the first time this year. It was his first start anywhere in nine weeks after getting the call at guard for four games early in the year.
"It was awesome," McKinney said of his start Sunday in the 27-24 victory over his old team, Indianapolis. "It was a great Christmas present for myself. I got to go back and play center, which I love, and beat the team that I came from and wanted to beat so badly for five years.
"And to get it done on Christmas Eve was a wonderful thing."
Sounds like a guy who might have been a little disgruntled while riding the bench a lot of the time the previous eight weeks.
If you made that assumption, though, you'd be wrong. McKinney kept his feelings, good, bad or indifferent, in a top-secret file all the time he was not starting. The White House could learn how to keep secrets by watching this guy.
When you hear coach Gary Kubiak talk of the unselfish team players on this team, you can count McKinney at the top.
"I need to say this about (McKinney)," Kubiak said after the win. "He was beat up early in the year and we went another direction.
"Being a veteran player, that is hard to deal with. But he kept working and kept a great attitude. I told him this week we would start him at center these last two games."
It was music to McKinney's ears. The long ride on the bench was more difficult than he ever had let anyone know. McKinney had started all 64 of the Texans games the first four years of the franchise and, in fact, had started all 124 games of his NFL career, counting four years with the Colts, before this season.
A lot of players would have squawked like a giant condor when demoted. McKinney, whose father, Dr. Michael D. McKinney, recently became chancellor of the Texas A&M system, never considered such a spectacle. He took the high road with the same dignity of his father's office.
"Obviously, it's been a tough year," McKinney said. "I was fighting through injuries and trying to stay on the field even though my body was hurting. And they (the coaches) just felt like they wanted to go a different direction and look at some other guys.
"I understood. I committed myself to keeping a positive attitude and definitely not doing anything to affect the locker room, because I didn't want to do that. I just kept plugging."
In an era of me-first athletes, of Terrell Owens-types who count the number of passes thrown their way, McKinney sounds too good to be true. But he never wavered, even when media members often came at him asking how he felt about his demotion.
And many observers wondered how he did it.
"I respect our team," McKinney said. "I respect coach Kubiak and coach (Mike) Sherman (assistant head coach) and I did not want to ever become a distraction for this team.
"I'm a professional and I've been doing this for a long time. I know eventually somebody else will be doing my job someday and I understand that. So I was not going to be that guy who people hear whining and complaining on the radio or to the media."
McKinney was too smart and too classy to makes waves. He sounds like a throwback to the days of leather helmets.
"I just played the role they wanted me to play and if that was being the first guy off the bench in case somebody got hurt or filling in in the fourth quarter, or whatever it was, that was fine," he said. "I always told them, 'I respect your decision and I'm going to do everything you ask me to do in whatever that role it is to the best of my ability.' I'm just glad Sunday it was as a starter."
Of course, Sunday, the Texans played perhaps their best game offensively. They ran the ball with authority as Ron Dayne gained a career-high 153 yards, third-best in club history, and the line didn't allow a sack.
"I don't know why it happened," McKinney said. "I was just glad it happened. I felt like we played pretty well as a unit. I felt like we had a lot of cohesiveness.
"We were playing real tight as a unit, guys getting up to the line of scrimmage, getting set, coming off the ball, staying tight on our double teams. All across the board, I felt like it was probably one of our best performances this year."
And quarterback David Carr was glad to see his old friend back in the saddle.
"With Steve, it's just like riding a bike," Carr said. "It's the same thing, me and him have been working together for so long. He was the first center I had. I don't even think about it anymore when he's out there as far as communication, what you have to do. He and Chester (Pitts) work really well together and, like I said, it's like riding a bike. We just go out there and don't worry about it any."
Still, McKinney admits the subjugated role wore on him at first. He wondered for a while where his future was headed.
"Early on, I had my doubts," McKinney said. "But after talking to coach Kubiak and coach Sherman, neither of them made me feel that way at all. They gave me confidence that I was going to be back in whatever role it was going to be. And I wanted to be back in whatever role it was.
"Coach Kubiak and coach Sherman both told me that you're not an afterthought. And you'll get your chance to get back put there and just stay positive and keep being a leader and you'll get your chance again and Sunday I got it." ](http://store.houstontexans.com/product/index.jsp?productId=1772607&cp=2237490&page=4&doVSearch=no&doVSearch=no&clickid=mainnavgeartxt&pageBucket=0&parentPage=family)And McKinney never doubted Kubiak, another ex-Aggie, when he encouraged him during that time.
"I took him for his word," McKinney said. "A lot of coaches might tell you stuff like that and you don't know what to believe, whether they're just giving you lip service. But I believed him.
"He's a man of his word and I trusted him. I just kept practicing on the field and working in the weight room as if I were still a starter. That was definitely beneficial because Sunday if I had taken the last eight weeks off, it would have been rough."
Now McKinney is looking forward to next week and next year. And he hopes both are at center.
"Very much," he said smiling. "That's the position I'd like to play for sure. I think it's the position I can help this team at the most. So hopefully this offseason everything will work itself out and that'll be the direction they go."
Whatever it is, you can bet McKinney will consider the team first. He was doing it again this week.
"I think with everything we've gone through this season, all the tough losses and stuff, to finish with two big wins here at home would be a great finish," McKinney said. "I think it would give everybody a lot of hope, optimism and excitement going into the offseason and a little bit of a winning attitude. I think that's going to be just what the doctor ordered around here."

*EDITOR'S NOTE:Jim Carley is a veteran Houston sportswriter who has covered the NFL for more than 25 years. He has worked for such newspapers as the Fort Worth Star-Telegram, The Houston Post, the Los Angeles Herald-Examiner and the National Sports Daily covering such teams as the Dallas Cowboys, the Houston Oilers, the Los Angeles Rams and the Oakland Raiders. *