Amongst all the hoopla surrounding free agency, somewhere in between the big-time players swapping teams and signing hefty contracts, surface hidden gems. Players who overcome the "name game" and prove themselves as solid contributors on the football field.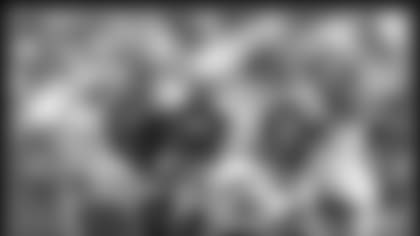 The Texans' defense congratulates Eric Brown after his pick at Philadelphia.
For the Texans, that player was strong safety Eric Brown. Brown was brought on board August 3 of last year, just a few days before the Texans and Dallas Cowboys scrimmaged before the preseason. Brown had just spent the first four years of his NFL career in Denver where he had started in 52 of 53 games and found himself available in the 2002 free agent market throughout the entire spring and summer.
It was an uneasy time for Brown. He was stuck in a waiting game with an unsure future. After signing a year contract upon arrival in Houston, Brown was guaranteed at least another season in the league, but nothing long-term…until now.
The wait is over and Brown can settle in and call Houston his home for the next five years.
"It's a great weight off of my shoulders," Brown told the media today at a press conference. "I feel like a new man because I had to struggle in a way, for so long. The biggest thing was just not knowing where I was going to be, who I was going to be with or where I was going."
When Brown signed a one-year contract back in August, it was comparable to an audition for both he and the Texans. Brown had the opportunity to test out the expansion team and Dom Caper's defensive scheme, while the Texans had a year to see if Brown had the talent and the heart to become a staple in the organization for years to come.
It didn't take long for Texans general manager Charley Casserly or the coaching staff to see that Brown would be productive in the secondary. With just a few weeks to study the playbook, Brown was ready and available to start in the Texans opening game against Dallas.
"As a coaching staff, we're extremely excited about having Eric back," Capers said. "Eric didn't come to us until after a week or so of training camp so he obviously had to have a crash course and it didn't take us long to figure out he was our best strong safety. We haven't seen what Eric's best is. I think it will be tremendous for him to be here during an off-season."
Brown went on to start in 15 games while recording 95 stops, a half-sack, two interceptions and one forced fumble. All while battling a shoulder injury for most of the season. The one game that Brown did sit out, at Cleveland, was probably his roughest of all.
"I basically had to beg guys to let me back in because I wanted to play so bad," Brown said about playing all season with an injured shoulder.
His courage and love for the game was extremely impressive in the eyes of Casserly and the coaching staff. Here's a guy who came into Houston on a one-year contract, knowing the expansion squad would not make a playoff run, yet continued to play every snap on minimum salary and no guarantee that he would remain a Texan at the conclusion of the season.
Many players would've rested, gotten healthy and positioned themselves to make a stab at the 2003 free agent market.
Not Brown. His love for football motivated him before every contest.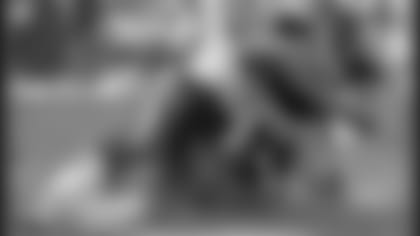 Brown played with a harness to help stabilize his injured shoulder for most of the season.
"I've been in the league 26 years and have encountered all kinds of situations with players," Casserly explained. "I have to say, Eric, to me, is right at the top of the list of players that I've been around with character.
"Here's a guy that played his guts out and never quit. He played great for us and has the heart of a champion. That, to me, is the happiest part about this thing, is that Eric will be a Texan for years to come."
Brown has a lot of defending left in him. The young safety has five years under his belt and is just hitting the pinnacle of his career. With an upcoming off-season lifting program, mini-camps and a complete training camp on the docket for Brown going into the 2003 season, Capers and the rest of the coaching staff are extremely optimistic about his potential.
"Eric would come in every day and give you a good day's work," Capers said about Brown's work ethic last season. "He had fun on the practice field and always practiced at a high level and I think it rubbed off on the other players.
"In my mind, that's extremely impressive, he's a guy that we know we can factor in from a physical standpoint. He'll tackle with any of the safeties in the league."
Brown reciprocates those sentiments. He feels confident that he's settling down with an organization that is going to skyrocket to the top.
"I'm very happy to be here, I'm very happy to have a home," Brown said. "With this organization, this will be a place to grow and win a championship."