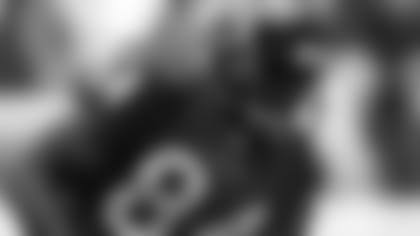 So there was no way the biggest week of his season was going to turn into a circus. There would be no finger-pointing or guarantees or I-told-you-so's.
This isn't Terrell Owens we're dealing with here.
Still, Moulds is not one to be duplicitous or phony.
"It's going to be a fun game to play," the Texans veteran receiver said of Sunday's game against his old team, Buffalo. "I have a lot of history with Buffalo, playing up there for 10 years, so it's going to be fun. I'm just going to go out there and try to fly around and make some plays and have a good time."
Moulds didn't just drive through upstate New York and spend a few weeks. He was taken in the first round, 24 th pick overall, of the 1996 draft and spent 10 strong seasons there, making the Pro Bowl three times.
He was there in Jim Kelly's last year and he was there in the end when the Bills decided to start looking at young, hot-shot receivers.
When it became obvious that the Bills were going in the direction of those young receivers, Moulds wasn't one to become bitter. He took the high road and asked the Bills to seek a trade, though he admits it wasn't easy.
"It was mixed emotions," Moulds said. "When you've played in a place for 10 years, you have a lot of history there and you've made a lot of friends. But at the same time, I knew that it was time for me to move on.
"I don't regret my decision and I'm pretty sure they had to do what they had to do. I think eventually at some point in time, you're either going to retire or get traded. I learned that a long time ago from Charlie Joiner, who was my coach up there.
"He played 18 years in the game and he said eventually you're going to get either traded or released. I knew at some point in my career that would happen."
So Moulds took his 675 catches, 9,096 yards and 48 touchdowns south after the Texans traded a fifth-round draft pick for him. And he insists he had no bad feelings about the Bills in the parting.
"Not really, because it was an exciting time for me in my career," Moulds said. "It was a chance to go somewhere else and start fresh and play with a new group of guys.
"You had mixed emotions and you were a little upset about it. But at the same time it was a new start and it made me want to come out to Houston and have a good showing.
"I just felt it was time for me to move on. They wanted to go in another direction and I was the last player from my draft class to play there. They had some young receivers there who had to play. I think that when you draft receivers high, eventually they're going to come in and play and I wanted to give those guys an opportunity to learn the game and play.
"Because if I stayed there, they wouldn't get that opportunity. For me, it was tough to leave. But at the same time, I needed a change."
Ironically, the many young receivers on the Texans have been a motivation for Moulds.
"I'm having a blast now," he said. "I'm getting the opportunity to play with some young players. It makes you young again when you play with 22-year-olds and 23-year-olds when you're 33.
"It makes you feel young because you have to go out there and try to keep up with these guys. It's fun just to go out and play."
Moulds admits he was very aware of this week's game months ago. Shortly after he signed with the Texans, he learned the team would play host to Buffalo on Nov. 19.
"I circled that date and I said I'm going to look forward to playing that game," Moulds recalls. "That's human nature for any player that's played with another team for a long time and then to get an opportunity to come to another team and play."
Still, he never became obsessed with the date.
"I was so involved in the season and what's going on with us as a group," he said. "We started slow and I was really concerned with what direction our team was going, so I didn't really have time to think about this game until after we played Jacksonville.
"Then I started thinking about it and a lot of the guys started calling from Buffalo, so it made it a little more interesting. So I'm going to go out and play hard, but I don't want my teammates to make this about me because this is a game between the Buffalo Bills and the Houston Texans and one player's not going to make a difference."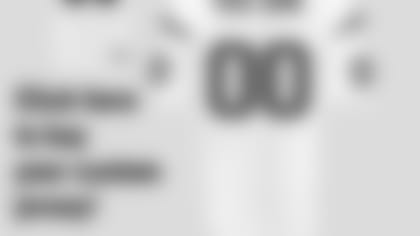 ](http://store.houstontexans.com/product/index.jsp?productId=1772608&cp=2237490&page=4&doVSearch=no&doVSearch=no&clickid=mainnavgeartxt&pageBucket=0&parentPage=family)Many Bills have called this week.
"I've talked to probably about 10 of the players I played with," Moulds said. "Most of the guys have just asked me if I could get better tickets for them and that they want to come into town and have dinner with me.
"It's a game that I'll approach like any other game. But at the same time I'll have a little bit more emotions because I played up there for 10 years.
"I'm just going to go out and play the game. I don't get caught up in whether they made a mistake or I made a mistake. I just want to come out and play and I think if we win the game, it'll tell a big tale for us."
Moulds' current teammates know this will be a big game for him.
"Most definitely," quarterback David Carr said. "If he's remotely open, he's going to get a chance at the ball. Because I know he's going to be a little extra hyped up for this game, a little excited about it. So yeah, I'm definitely aware of it.
"I always want to get him the ball in every game. But I think if it's possible, he's probably going to want to work a little bit harder this week to try and get open. H's going to have something he wants to prove and he's obviously got a lot of fans up there and he's going to want to perform for them."
Whatever he does, don't expect Moulds to rub it in the Bills' faces.
EDITOR'S NOTE:Jim Carley is a veteran Houston sportswriter who has covered the NFL for more than 25 years. He has worked for such newspapers as the Fort Worth Star-Telegram, The Houston Post, the Los Angeles Herald-Examiner and the National Sports Daily covering such teams as the Dallas Cowboys, the Houston Oilers, the Los Angeles Rams and the Oakland Raiders.