Preseason prognosticators dissect everything before delivering their verdict, be it offense, defense, special teams, coaching, experience or off-season acquisitions.
But one thing nobody can predict is preseason injuries. And that's one category that can have a tremendous effect on a team before it even tees it up for regular season play.
The Texans' injury report is starting to resemble a term paper and they aren't alone. The Falcons lost quarterback Mike Vick for up to six weeks over the weekend and the Redskins lost defensive tackle Brandon Noble for the season.
But for a second-year club that doesn't possess the depth of its 31 counterparts, the injuries are of special concern to the Texans. And their medical staff has been working overtime of late.
"We're always going to go on what our medical staff advises us," head coach Dom Capers said Sunday night. "You have to know which players to encourage and which players you have to kind of put the reins on."
Houston's loss to the Cowboys produced injuries to two starters, one on each side of the ball. Pro Bowl defensive end Gary Walker sprained his left shoulder chasing Dallas quarterback Quincy Carter just before the two-minute warning of the first half Friday.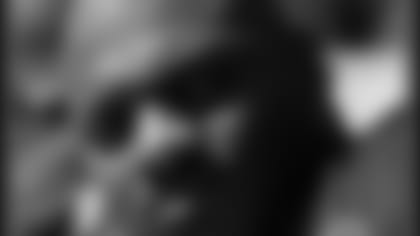 Walker injured his left shoulder at Dallas Friday.
"What I've been told is that it's just going to depend on how he responds to the rehab and that's something where we're just going to have to wait and see," Capers said. "If you remember last year, Gary had surgery on his groin and he really didn't come back until our last preseason game. I think he played 12 plays in that game and was ready to go from there.
"Gary's focus right now has to be on getting that shoulder back strong and healthy. He'll be ready to go if he can do that."
Walker had that shoulder in a sling at practice today and was asked by reporters afterwards whether he'd be ready for the season opener Sept. 7 at Miami.
"I hope to be," Walker said. "We'll just see."
Meanwhile, fullback Jarrod Baxter suffered a sprained left foot in the third quarter and had an MRI upon returning to Houston.
"We should get a final reading on Jarrod tomorrow," Capers said.
Baxter and Walker's ailments just added to a long list of injuries for the Texans, most nagging but all hampering the team's chemistry.
As far as the starters go, cornerback Aaron Glenn has missed the first two preseason games but returned to practice on a limited basis Sunday. Center Steve McKinney also saw limited work with a brace on his left knee. Linebacker Jay Foreman (left shin) and free safety Matt Stevens (right knee) were also limited.
"Steve McKinney is improving," Capers said. "Hopefully, we'll have a chance to take a look at him in the Tampa game.
Running back Jonathan Wells continued to sit out with a case of turf toe on his left foot. Cornerback Darrick Vaughn suffered a shoulder sprain at Dallas similar to Walker's except on the right side. Linebacker Jimmy McClain will return to practice tomorrow after resting his left knee.
Free safety Travares Tillman has been out for most of camp with a right forearm fracture. Guard Ryan Schau is still sitting with a left knee injury, while wide receiver Atnaf Harris (hamstring) and defensive tackle Howard Green (knee) also missed practice, though Green is expected to return by the middle of the week.
The injury bug has even hit the Texans' draft class, as both tight end Bennie Joppru (groin) and running back Domanick Davis (hand) have yet to play in the preseason.
"Domanick Davis is improving," Capers said. "We can hopefully have him back and have a chance to take a look at him in Tampa.
"Bennie Joppru continues to be out with his groin. It's disappointing because when you're young and you miss all this time, it's hard to make it up."
Meanwhile, the Texans collectively press on with two more dress rehearsals to go before the regular season kicks off.
"The pieces are there," Capers said. "We just haven't put it all together in terms of being able to go out and put together and consistent performance."
It's hard enough to put it all together as a second-year club. Injuries only make it more challenging.