The anticipation has been growing since the offseason. Fans have talked about it for months. On Sunday, the wait is over. Lost in the excitement of the Texans resetting nearly every offensive record this preseason is the fact that the Texans showed very little of their new offense while doing it and this Sunday will be the debut of a new Houston Texans offense.
scored its most points during any preseason in team history. But here's the catch, you haven't seen anything yet.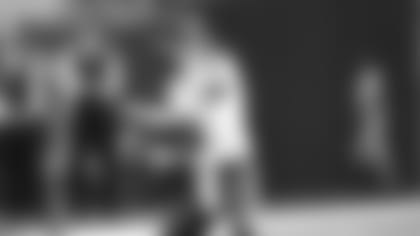 "The preseason we were kind of vanilla, we didn't really want to show anything," Eric Moulds said. "But now we're going to put the bulk of our plays in and this is an offense that you really have to study. You have to know what everybody is doing because anybody can line up in any position. I could line up at running back sometimes, (Wali) Lundy could line up at receiver, so you have to know what everybody is doing. You have to get in your playbook and study because this offense holds people accountable."
The players will be held accountable by their coaches, but also the fans. Now in their fifth year, and after a disappointing 2005 season, the Texans have done little to excite football fans in the
. That should all change starting Sunday.
Most teams, even those under new leadership, will scale back both their offensive and defensive schemes during preseason play so they don't reveal too much information to their regular season opponents. That makes this Sunday the first opportunity for fans to see the Texans full arsenal on offense and the players are almost as excited as the fans.
"Everybody's ready," Andre Johnson said. "We're just working hard and getting ready for Sunday. I'm excited about it."
Johnson suffered through various injuries a year ago and Sunday is a debut of sorts for him as well. A healthy Andre Johnson will take the field for four quarters this Sunday and he knows he is going to draw a lot of attention. However, for the first time in his NFL career, he has some help.
"I think I'll get some attention, but we have Eric (Moulds) and Jeb (Putzier) and other guys that can make plays," Johnson said. "In this offense, you are just going to see guys opening up opportunities for other guys."
And for the first time, fans will get to see the new
playmakers on display for an entire game. That said, don't expect to see the entire playbook Sunday, just the pages that fit with a game plan designed to attack
"With every team you play, the defense is going to give you specific things so that changes from week to week," Derrick Lewis said. "We're not going to go through the playbook and run every play. We need to find out what plays will work each week and run those to the best of our ability."
Lewis added that he's looking forward to finding his rhythm Sunday. The second-year wide receiver said it's sometimes hard to get in the flow of a preseason game with the substitution pattern.
"It's tough because once you get a feel for the game somebody else is coming in," Lewis said. In the regular season, you have the guys that are going to play and each guy has his role and knows what they need to do."
Sunday will also be Calhoun's debut as an offensive coordinator in the NFL. He offered a simple explanation as to why teams scale down their offensive schemes during the preseason.
"First and foremost what you're trying to do in the preseason is evaluate," Calhoun said. "You want to see what guys' strengths are so once you get into the season you can play to those strengths. You want to watch them do the core, the basics of their respective positions rather than do a lot of maneuvering so you just to have a fair chance to watch him from a position standpoint."
And like every coach, Calhoun is keeping Sunday's debut in perspective.
"I think every week it's a new experience," Calhoun said. "In this league, you're living from week to week in terms of who you're preparing for.  This is our opener. I think our guys are excited about it. I think anytime you have an opener, especially when you're starting something new the key is to keep the focus on the execution, but I know everyone is excited."