Seth Payne is obviously a perfect physical fit at nose tackle. He's big, powerful and mentally tough.
But the anchor position along the defensive line requires a lot more than just pure brute force.
It calls for intelligence and selflessness, and no one embodies those characteristics better than Payne.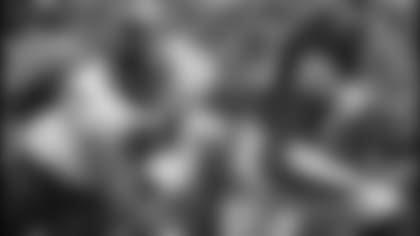 Payne gave the Broncos a few headaches last week, sacking QB Jake Plummer on 2nd and 1 while picking up 10 tackles.
His duties run deeper than just lining up and plunging forward to take out opposing centers. Payne is responsible for tying up blockers, reading offensive formations and calling for the appropriate defensive changes, all while facing double teams on the majority of plays.
It's a physically taxing job that sometimes gets overlooked, but Payne loves every minute of it. And he's enjoying it even more now that his road to recovery from ACL surgery has become a little bit more comfortable and productive.
"Early on, I thought I wasn't helping my teammates enough," Payne said about the initial few games of the 2004 season. "It's a team sport and if you feel like you're not an integral part of the team, there's really not much fun in it.
"As I get more to where I feel like I'm helping my teammates, then I have more fun playing football."
In the past two games against Denver and Jacksonville, Payne has taken significant steps in returning to his old 202 form. His 12 tackles and two sacks over that two-game span is a testament to countless hours spent on the training table and in the weight room over the past year while trying to regain muscle back after reconstructive knee surgery.
"With Seth, this is a guy who has a great work ethic who did a heck of a job to get back to where he was," Texans general manager Charley Casserly said. "This guy was in here last Christmas working out and he couldn't even play. He deserves a tremendous amount of credit for the rehab work he did."
Payne is playing one of the most critical positions on the field, one that calls for a heap of strength. Even though his physical attributes may not be returned 100 percent full throttle, Payne has managed to supersede much of his competition.
He's been most successful this season in just that, taking charge of opposing centers. While many observers look to the defensive line for sturdy run stuffing and pass rushing, many times their most important jobs are overlooked. In Payne's case, he almost serves as a decoy, tying up offensive linemen so his fellow teammates can get to the quarterback or stay free to make tackles.
As Payne regains his strength, he's been able to better dominate the center which in turn forces the offense to bring in a second guy to contain him from disrupting the offensive play. Payne's knack for driving back blockers and freeing up his linebackers from any kind of interference is quite impressive when you study the game film.
And to think, much of the time, he goes unnoticed for his scrappy efforts.
"It's a position that's very physical and tough, you get double-teamed – it's not one that you get a lot of pass rush out of," Payne's position coach Todd Grantham explained. "When you get double-teamed, that means that somebody else is free. So you may not be making a play, but you're affecting the play.
"As a coach, that is very critical to being good on defense."
Being wrapped up in offensive linemen for the majority of plays makes Payne's two sacks even more impressive. Breaking free from the clutches of some of the league's biggest and callous opponents without a clear shot to the quarterback is quite a feat. Especially for a player who is finding his groove after sitting out for almost an entire season.
But just getting by isn't good enough for Payne. He's constantly striving to be at his best, not for personal production, but for the team's success.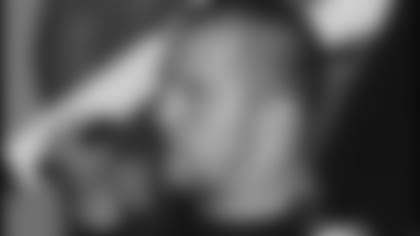 Payne worked feverishly in the offseason to make a comeback after tearing his ACL Sept. 14, 2003.
"I think in the first few games I was just trying not to mess up," he said about the beginning of the 2004 season. "I didn't feel confident with the way I was moving and with a lot of areas in my game. I was just trying to go out there and be a team player, performing my responsibilities.
"By game 16 of this year, I'd like to make an impact on every play, really doing more than what is asked of me."
Payne's physical attributes tell only half the story of his talents. His intelligence and meticulous preparation are what set him apart from fellow defensive tackles throughout the NFL.
"He's a very smart guy from the sense that he can watch tape, study an opponent and apply it to what's happening on the field," Grantham said.
During the week, the former player from Cornell likes to study opposing linemen's tendencies – breaking down their stance in certain offensive situations, hand placement and even becoming familiar with fake calls that may bait his defensive unit.
When he puts his research to use on Sunday's, Payne must react quick, make reads, and adjust his teammates to make it as tough as possible for the offensive line to figure out who to block.
Payne can't be selfish or weak of body or mind and he isn't. It's what makes him so special.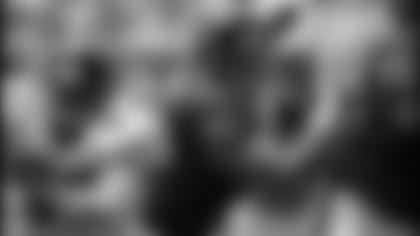 Payne dropped Jaguars QB Byron Leftwich for a seven-yard loss on Battle Red Day.
"It's tough physically but it's tough mentally because every player wants to make plays and here you are, you're basically the no-respect guy," Casserly said. "You're just getting double-teamed and somebody else is going to get all of the glory."
Payne has nothing but a team mentality, loves his position, and loves seeing others succeed because of his contributions. What more could a coach or teammate ask for?
"I really love Jamie Sharper and Jay Foreman, they're fun to play with," Payne said. "My number one responsibility more than any personal production is to allow them to make plays and to help the run defense. Unless we're stuffing people in the run, I don't really feel like I've done my job no matter what my stats are."