Jason Babin is the first to admit he's not the player he wants to be, yet.
The Texans outside linebacker was a first-round pick in April's draft and was listed as a starter before he got the call informing him of his selection.
What wasn't so sure was how he would transition from a defensive end at Western Michigan to a pass-rushing, hybrid linebacker in Houston's 3-4 defense.
As the weeks of his first NFL season fly by that is becoming less of a concern both to Babin and the coaching staff. He leads the team with 34 quarterback pressures and has a pair of sacks and 52 total tackles.
That couldn't be said in Week One.
"God, was that me!?" Babin exclaimed when coaches put up some film of the Texans first game last week.
"Compared to where I'm at now, definitely there are some huge improvements going on," he said. "Not to say there's not room for more improvement. It's a tough transition in these first couple of years."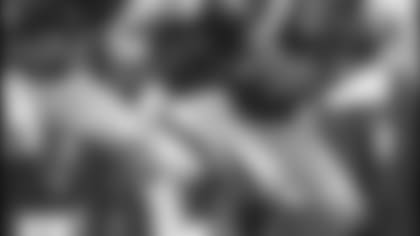 Babin is not the only Texan making a switch from college defensive end to professional linebacker.
Wong leads the team with 4 ½ sacks and has flourished since switching from the left to right side linebacker position.
Peek, who sacked Titans quarterback Steve McNair and forced a key fumble last week, has been the Texans spark plug in passing situations – a role he picked up in college and suits him for the 3-4.
"I didn't know what it was going to be like," he said. "I knew that in college I always wanted to do it more than I did, but coach was so into me rushing the passer that he didn't want to give me the chance to play any linebacker."
Linebackers in a 3-4 aren't your run-of-the-mill players. The whole idea of the system is to leave defenses guessing as to which side the rush is coming from. With only three-down linemen either or both outside linebackers can rush the passer from a standing position.
Players with the unusual combination of size and skill aren't necessarily filling up draft boards. That is why the Texans have made an effort to convert smaller defensive ends, like Peek, Babin and Anderson to linebacker.
"Very few teams in college football right now are playing the 3-4 so generally speaking eight out of every 10 outside backer prospects are guys that are playing defensive end in college right now," Texans defensive coordinator Vic Fangio said. "It would always be nice to have guys that have already played the position but it isn't happening right now whereas years go it did. When I first came into the league most everybody in college and pro was playing the 3-4 so guys were more ready to come in and play more than they are now."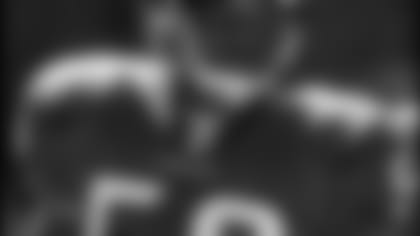 Linebackers in a 3-4 get a running start on a pass rush and have better sight lines to the ball. They stand up over everything before the snap and explode toward the quarterback after.
Not so. Standing up adds a whole new level of responsibility.
"At linebacker your have to cover guys, you have to drop and all this," Anderson said. "When you're at end you're basically rushing or you have a gap you have to control … Linebacker is a whole new ball game but I think I'm picking it up pretty well."
But with great responsibility comes great opportunity.
Rarely do defensive linemen make interceptions or tackle wide receivers over the middle. Babin, Peek and Anderson agree learning routes and playing over quick receivers is the hardest part of the transition, but it allows them chances at picks, like Peek against Indianapolis a few weeks ago.
Rushing the passer also takes on a different feel from a standing position. Going up against 300-plus pound linemen is hard enough itself; down linemen have a slight advantage in staying low and keeping leverage.
"Being down in your stance when you've got your hand in the dirt it keeps your body down low when the guys are trying to put their hands on you," Peek said. "Most offensive tackles when they get their hands on you and they get them on your chest, it's hard to get up off of them. You have to get low, that's how you get around the corner."
Of course, most outside backers become accustom to standing up. Fangio said both Babin and Wong have the option of going down to a three-point stance on some plays but both choose to stay up for the quicker start and better vision.
There's also a size issue.
According to Anderson, the average defensive end weighs in at about 270. Outside linebackers in 3-4 schemes can't be that heavy and play the pass. As a result, he gives up 50 pounds or more to opposing offensive lines.
"You can't have a guy that's too light or small, but yet at the same time you can't have a guy that's too big and can't do anything in coverage," Fangio said. "That's why they're hard to find because you're looking for a rare guy."
A sixth-round pick out of Mississippi, Anderson plays primarily on special teams. In practice he gets less reps at outside linebacker and snaps as a defensive end on the scout team.
He said playing in a 3-4 scheme for one season in college helped, but nothing prepared him for the learning curve he is taking on.
He's grateful to have teammates who went through the same process and coaches who have taken some extra time to help.
"This is my first year and I know I have a long way to go," he said. "I'm just really taking it to heart what the coaches say and listening to Kailee about a lot of stuff. I'm just really taking it all in right now."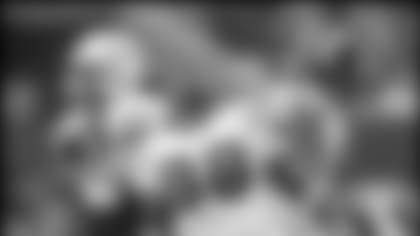 Peek never thought he would be the elder statesmen in the locker room for defensive ends turned outside linebackers. He laughs and says he's still learning himself.
But nevertheless he has become the guy with the most experience. He said he talks with Anderson and Babin, but is not trying to become an extra coach.
"I think that the mental part of the game they have to pick up themselves," Peek said. "That's the way I felt when I first came here. No one can help me play the game, they can only help me understand the game and that's the same way those guys have to think."
Babin and Anderson approach the conversion as a process.
The road could be long. It could be short.
At least they know there's an ending – a time when they don't have to be sickened by themselves on film.
"We're all still trying to learn on a daily basis," Babin said. "Every week it's a new defense, new plays, new lingo, new things. It's a whole lot to get too used to at first. It's getting a lot more comfortable."